Post by Chicago Astronomer Joe on Sept 18, 2016 20:55:29 GMT -6





The Chicago Astronomer and the Friends of the Chicago RiverSaturday, 17 September 2016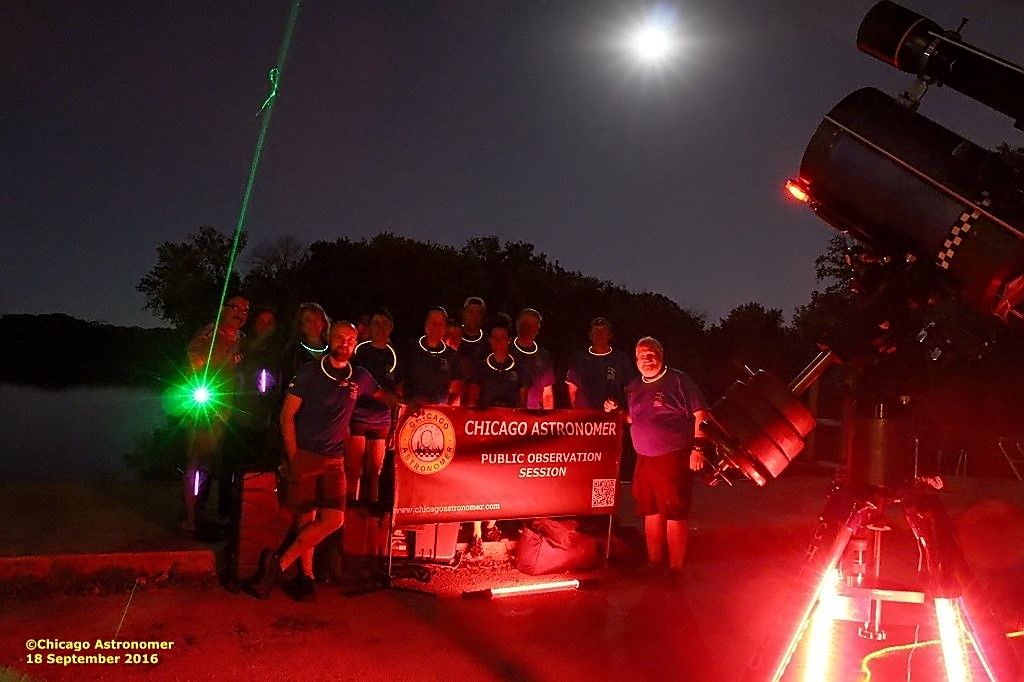 We met representatives from "Friends of the Chicago River" at our Solar Session at Sherman Park a couple of weeks earlier, sharing views of Sun's surface with park visitors, who also took canoe rides in the Lagoon of Sherman Park, including members of the Chicago Astronomer crew.
I was asked by the Friends of the Chicago Rivers if the Chicago Astronomer would be interested in sharing views of the Harvest Moon with late night canoe paddlers in the Skokie Lagoons. Never having conducted a session at this locale and with a free Saturday evening, we jumped at the opportunity and agreed.
We would arrive on-site at 8:00 pm after the paddlers started their tour and would be ready before their arrival at 9:00...
pm. Setting up gear with the lagoon before us and the rising Moon made for a great setting. I strung along Red LED lights from the boat landing for our guests to assist them in guiding the paddlers to our site...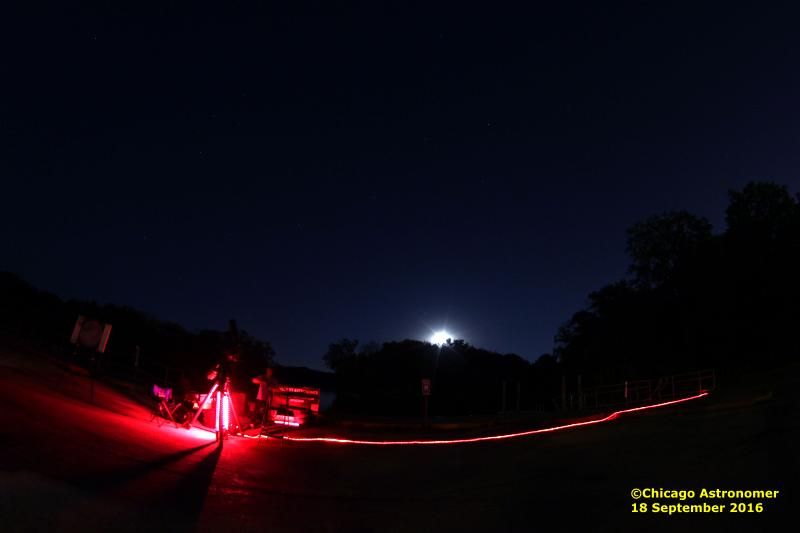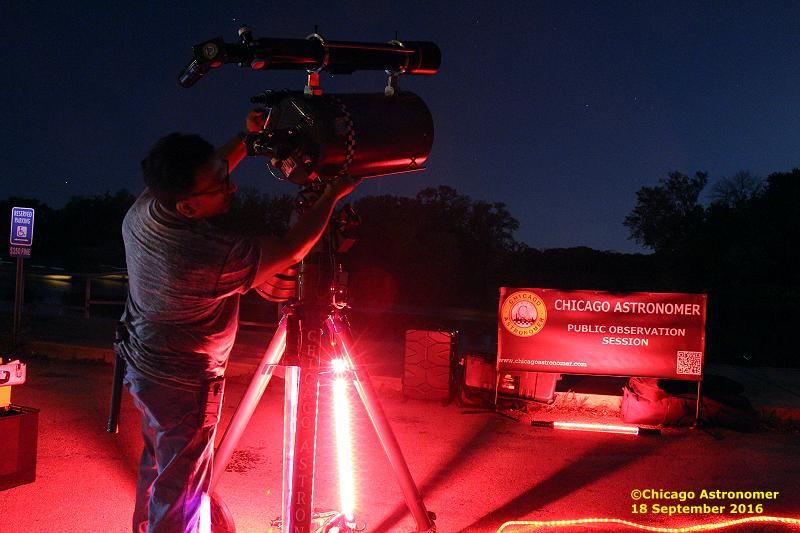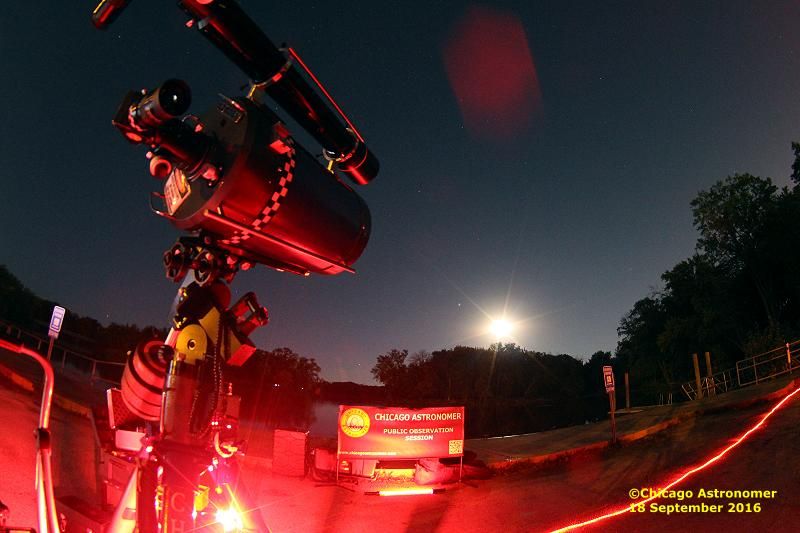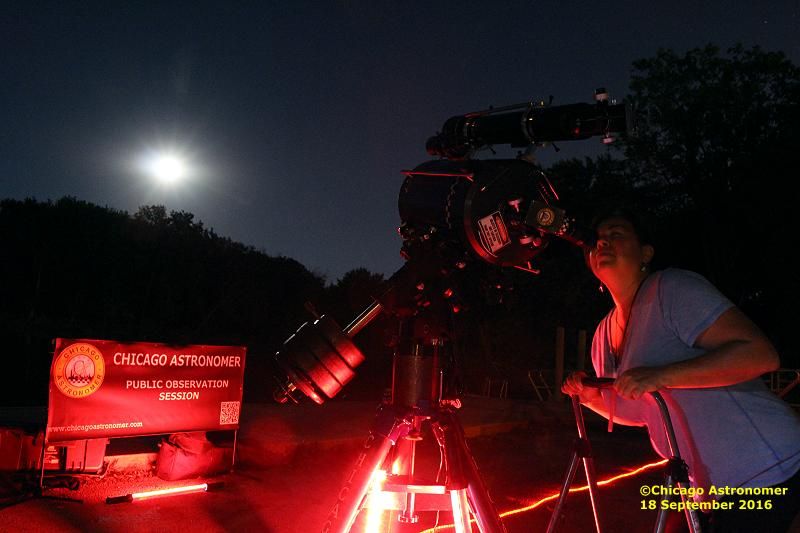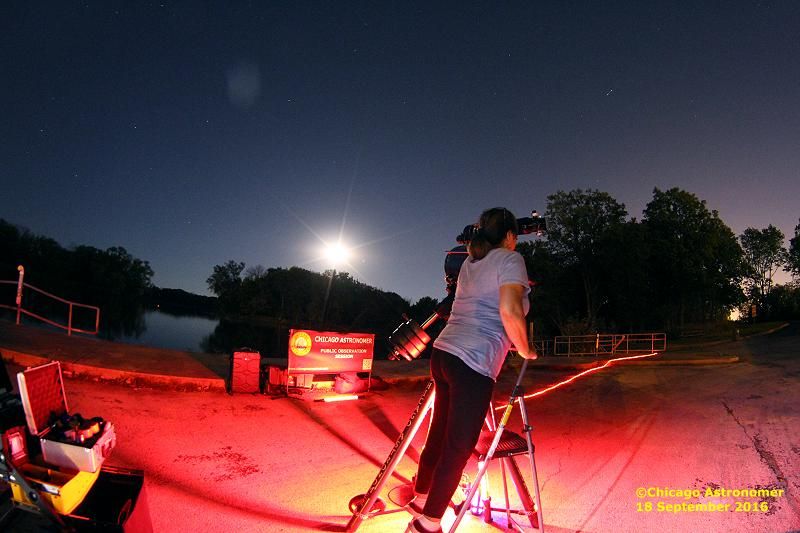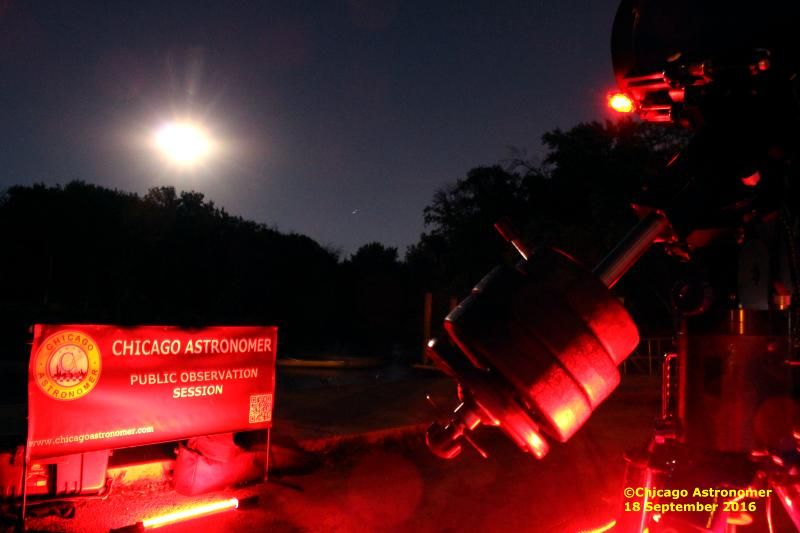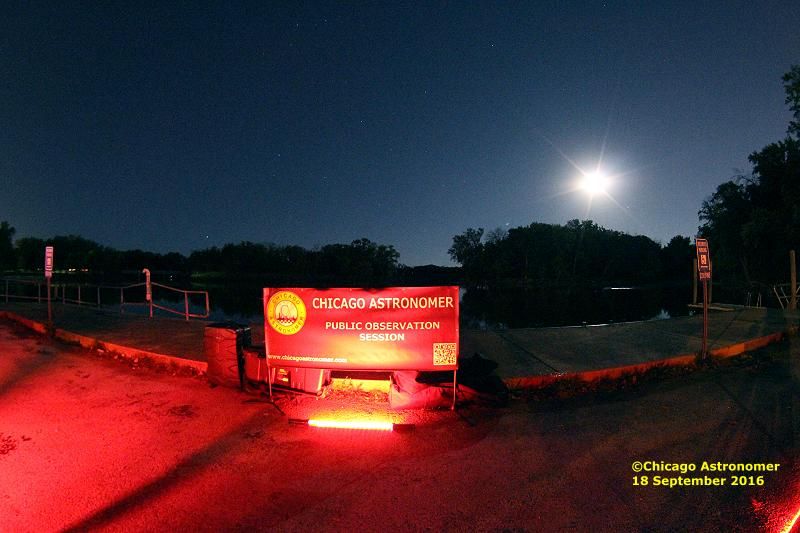 Canoers spotted our red lights from way off and eager to peer through a telescope at the bright rising Moon - even before removing their safety vests...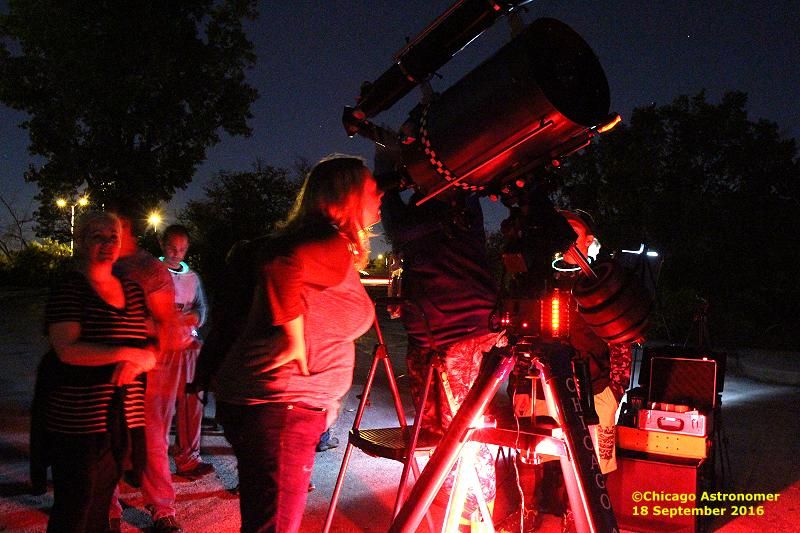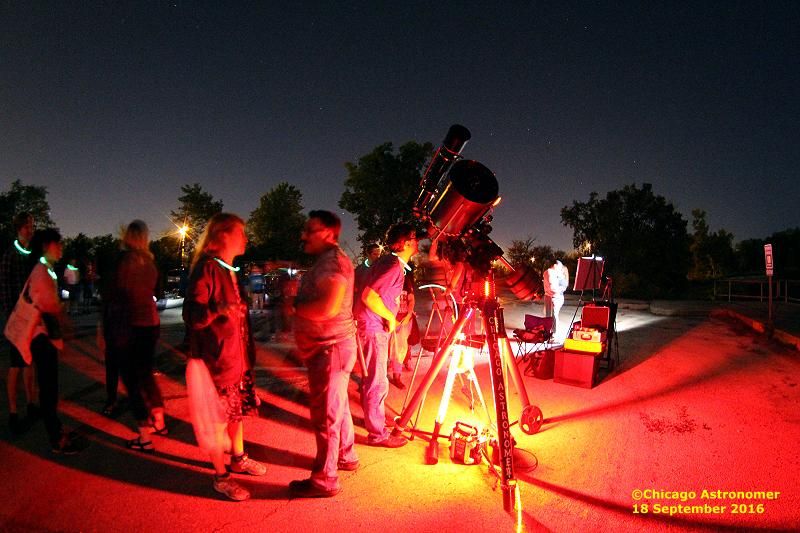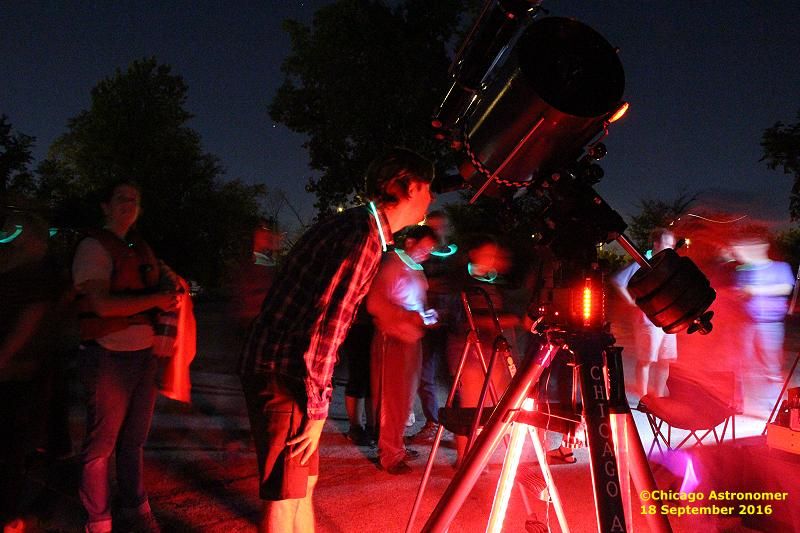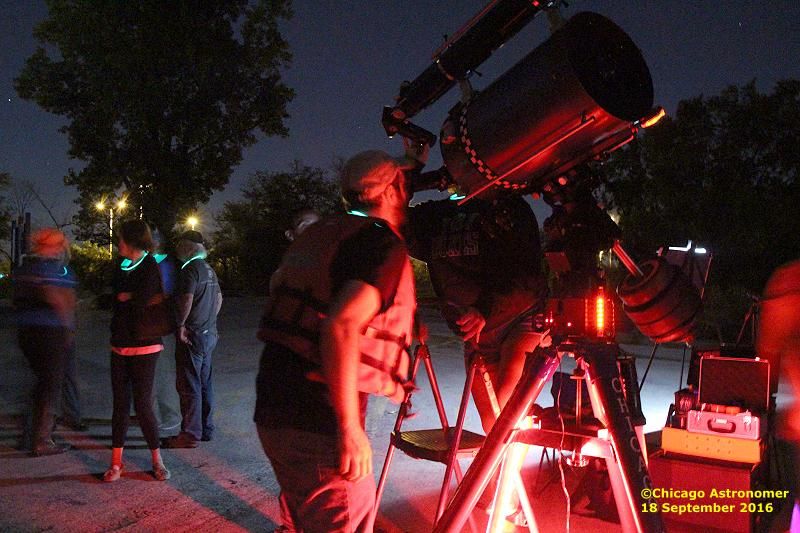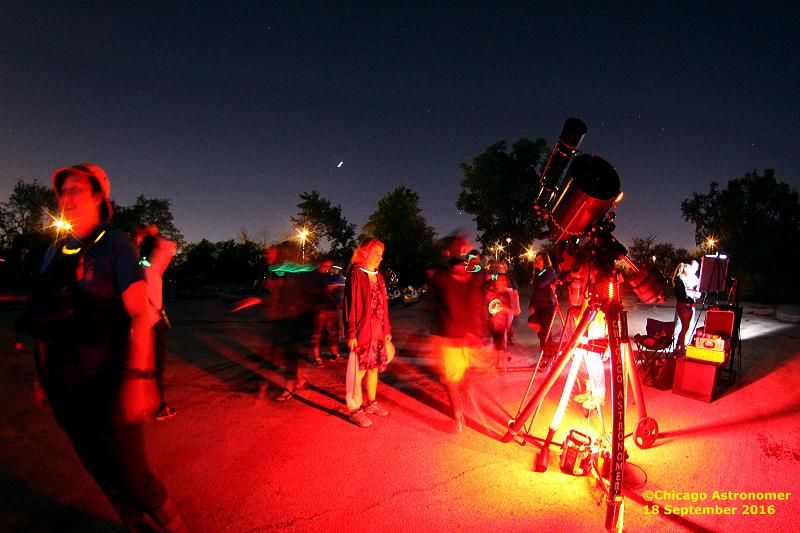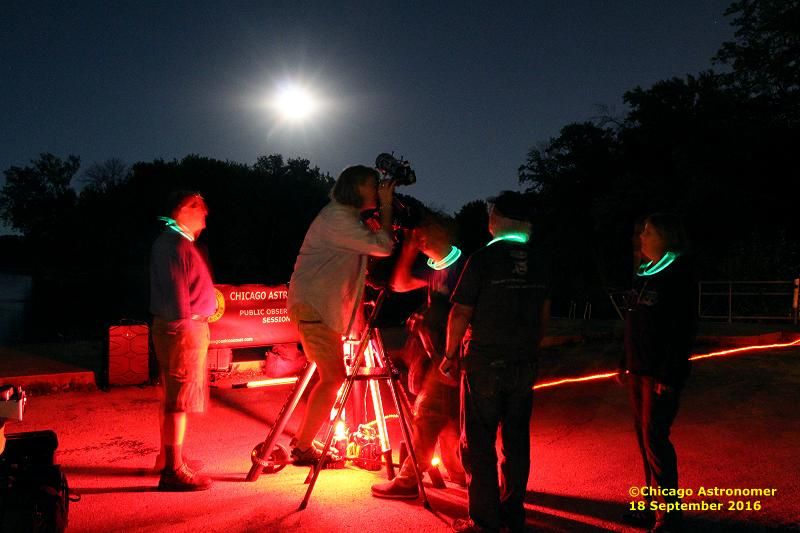 Pointing out the summer sky targets with laser, I lectured a bit on each and then slewed the scope toward the objects of interests...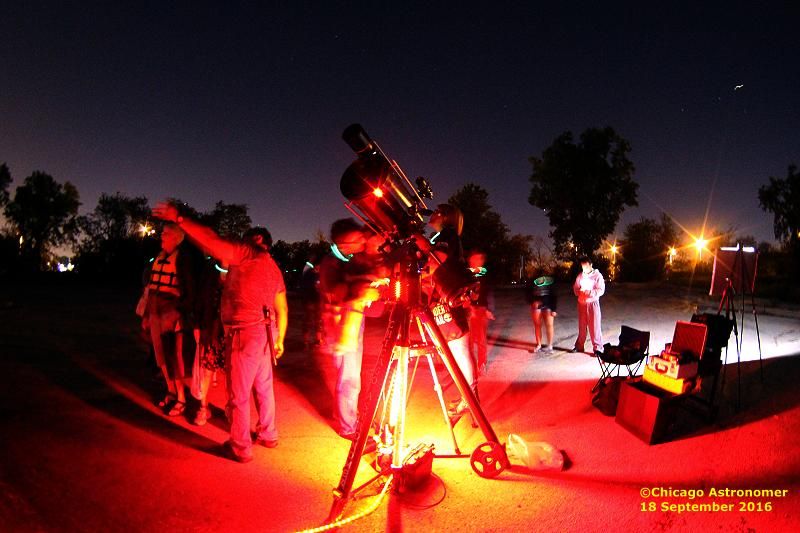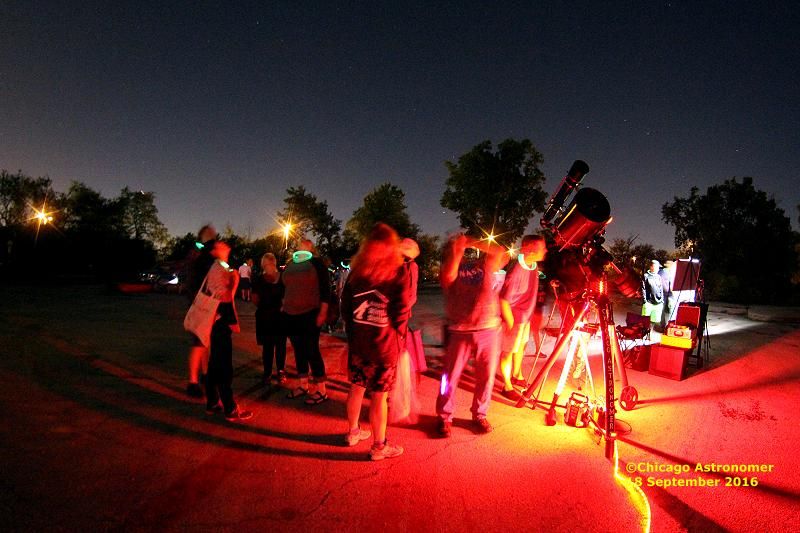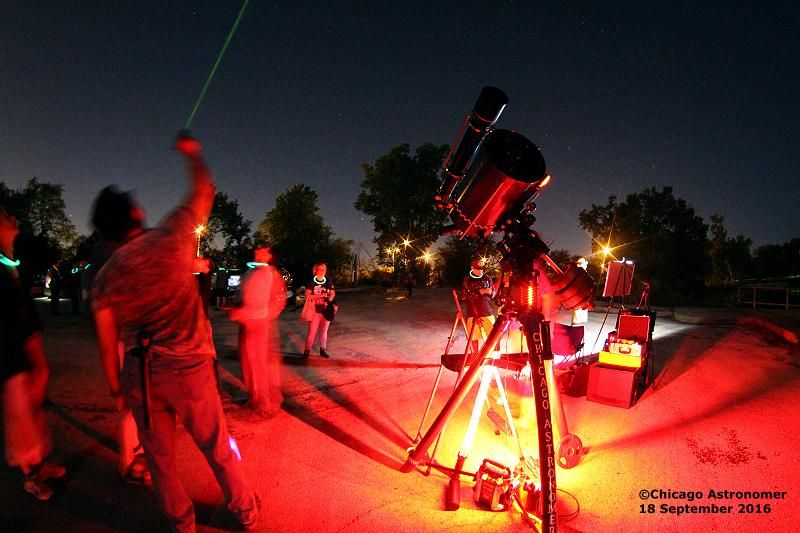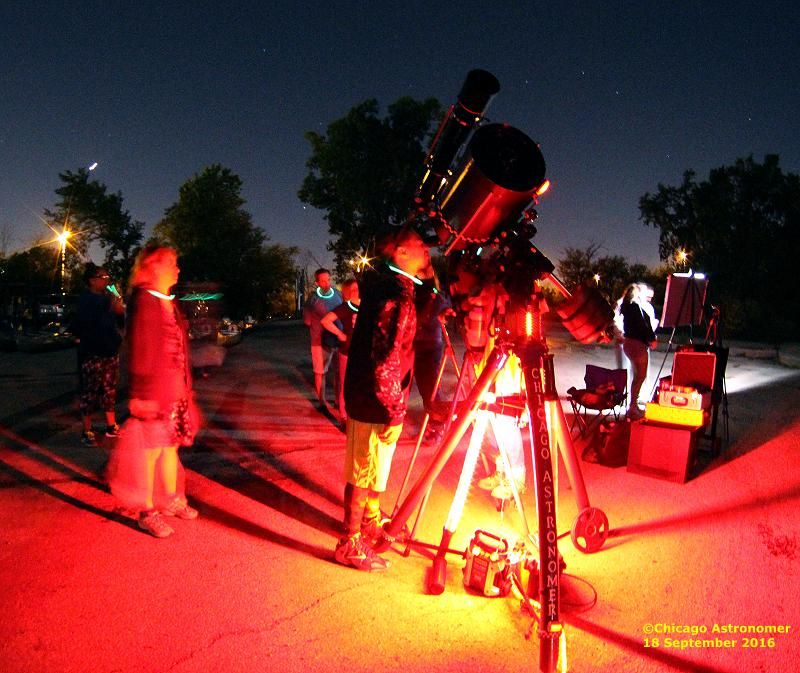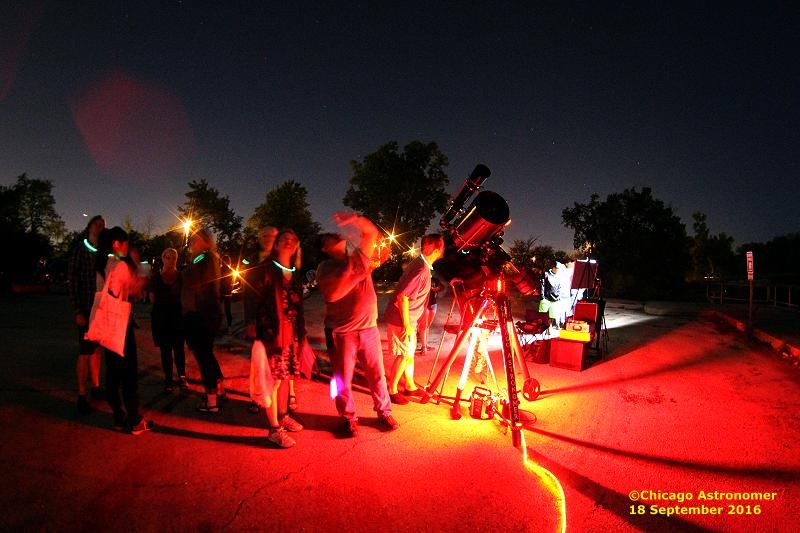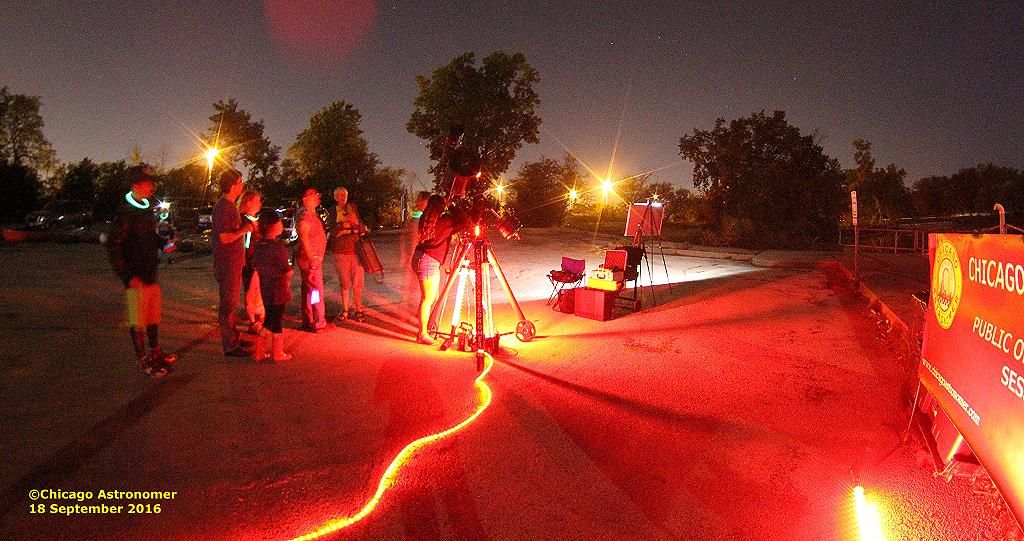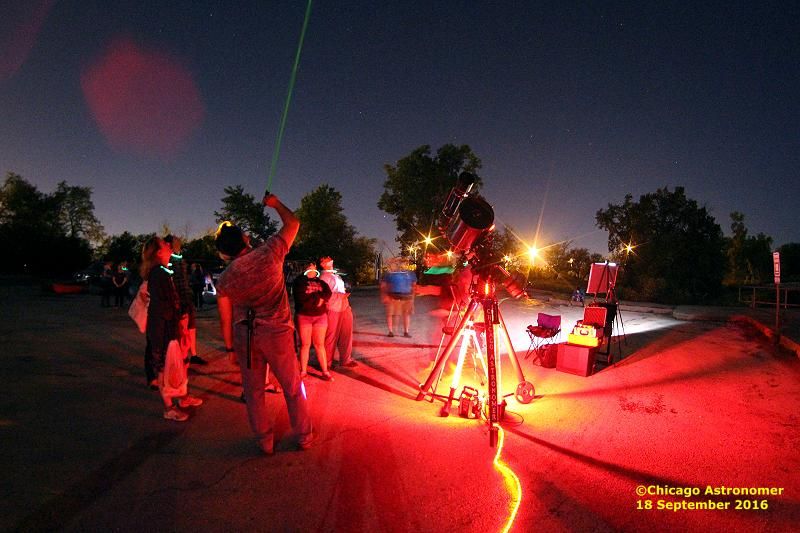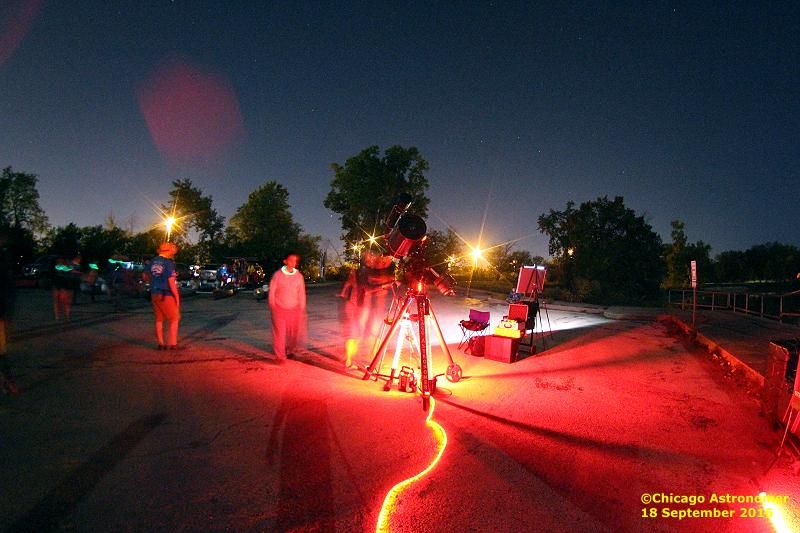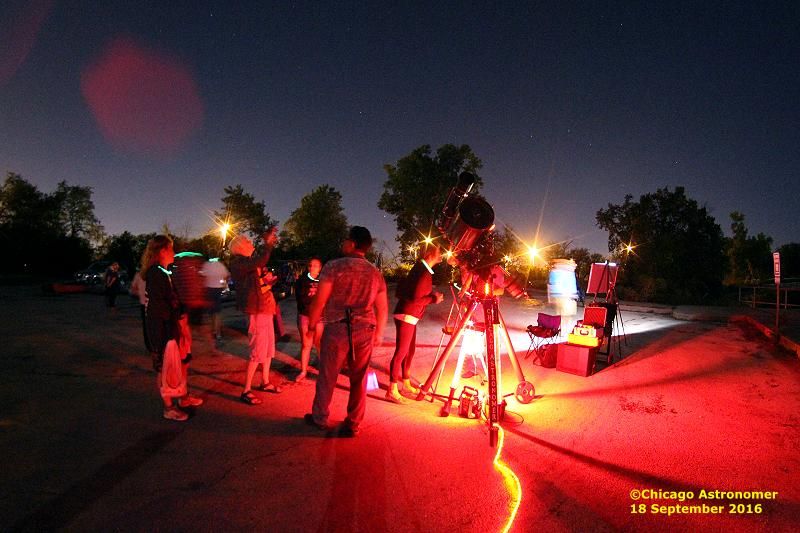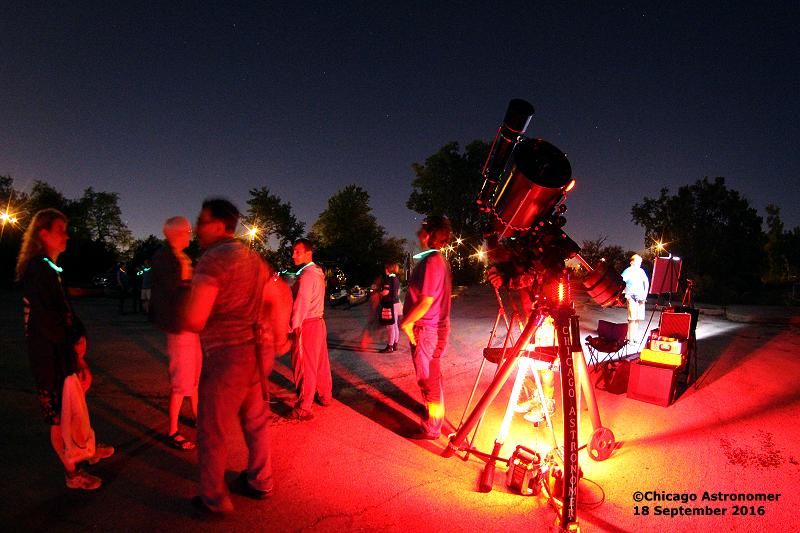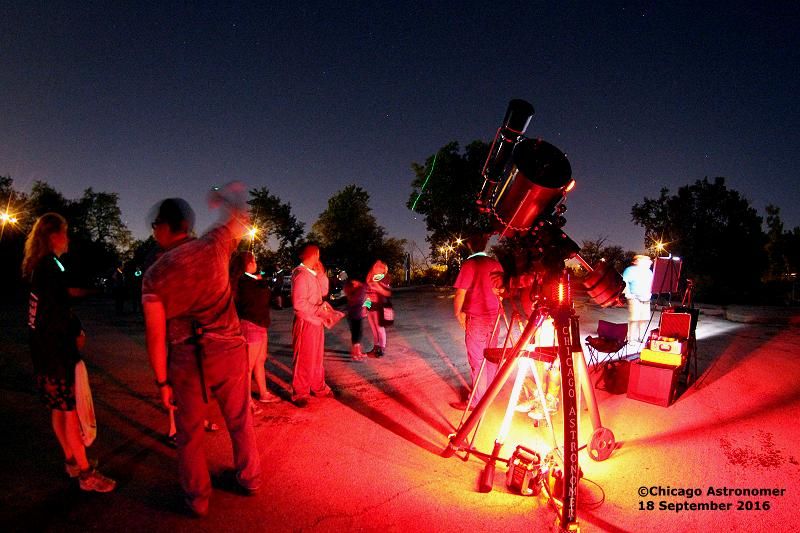 We shared great views of the day-after-full Harvest Moon and also slewed over to other late summer objects such as: The E.T Star Cluster, The Binary stars of the Alberio system and the Big Dipper...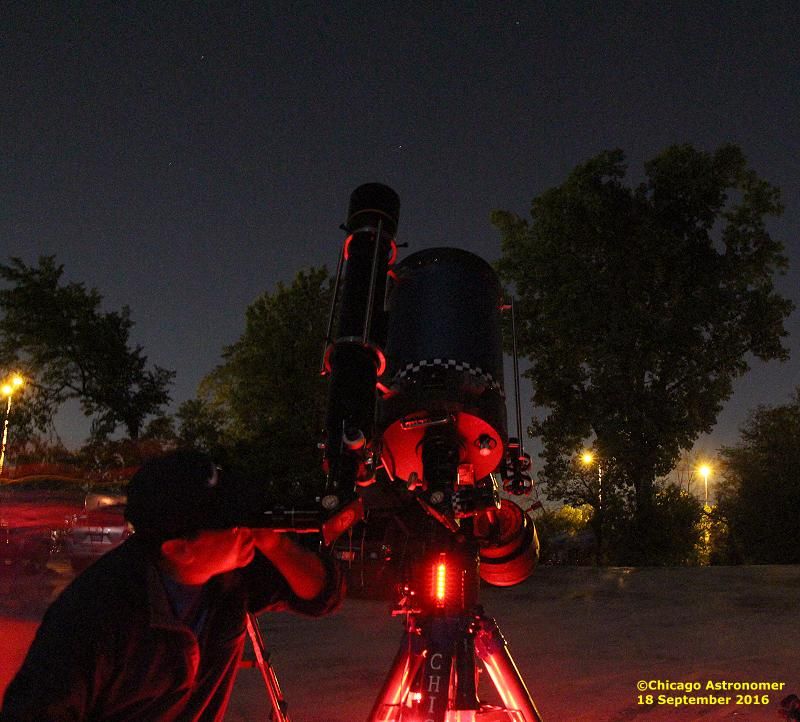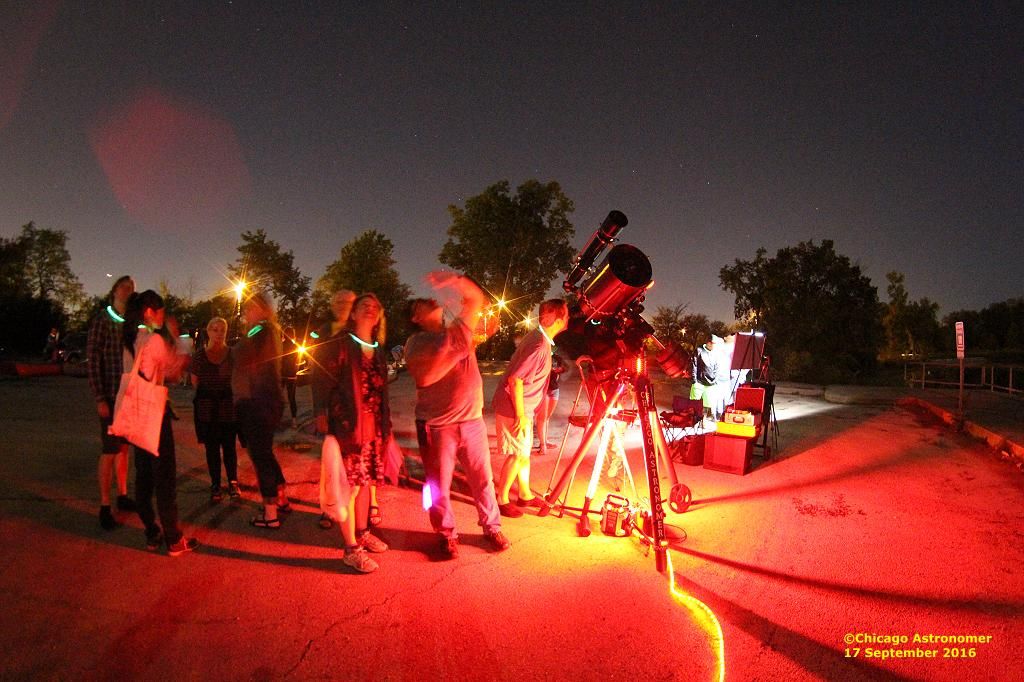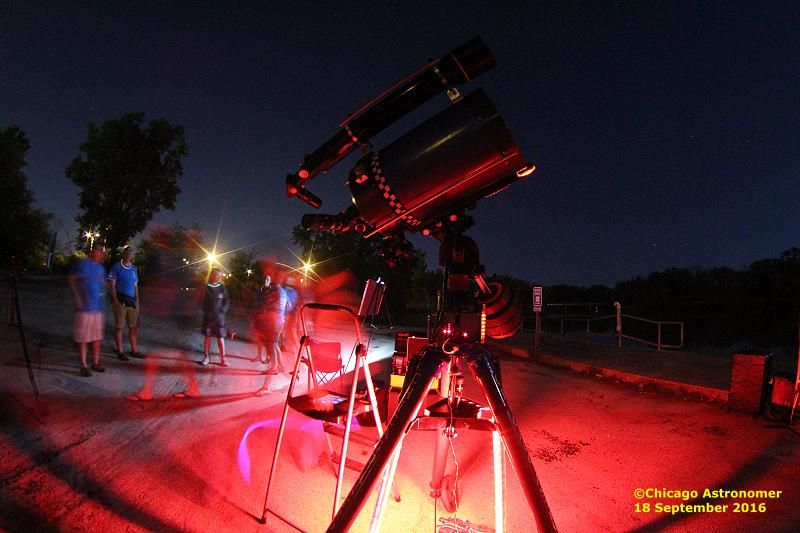 Stories, lore and cosmological discussions throughout the evening with our canoe guests...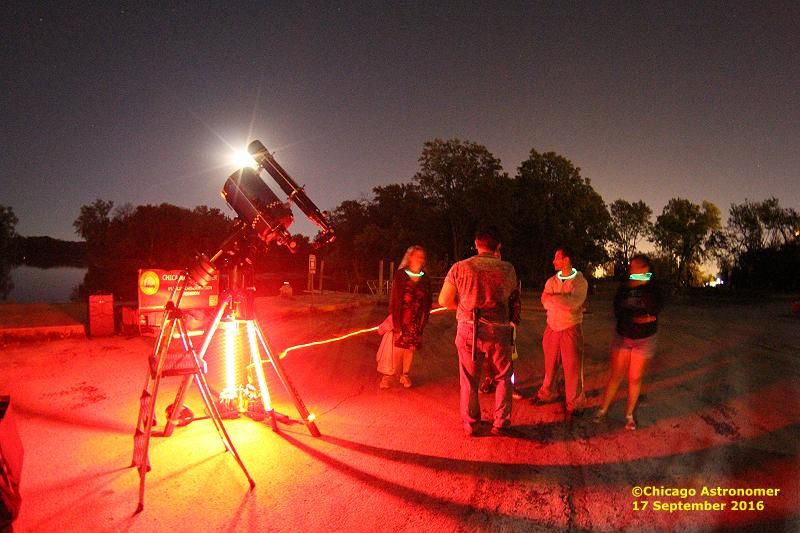 I had prepared discussions and images of the "Seas" on the Moon, describing how Galileo thought that they may be oceans on the Moon, tying in with the aquatic nature of the Friends of the Chicago River activity.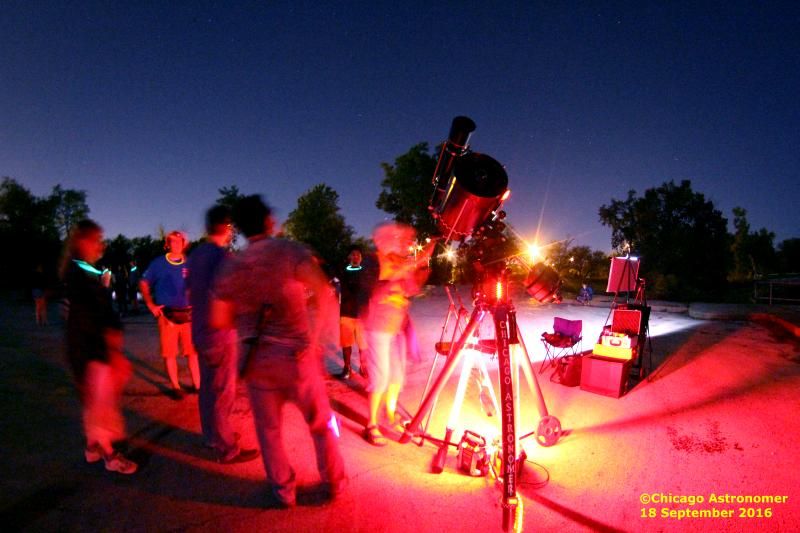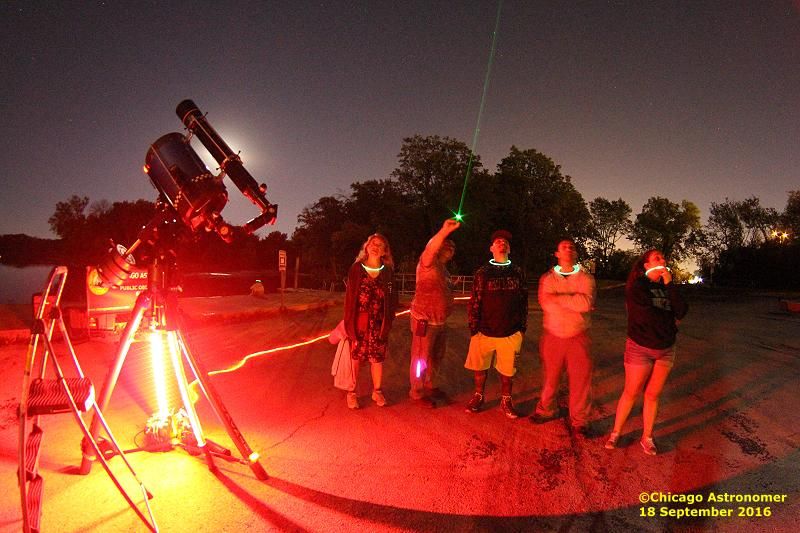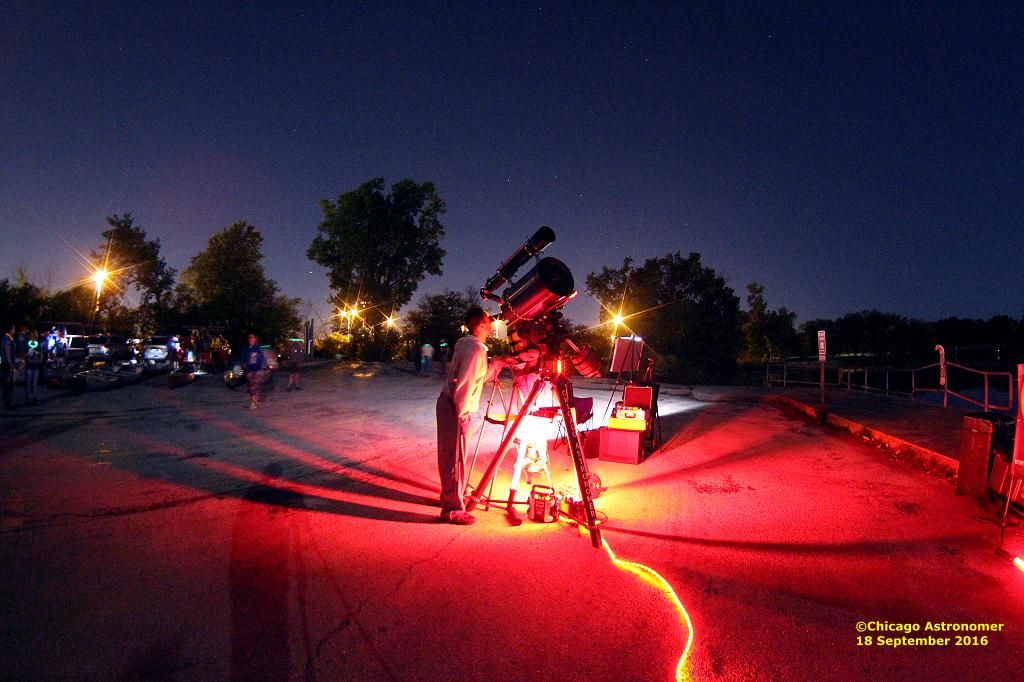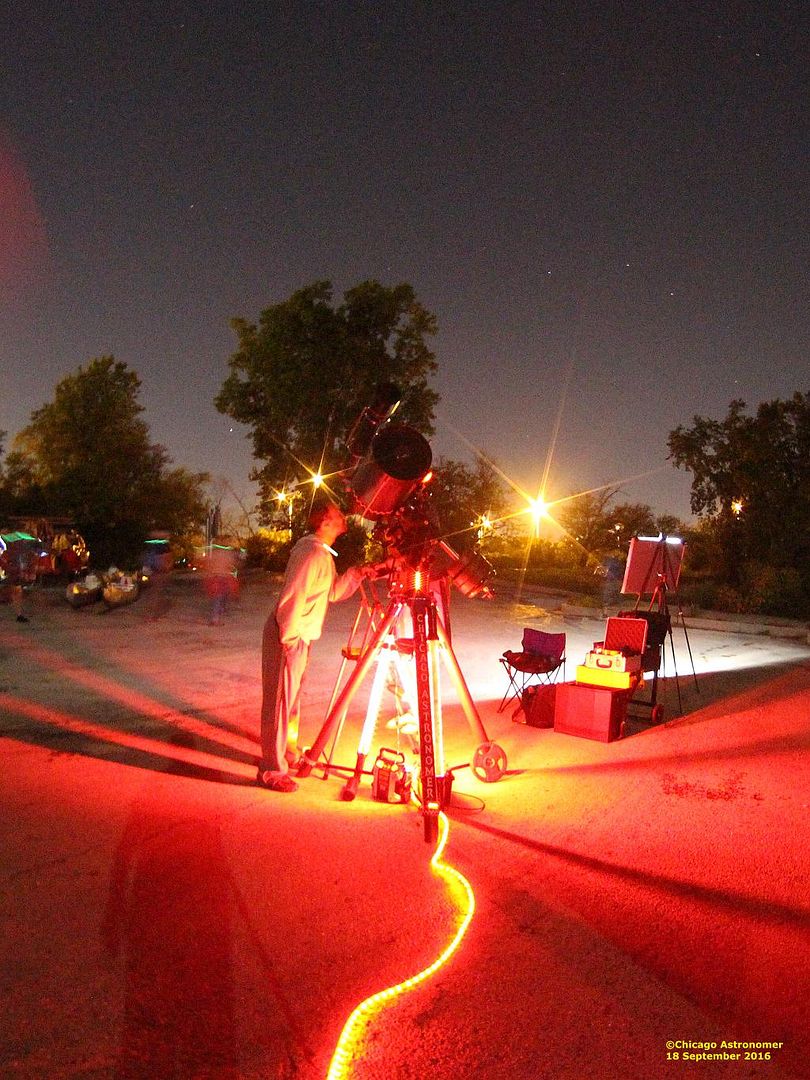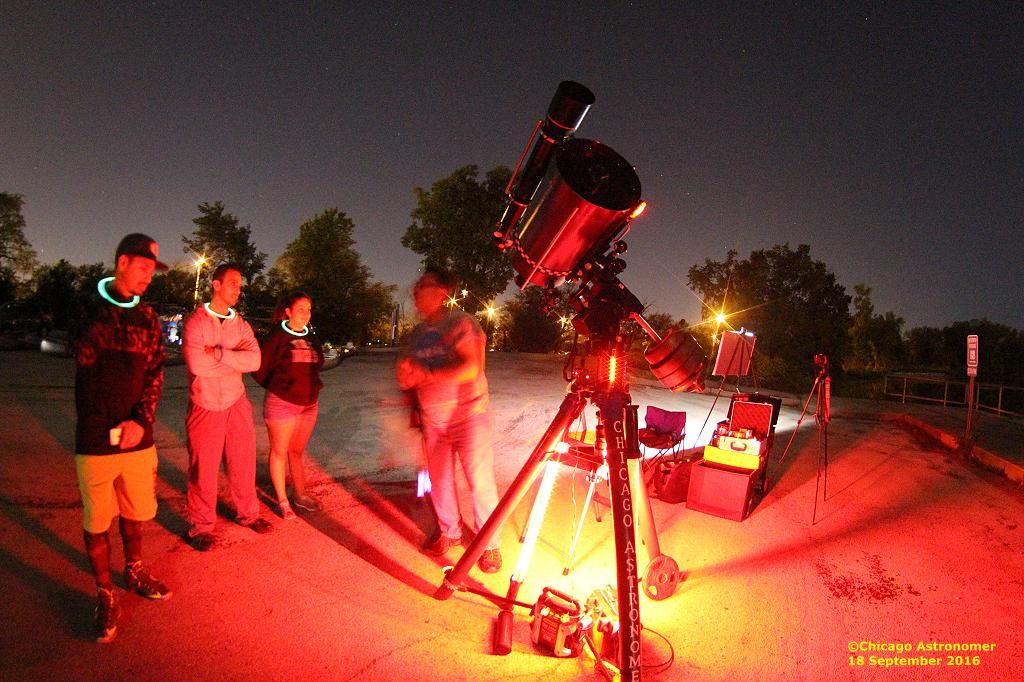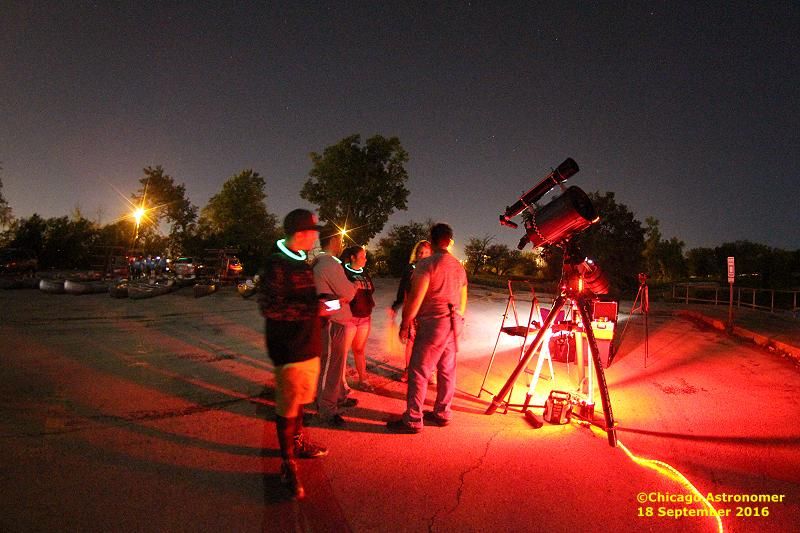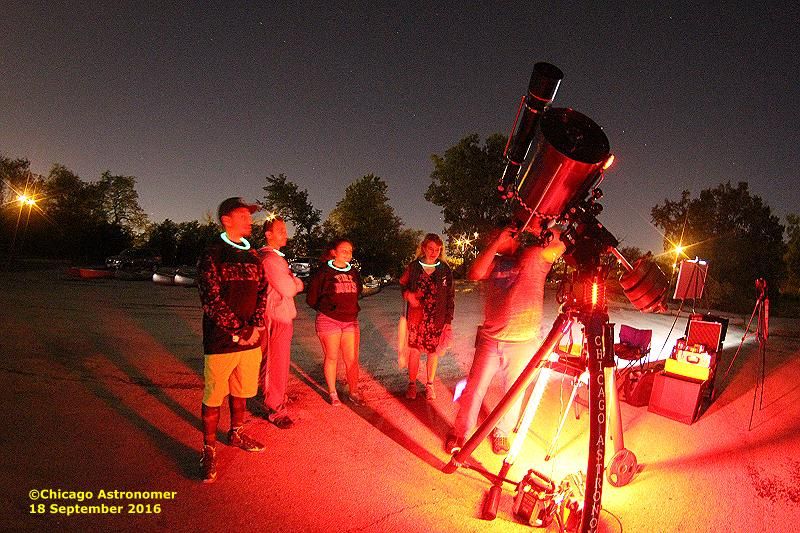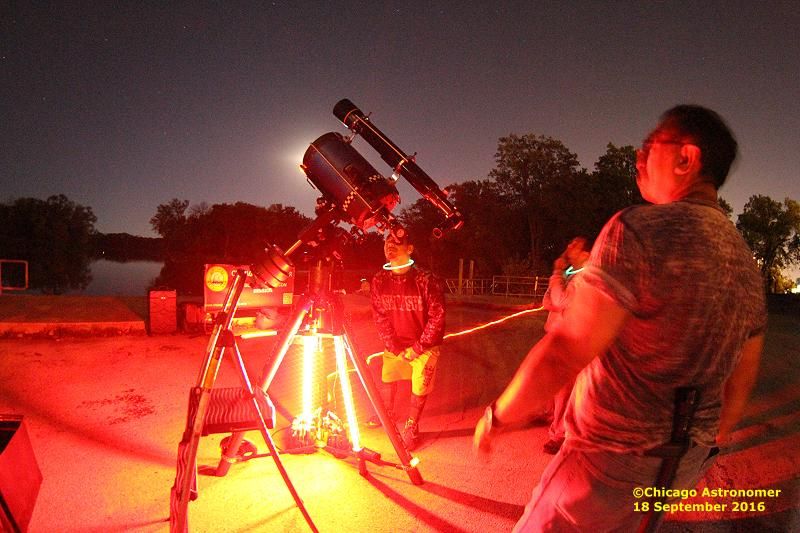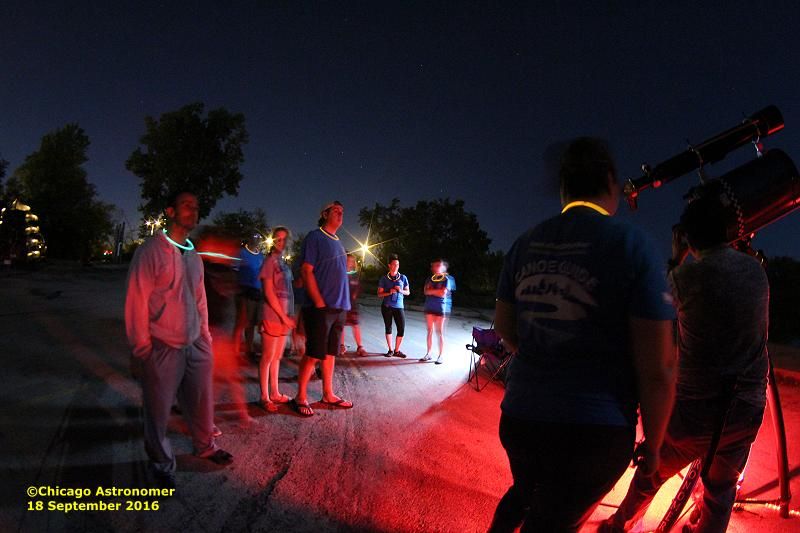 Quite a few stayed beyond their planned time for canoeing to share time with an Astronomer and Telescope - asking questions and thrilled in actually observing objects light years away....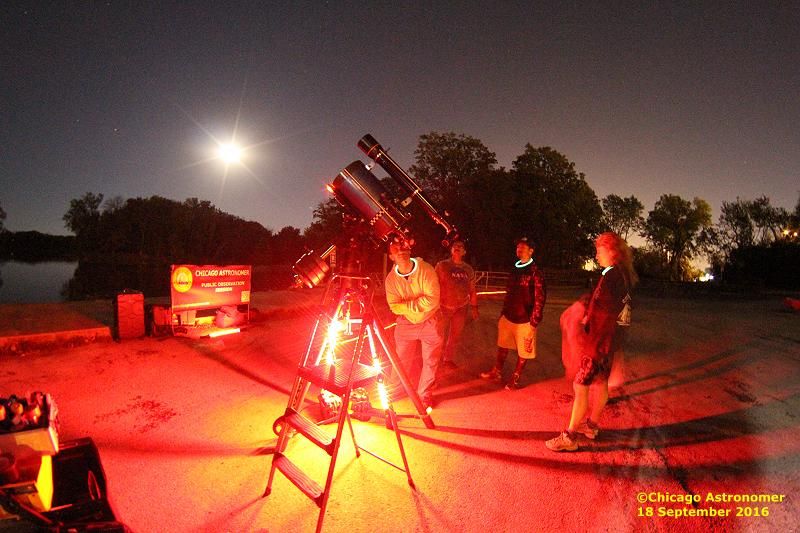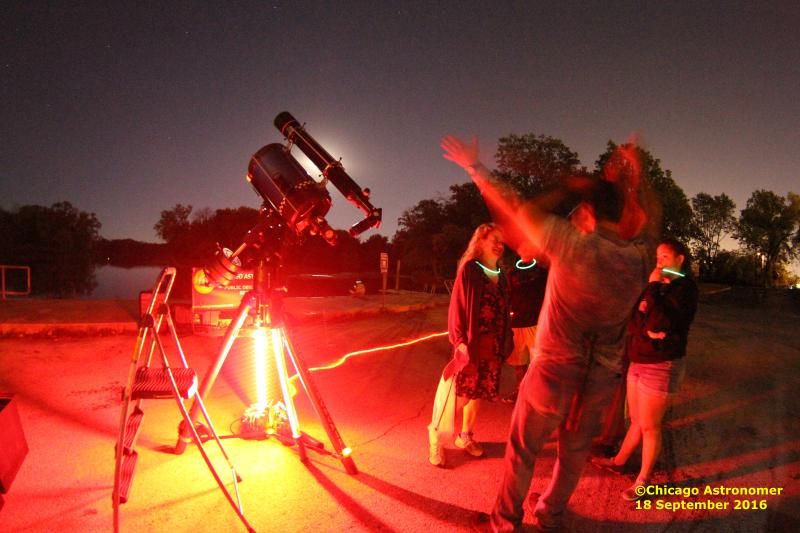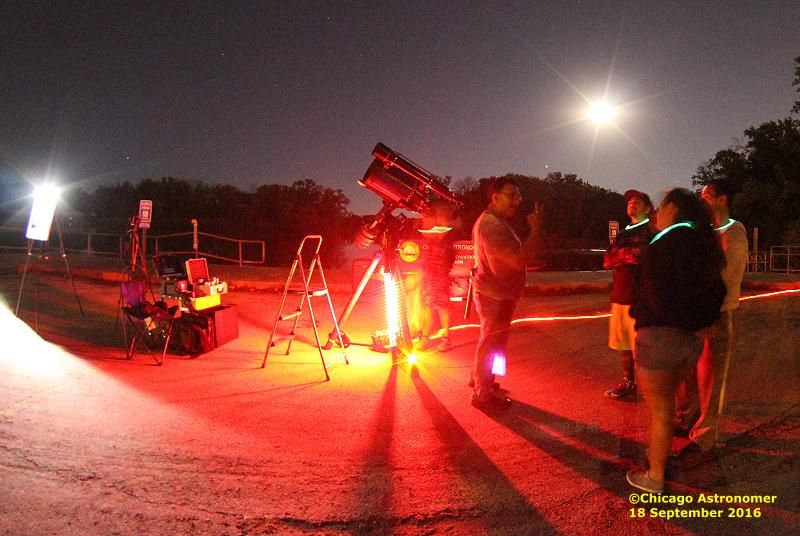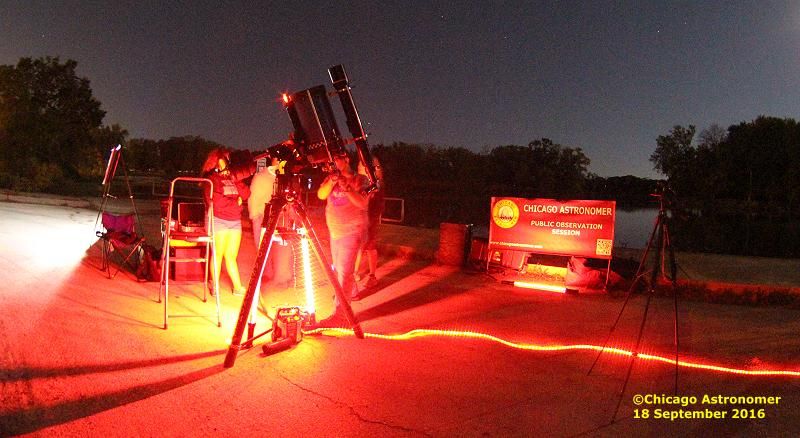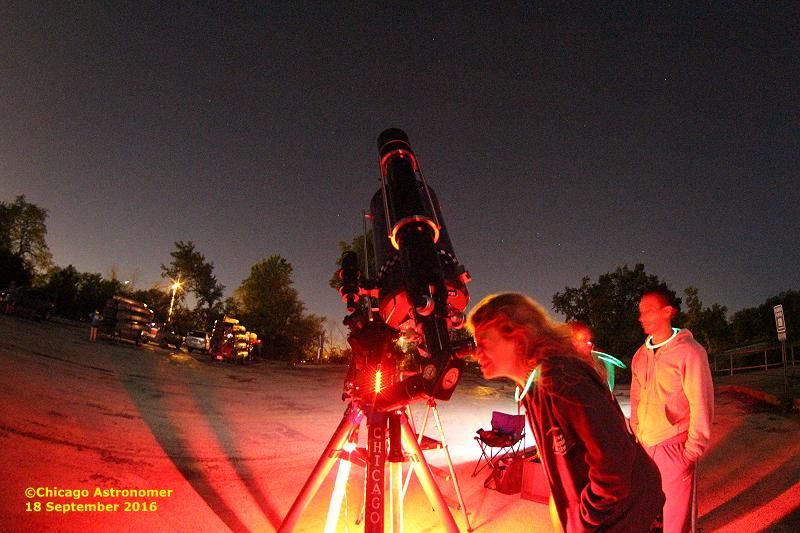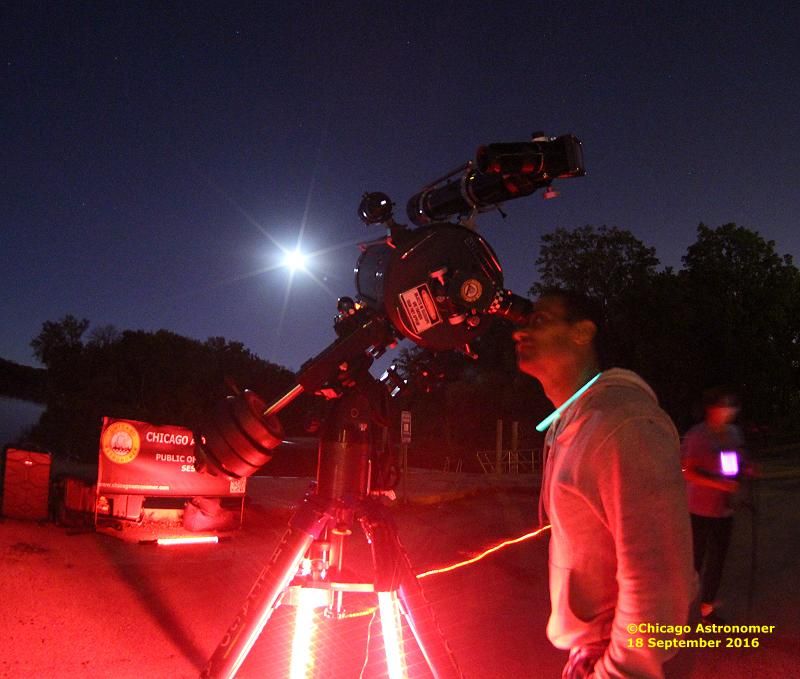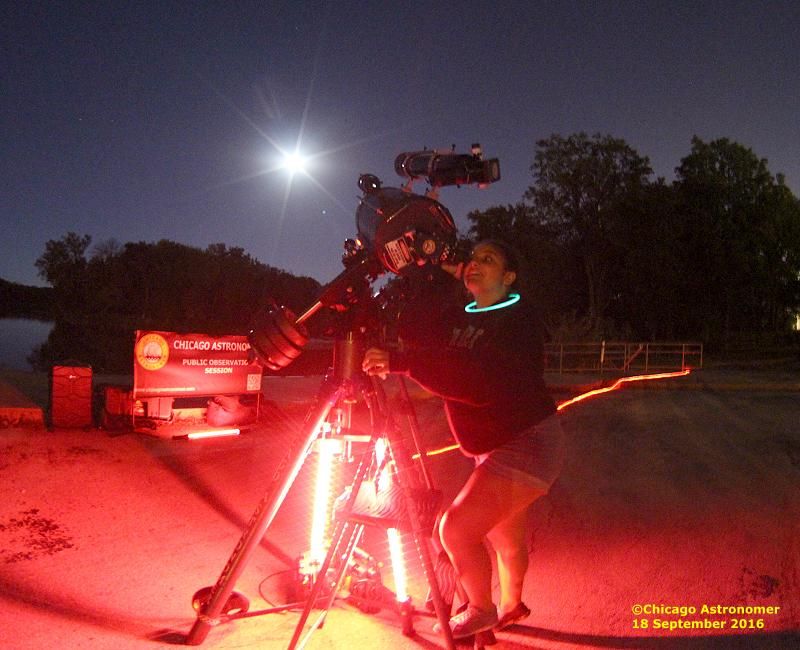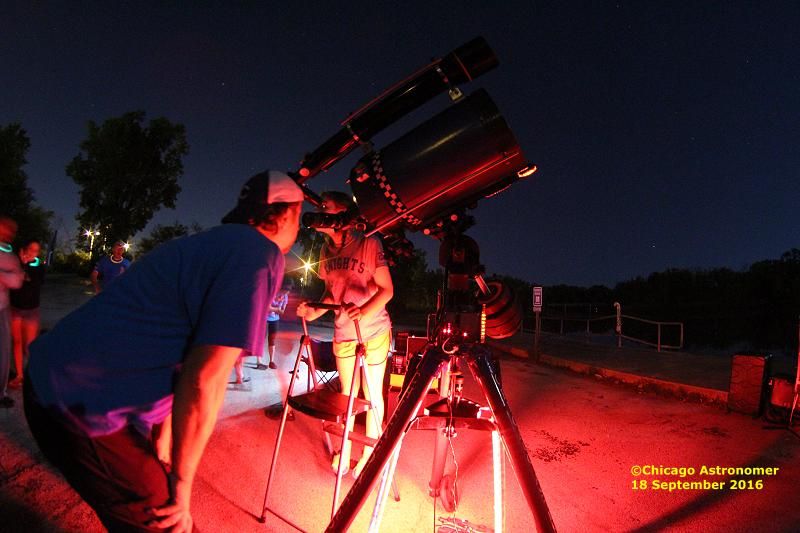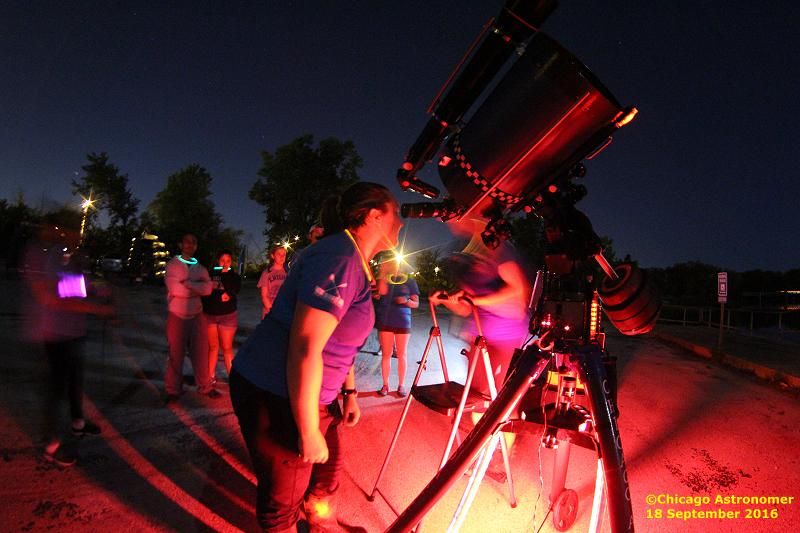 After we attended to the paddlers, the Friends of the Chicago River crew joined us and we spent some time together after they stowed away their canoes and gear...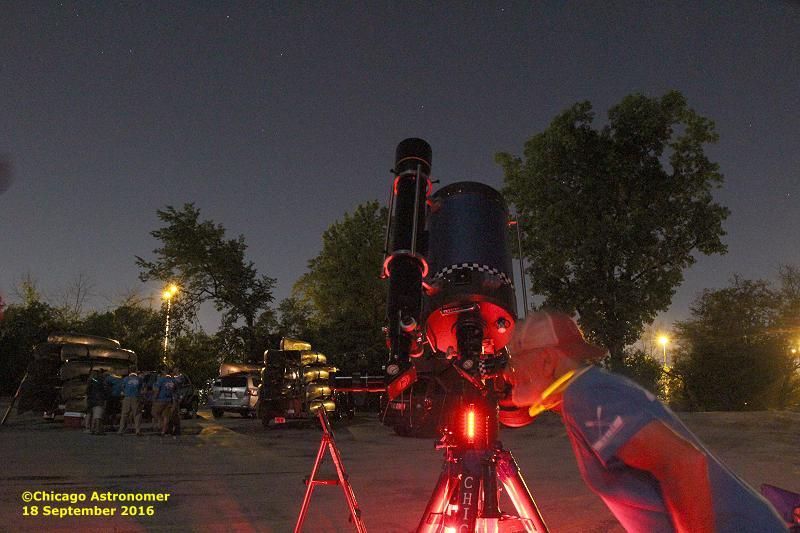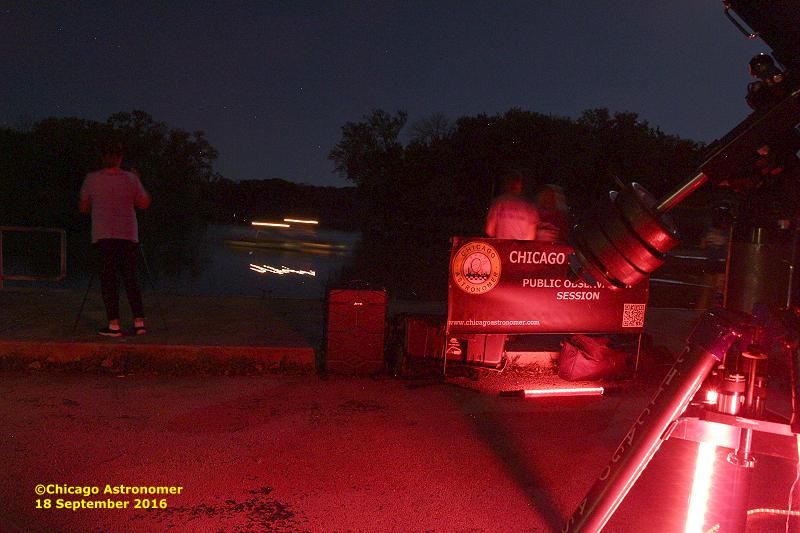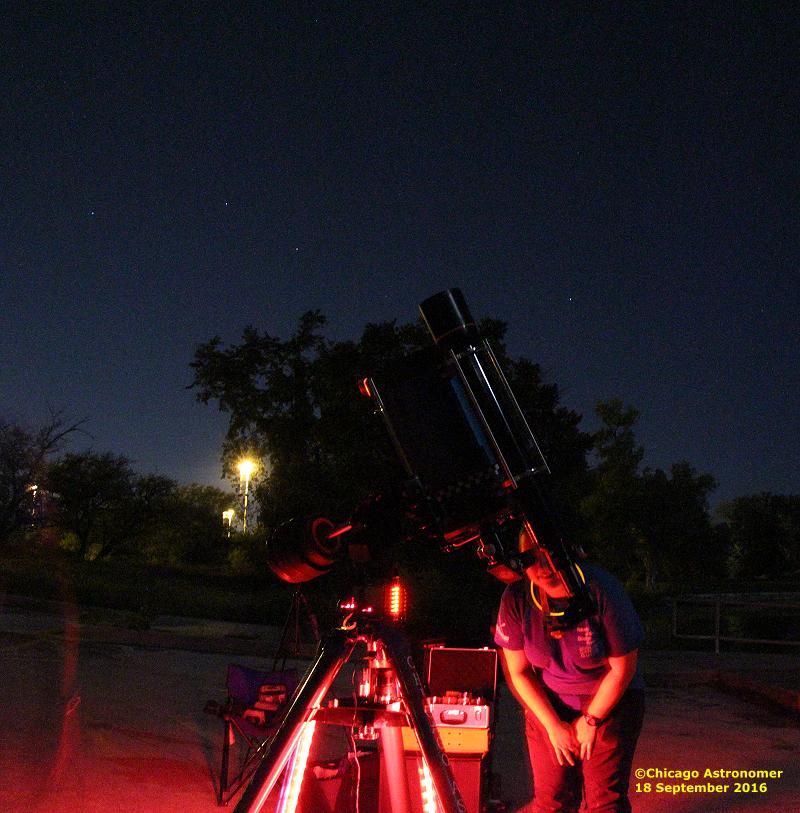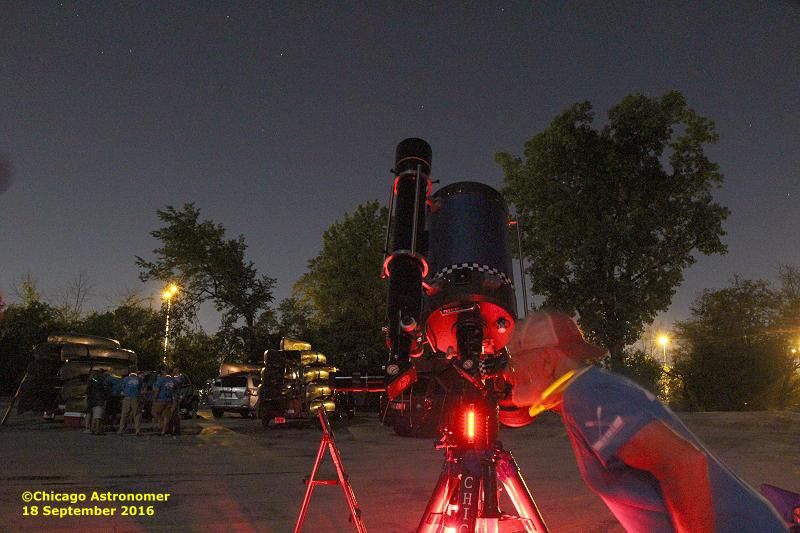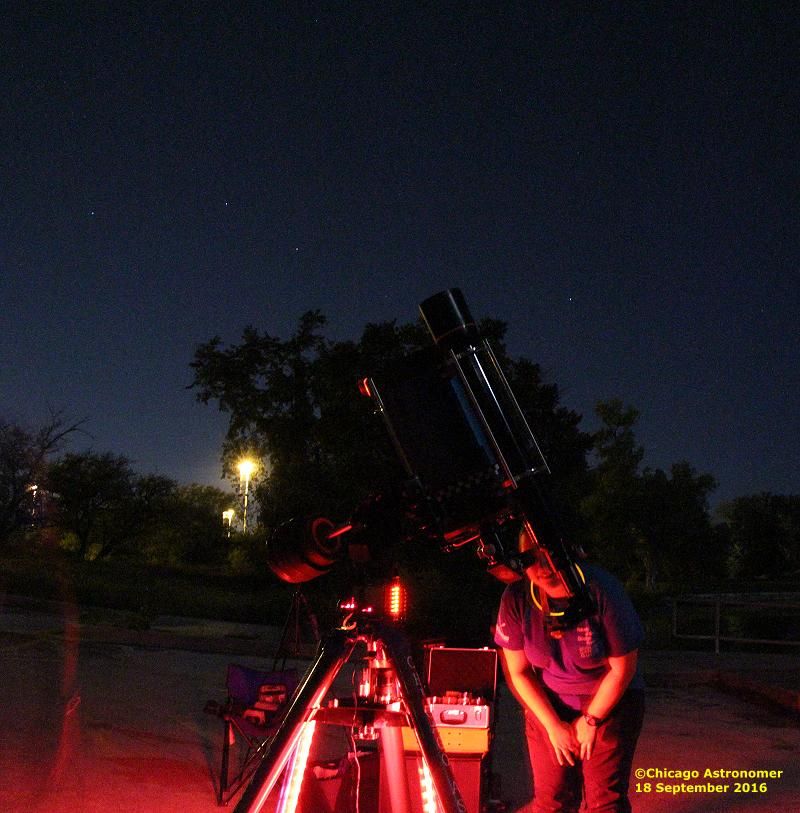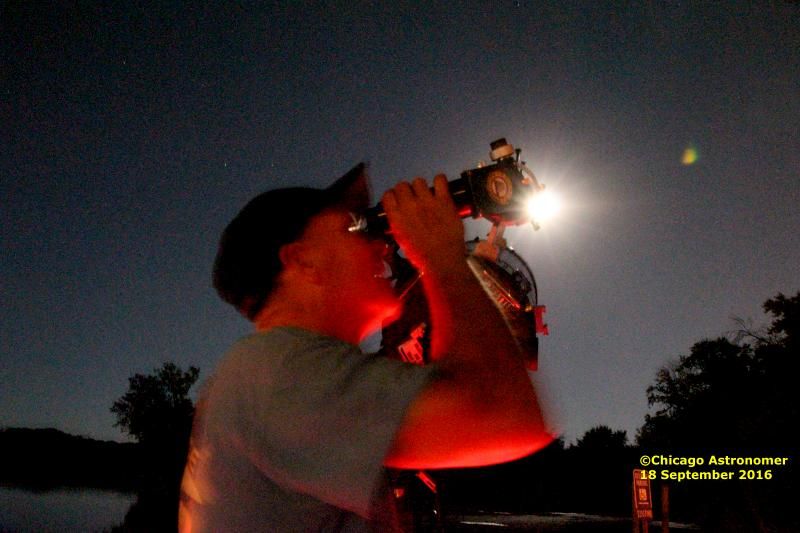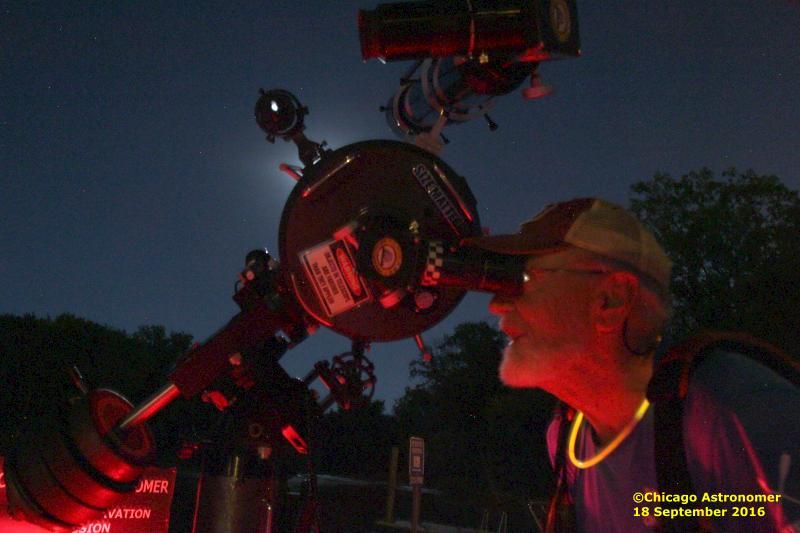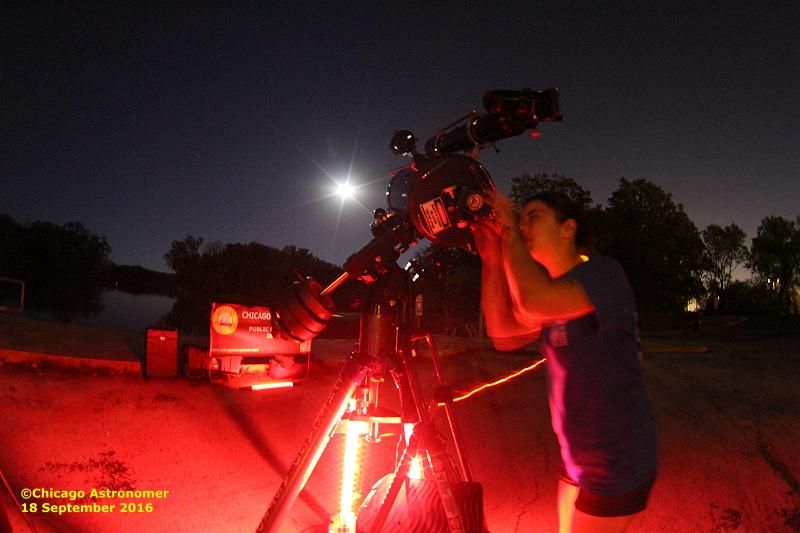 The Red LED string lights were a hit and will be a regular part of the Chicago Astronomer Star Parties...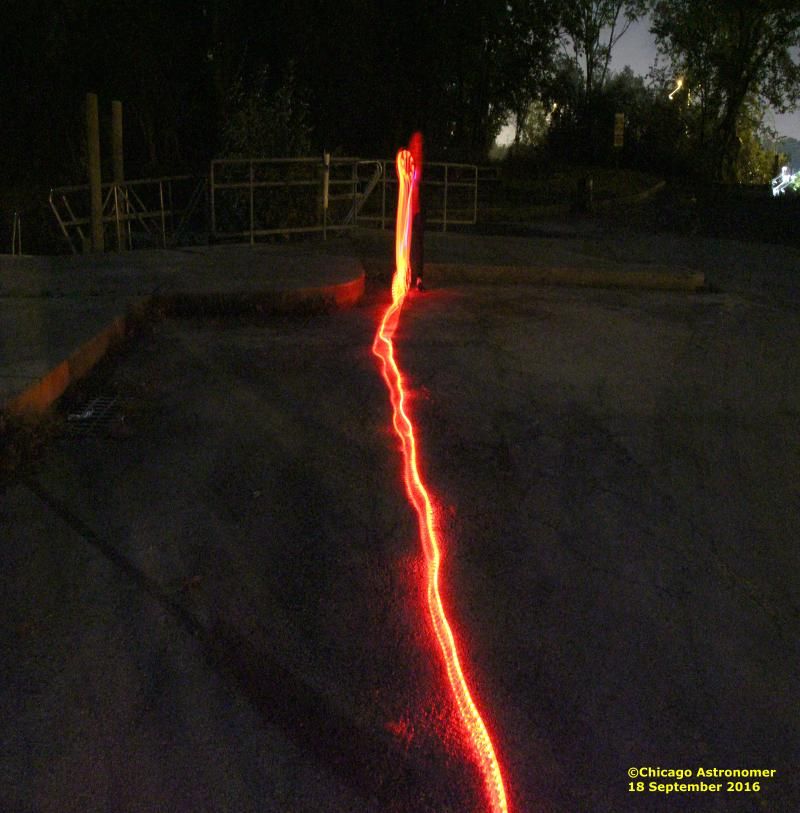 At about 11:00 pm we packed up our gear and headed out from the Skokie Lagoons, having a great time with canoers and organizers.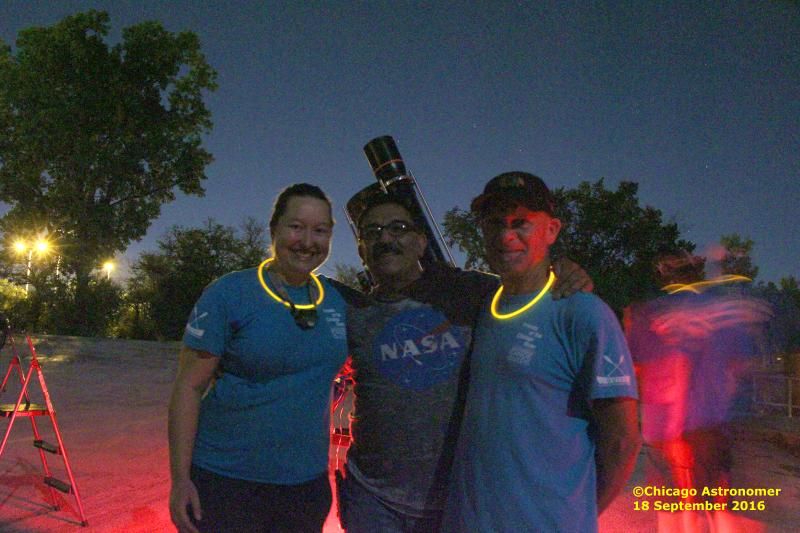 Made two new friends: Claire & Dave from the Friends of the Chicago River - bathed in Moon glow. As everybody had a great time paddling and viewing celestial objects at this event, plans are to partner up and share more activities together...