Post by Chicago Astronomer Joe on Mar 1, 2006 1:19:31 GMT -6
Next ISS Commander's Spacewalk Golf Shot Raises Concerns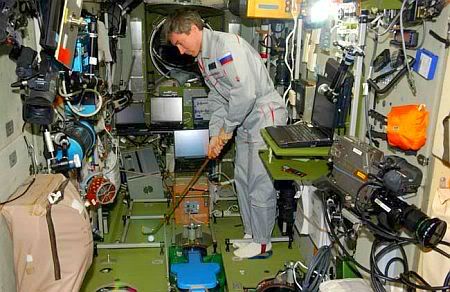 ISS Expedition 11 commander Sergei Krikalev rehearses a golf swing in preparation for a spacewalk shot by Expedition 13 commander Pavel Vinogradov, a fellow cosmonaut, as part of an agreement between Russia's Federal Space Agency and Canada's Element 21 golf company. Credit: NASA/Roscosmos/Element 21
CAPE CANAVERAL - A spacewalking Russian cosmonaut plans to hit a golf shot outside the International Space Station this summer as part of a publicity campaign that already has raised safety concerns.
Clad in a cumbersome spacesuit and anchored to a specially designed tee box, Pavel Vinogradov will hit a six-iron drive along side the station's Russian segment, taking great care not to hook the ball into the outpost.
Nataliya Hearn, president and chief executive officer of Element 21 Golf Co., said Russian Federal Space Agency officials initially were concerned that fragile solar panels jutting from the station's Russian crew quarters might be struck.
But an extensive Russian test program -- one involving veteran cosmonaut Sergei Krikalev -- subsequently showed the golf shot in space would be safe, Hearn said.
"If they were not confident that there would not be any safety issues with the structural components of the International Space Station, they would never have gone ahead and approved the full mission," she said.
NASA managers are aware of the plans and are reviewing the safety issues. The ball is expected to remain in orbit for three to four years.
"launch platform" was developed along with a spring-like space tee that would hold a golf ball in weightlessness yet release it when struck, Hearn said.
Engineers also had to determine the best place to mount the platform, and the best direction to drive the ball, to avoid hitting the station, Hearn said.
A gold-plated Element 21 six-iron and several golf balls were hauled to the station last September on a Russian space freighter. The golf shot tentatively is slated to take place during a spacewalk in late July.
The ball is expected to travel up to 2.1 billion miles before it drops back into the atmosphere and burns up.
"In essence, it's going to be the longest drive ever hit," company spokesman Joe Wieczorek said.
Full story here:
www.space.com/missionlaunches/ft_060227_exp13_golf.html
=========
Boy, I hope he doesn't hook it right into a solar panel!... FORE!!!...