Post by Chicago Astronomer Joe on Jul 13, 2006 1:10:03 GMT -6
Spacecraft carrying commercial space station launches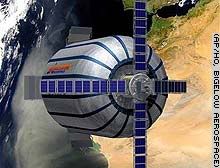 LOS ANGELES, California (AP) -- A Russian rocket blasted off Wednesday carrying an experimental inflatable spacecraft for an American entrepreneur who dreams of some day building a commercial space station, officials said.
The Genesis I spacecraft lifted off from the southern Ural Mountains at 6:53 p.m. Moscow time aboard a converted Cold War ballistic missile, according to the Russian Strategic Missile Forces.
It reached its designated orbit about 320 miles above Earth minutes after liftoff.
The launch was a first for Bigelow Aerospace, founded by Las Vegas real estate mogul Robert Bigelow, who owns the Budget Suites of America hotel chain.
Bigelow envisions building a private orbiting space complex by 2015 that would be made up of several expandable Genesis-like modules linked together and could be used as a hotel, or perhaps a science lab or college. He has committed $500 million toward the project.
Because Wednesday's unmanned mission was experimental, Bigelow said he was prepared for problems.
"I wouldn't be the least bit surprised if we have a number of different systems fail," he said. "I would hope that we have some success."
The watermelon-shaped Genesis I is a one-third scale prototype of the commercial space station to which the company eventually hopes to fly humans. Equipped with a dozen cameras to be aimed at the Earth, it is supposed to circle the planet for at least five years while scientists study its durability.
Genesis I measured 14 feet long and 4 feet wide at launch and was to inflate to twice that width in orbit. It carried photos of Bigelow employees and insects that scientists hope to study to determine how well they survive the flight.
In the 1990s, NASA studied inflatable technology for a possible trip to Mars, but later dropped the idea after deciding inflatable modules were too expensive.
This fall, Bigelow Aerospace hopes to launch Genesis II, which will carry mementos from the public for $295 apiece. Over the next several years, the company plans to test larger prototype spacecraft, including a full-scale mock-up slated to launch in 2012.
Source:
www.cnn.com/2006/TECH/space/07/12/private.space.station.ap/index.html
==============
Don't forget the patches!...