Post by Chicago Astronomer Joe on Apr 8, 2015 11:22:12 GMT -6
Chicago Astronomer IDPL/IHSCA
Astronomy Club
10 March 2015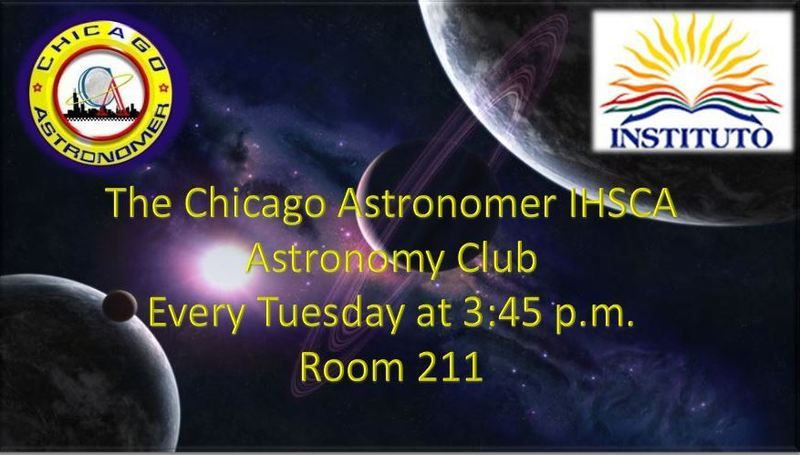 At my daytime work I am an Administrative Security Officer at a Charter High School (Instituto de Progresso/Institute of Health Careers Academy). It has become well known that I conduct public observation sessions, star parties and astro events throughout the metro Chicago area...and I'm the go-to guy for all things astronomical. I have been asked if I would like to start an astronomy club here since early 2013, but obligations and time constraints had prevented any consideration of such an endeavor.
But, now that the winter is easing away and my schedule is pretty stable, I felt that it was a good time to start this club and introduce urban astronomy to a whole new group of young adults. Although students have been asking for such an opportunity, I was unsure of the response and participation if such would be something that would carry for months.
Working with the school administration, I filled out the necessary paperwork, mission statement and created a couple of powerpoint slides to display on our school monitors, including the one at the top of this thread and this one...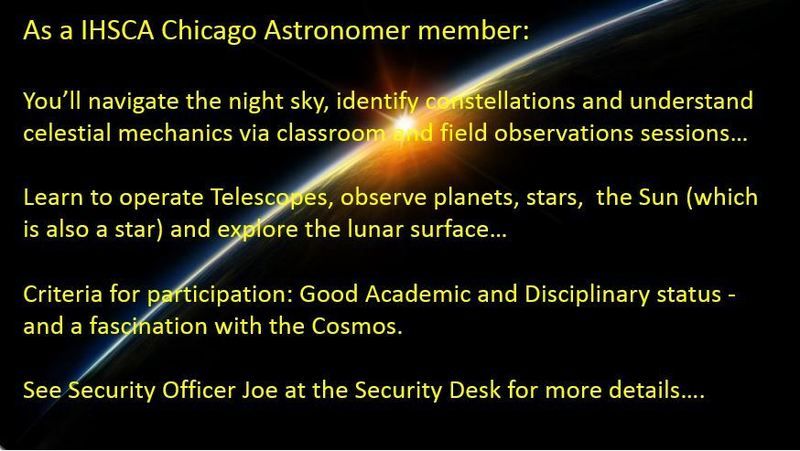 I was assigned a room and now it was up to me to organize the students who might be interested. Luckily I had a small core of students who I developed a good relationship and they took it upon themselves to spread the word and gather those for the first meeting. The response was more than I expected, as I learned that anything space or astronomical was of great interest here.
My permanently assigned room was 211 and I would be borrowing it from another teacher for about 1 1/2 hours every Tuesday after school at 3:45 pm...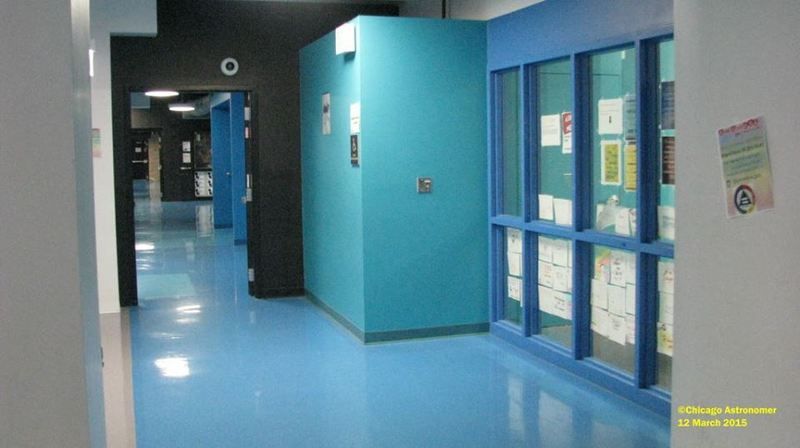 I haven't been in front of a class teaching since my days in the Chicago Police Dept, when I was an instructor...and this was kinda stressful for me. Would I garner enough students to justify the time it takes to organize a club....could I build a lesson plan interesting enough to keep young minds with me...did I have enough content to fill 1 1/2 hours? To top that off, I had others internally observing what I was going to do. Would I fail... or succeed in something that I do all the time outside of school with the Chicago Astronomer organization, Chicago Park District and Adler Planetarium. It's the same...but different.
I did not plan for a heavy first lesson, but just a get to know each other, who I was and why they were here...perhaps chat lightly about urban astronomy and what to expect from this club...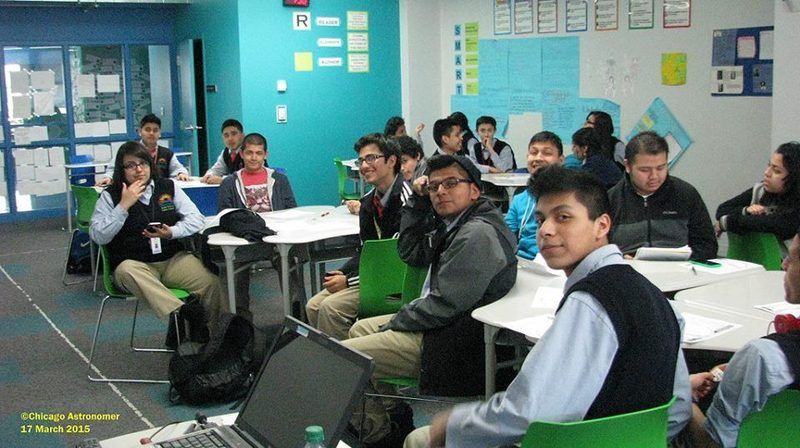 I had 14 eager young adults join us for this first meeting!
I was relived for this first meeting that I had a solid group, interested to stay after a long day at school and learn about astronomy. I went around the room, asking the participants to state their names and reason for being here - and the common statement was that they enjoy space related subjects and have been looking for something like this.
I brought along the laptop, loaded with graphics and planetarium programs, but the Promethean display projector didn't like it and would not cooperate, so it was all verbal and using the white erase board to illustrate the answers to questions. The students asked questions from black holes/spaghettification and the movie "Interstellar" to manned space travel and rocketry.
My concern if I would have enough content to fill time was answered, as before we all knew it, time was up and the next class, (ESL) was waiting to enter the room. We could have dialogued for two hours easily.
It was asked if I would continue this club after school ends in June, carrying it throughout the summer. I don't as of yet, it will depend on the participation and desire of the astro crew. My intention is to certify the members who wish to join me at Chicago Astronomer events and become part of the support crew - guiding visitors, protecting and working the telescopes.
A great start to exploring space from an inner city High School with young eager minds and a great appreciation to the Institute of Health Science Careers for offering this opportunity.