Post by Chicago Astronomer Joe on Jul 29, 2014 7:58:39 GMT -6
Enjoy Chicago's only Perseid Meteor Shower event with
the Chicago Astronomer and the Chicago Park District

Wednesday, the 13th of August 2014

8:30 pm to 2:00 am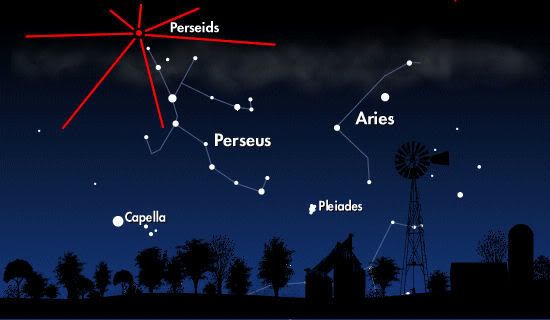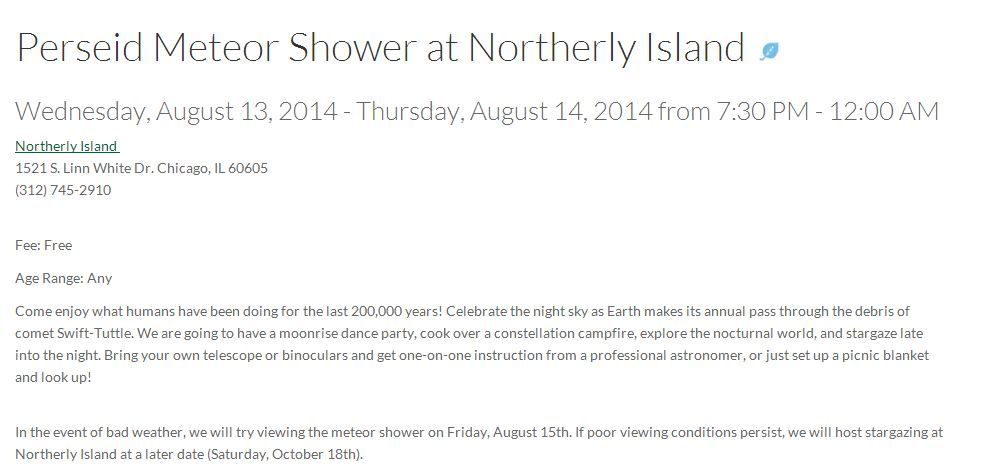 www.chicagoparkdistrict.com/events/Perseid-Meteor-Shower-at-Northerly-Island/
For our next joint urban astronomy session, the Chicago Astronomer and the Chicago Park District will host a public Perseid Meteor Shower party at Chicago's front lawn, catching planets and discussing all things astronomical with our visitors on
Wednesday, the 13th of August at Northerly Island.
Also known as "The Tears of Saint Lawrence" - (who was martyred around the same date on August 10th, 258 A.D
), this year's shower will be hampered by the Moon, as it will be at waning gibbous during the Perseid peak and just two days past full lunar illumination
. This will make for tough spotting of the fainter meteor streaks, but brighter ones will easily punch through the glare. For those who wish to photograph and try to capture meteor streaks, exposure times will have to be shortened.
We will gather at Northerly Island at 8:30 pm and remain till midnight - but the area will be open to visitors till 2 am with Chicago Park District personnel till closing....
We are working on the final details, including the exact spot, but there is the possibility that camping will be allowed at least till 2am. (Confirmations and updates as they are known and will be posted here.)
Telescopes will be set-up and we will have guided tours of the summer cosmos, including Saturn, Mars and other highlights of the current urban skies, while keeping an eye for meteors. (At a Chicago Astronomer private event a few years ago, the C.A. crew spotted 40+ meteors right from this spot.) The Perseids radiate high from the Northeast, but in actuality, the meteor streaks can appear just about anywhere in the sky. For those who cannot join us for this session, grab a blanket, mosquito repellent and face north...but keep a peripheral eye open for those that sneak by. Composition and speed reflect the color of the meteor observed. Meteors made of sodium produce orange/yellow light, iron will produce yellow, magnesium creates bluish/green, calcium makes violet and silicate meteors produce fiery red colors.
See what different colors you can spot!
Join the Chicago Astronomers as the Chicago Park District hosts this free public viewing of the remnants of Comet 109P Swift-Tuttle as the Earth plows thru it's debris stream.
It's close, it's free, it's the only meteor party in town.....and you know you want to be there....