Post by Chicago Astronomer Joe on Mar 22, 2014 13:06:55 GMT -6
Lecture on the hunt for Super Black Holes
with Professor Andrea M. Ghez at the Adler Planetarium

21 March 2014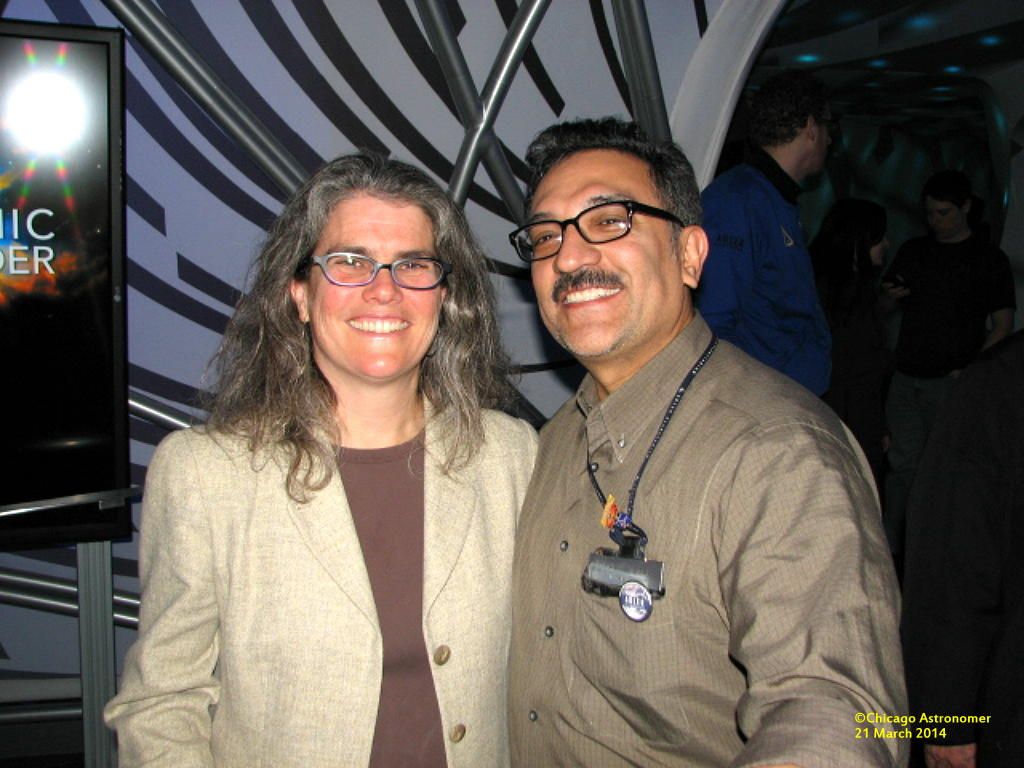 We enjoyed the great opportunity to attend a lecture on the hunt for Superblack holes with UCLA Professor Andrea Ghez at the Adler Planetarium.
A full house greeted Prof. Ghez in the Grainger theater as we eagerly anticipate her presentation...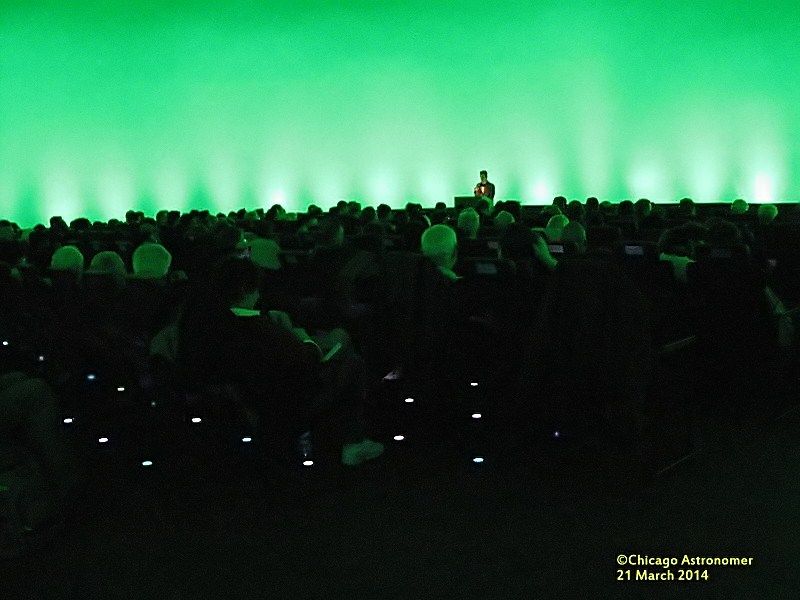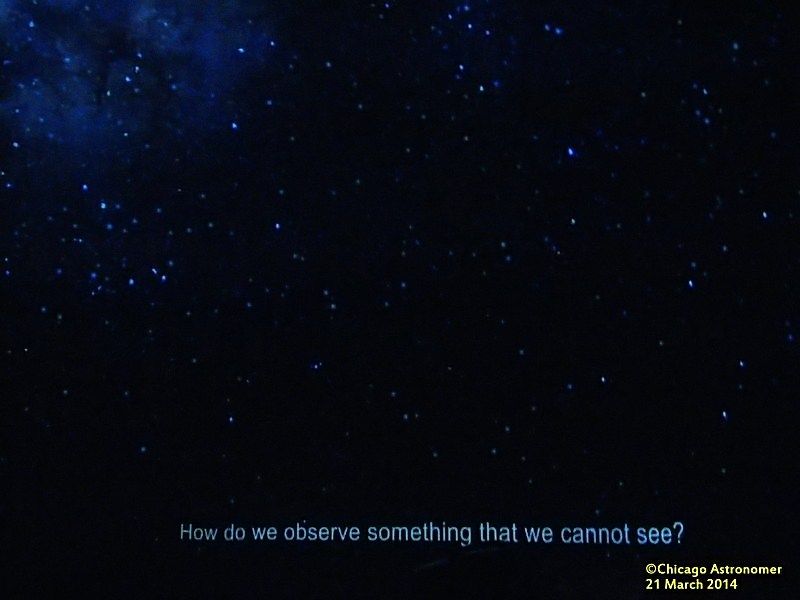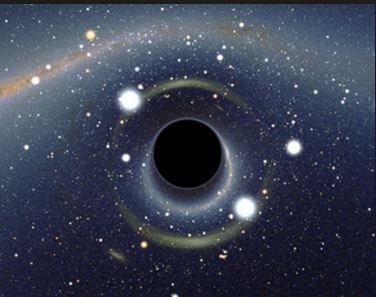 As we cannot view a black hole, she describes the detection methods of astronomers in the many indicators of of a super magnetic presence, such as galactic bulge indicators...
..and with advanced adaptive optics imaging, the orbits of stars whizzing around a central point in the center of our galaxy...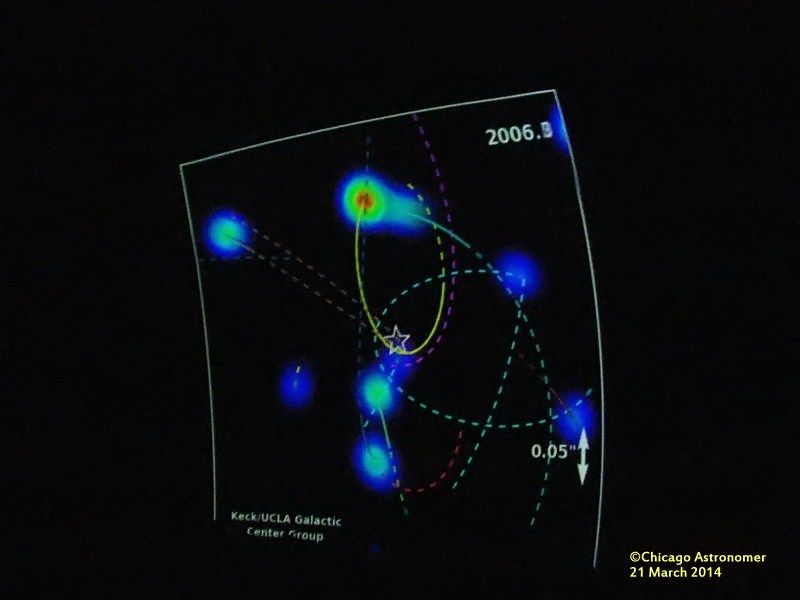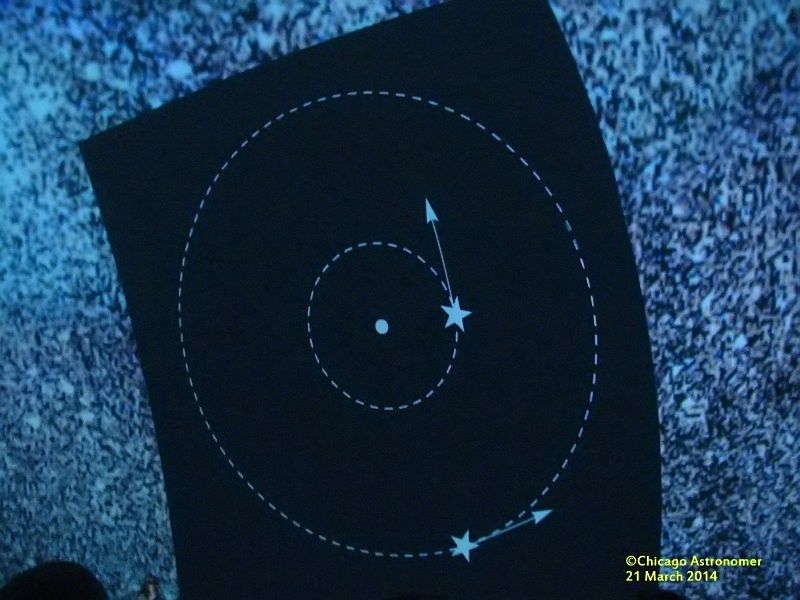 ...and it seems like that there are black hole influences just about everywhere in galactic neighborhoods...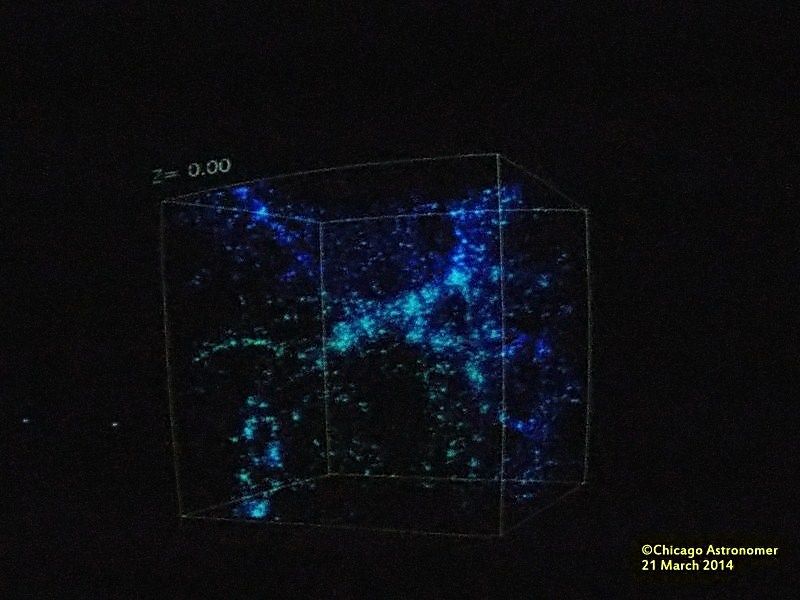 ...and it appears that they abound in clusters.
There is theory, that it's not just stars can be the progenesis of black holes, but matter, if large and compressed enough, can collapse onto itself and become black hole-like...
Any mass can become a black hole, if it collapses down to the Schwarzschild radius. The common definition of this measurement is - "The Schwarzschild radius is the radius of the event horizon surrounding a non-rotating black hole. Any object with a physical radius smaller than its Schwarzschild radius will be a black hole. This quantity was first derived by Karl Schwarzschild in 1916"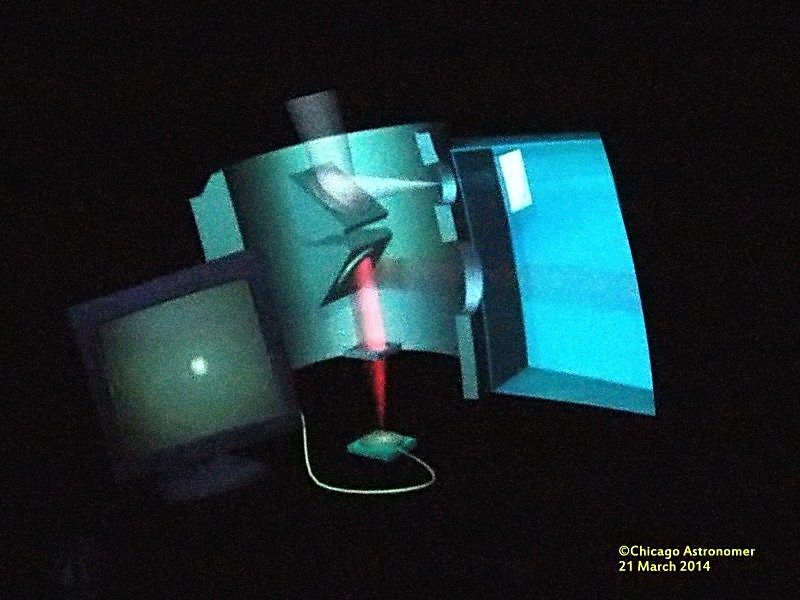 Using lasers to agitate sodium molecules, laid down by meteors high in the atmosphere, Astronomers produce an artificial star to assist in calibrations and measurements.
Adaptive optics and infrared imaging have brought past hidden objects closer and clearer...and getting better all the time. The next Super Observatory - The 30 Meter Telescope - will bring us images even better than the Hubble can produce...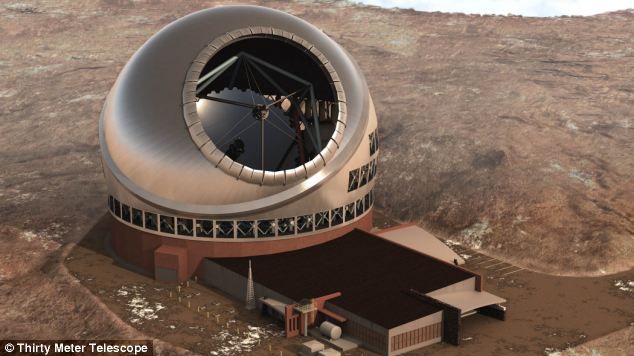 And, this spring of 2014, black hole hunters are excited in witnessing a gigantic gas cloud that will interact with our galactic black hole, as it dives in...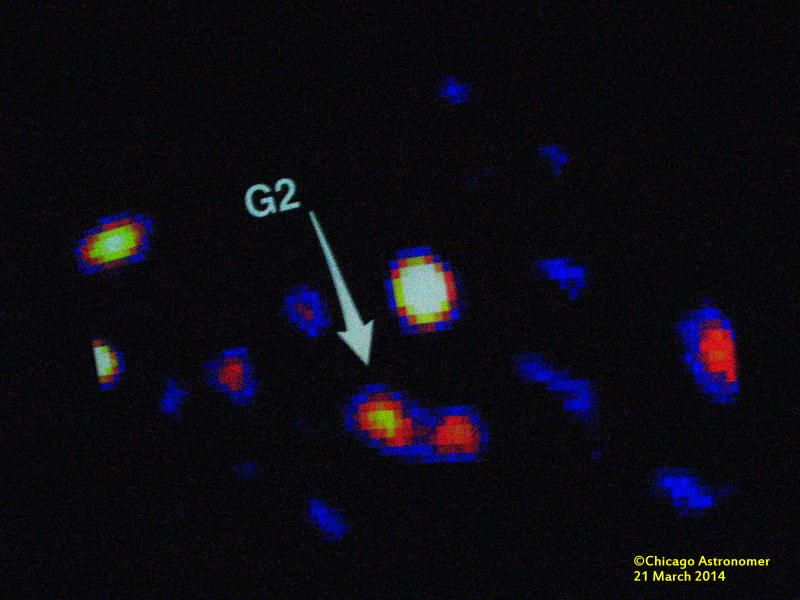 The G2 mass has been followed for some time now and astronomers are at the ready.
An hour later, our trip to black holes was over and the lecture was open to questions and answers with Prof. Ghez...
Afterwards, we all gather outside of the Grainger theater for a meet-and-greet...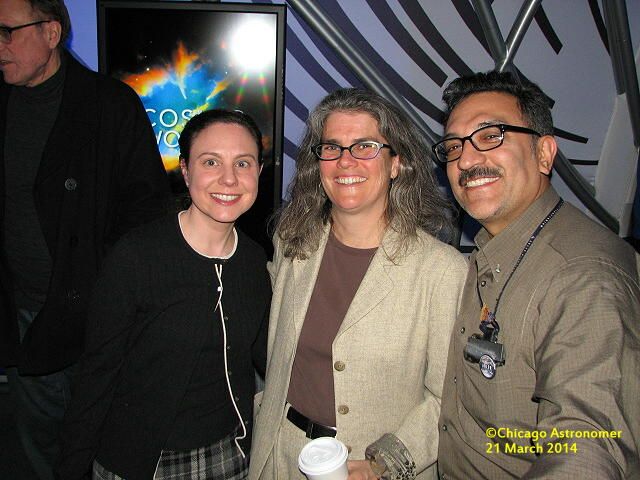 Fellow Adler Planetarium Telescope Facilitator Linda and I welcome Professor Ghez to Chicago and share a few moments together.
On the way out, we take a group shot...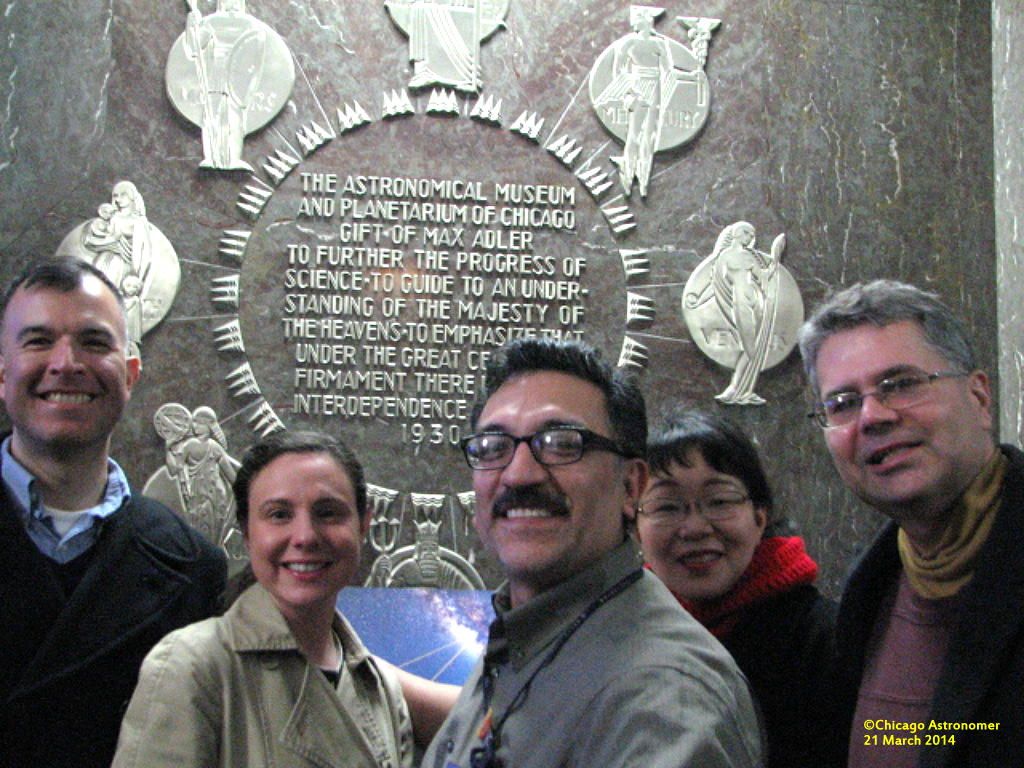 Joining: Alfred, Linda, myself, Joyce and Fred by the Adler's dedication plaque...(Minus Pluto)....