Post by Chicago Astronomer Joe on Feb 13, 2014 21:31:35 GMT -6
Total Lunar Eclipse

14/15th of April 2014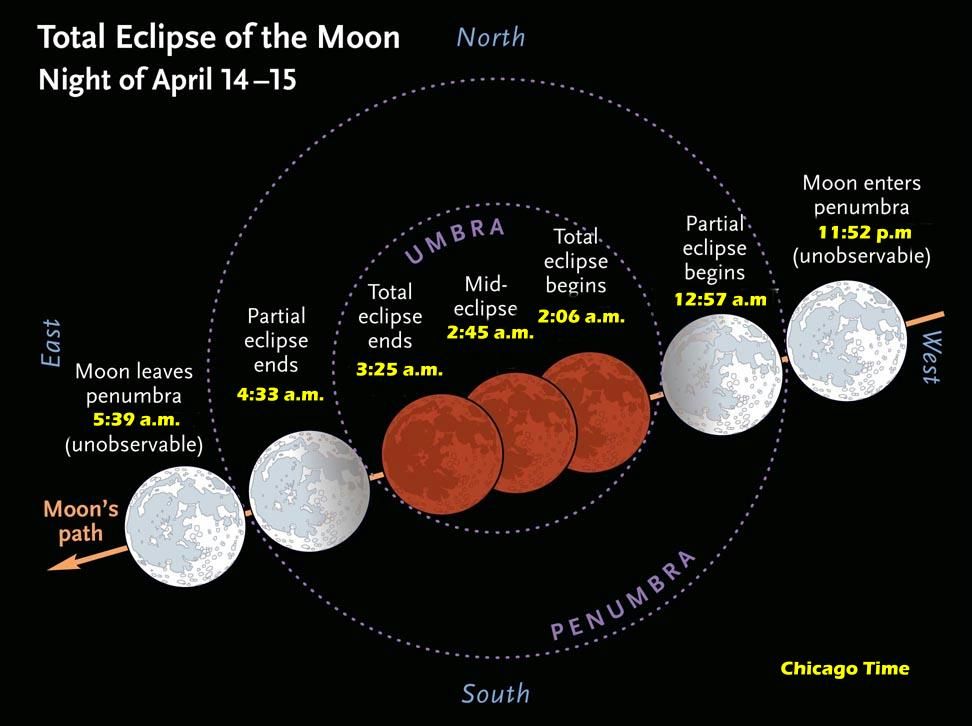 Original Graphic: Sky and Telescope
It's been awhile since our last Total Lunar eclipse...and Chicago Astronomers fans will get the chance to view a great one this April of 2014.
If our skies are clear, we will get to witness the Moon slip into the earth's shadow for 78 minutes...in where the lunar orb will slowly change from a silvery white to a nice copper brown. It isn't always accurate to determine what final color the Moon will turn at maximum, as many factors are involved such as: Volcanic activity, pollution, haze etc. One geographical region may observe a light shade...while another will observe a deep red. But this one is just slightly below center of the full Umbra of Earth's shadow and could deliver a nice deep copper one for us.
The above graphic is converted to Chicago time and the fun starts at about 1:00 am...when it just starts to become noticeable that something is going to happen to the Moon - as the lunar orb starts to get darker on one side. Maximum coverage event will be at 2:45 am - when the whole sphere of the Moon will be immersed in shades of red and brown. The same thing happens again...but in reverse - and it's all over at really at 4:33 am. For some, (being a work/school day... Monday night into Tuesday morning), if you have seen the beginning and mid events, then you can go home then. But die hard lunar fanatics enjoy witnessing as much of these events as they/we can...till the very end when the Moon either totally slips out from the Earth;'s shadow...or the Moon sinks below the horizon -(which will happen here).
Here are some images of the last decent lunar eclipse we had in 2007...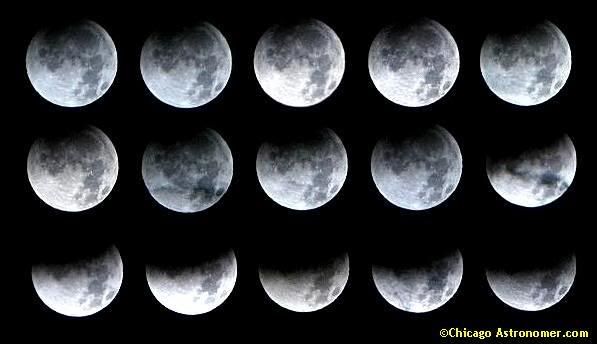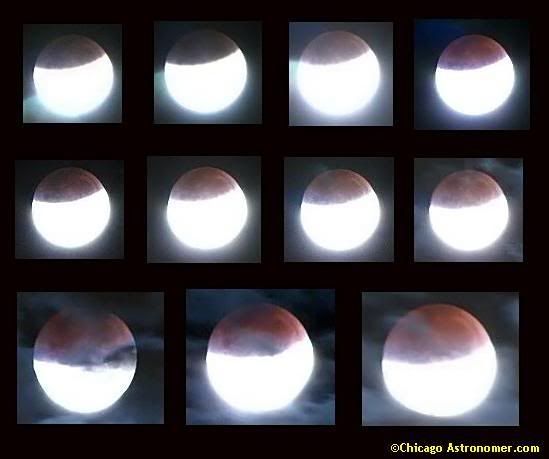 Details here on that eclipse:
astronomer.proboards.com/board/58/photobucket-josephguzman-adlerchicago-observation-sessions
It is still early at this posting, (Feb 2014), to determine solid details on our Chicago Astronomer Eclipse Party, but we will either hook up with the Adler Planetarium for a joint session, contract with the Chicago Park District....or conduct one ourselves. Either Way, lovers of the dark sky will get to share this phenomenon with fellow Astronomers and our scopes.
Stay tuned for details....