Post by Chicago Astronomer Joe on Nov 4, 2013 21:40:14 GMT -6
4 Comets in our skies for the 2013-2014 season

(C/2013 R1 Lovejoy, 2P/Encke, C/2012 X1 LINEAR and ISON)




The overblown hoopla over Comet ISON has ignored other comets in our skies...that are easier to locate and with better views.
Observations on ISON have been disappointing, with an early outgassing near Mars...the comet has not brightened to expectations and has cancelled many public viewing sessions - including Chicago's Adler Planetarium. We are hoping for a November 16th viewing at 5:00am at the Doane Observatory Observation Deck...but unless ISON brightens up as it dives close to the Sun.....that one may be cancelled as well.
But....
There are three other comets worth a peek...and not only easier to catch, but brighter...
From Universe Today: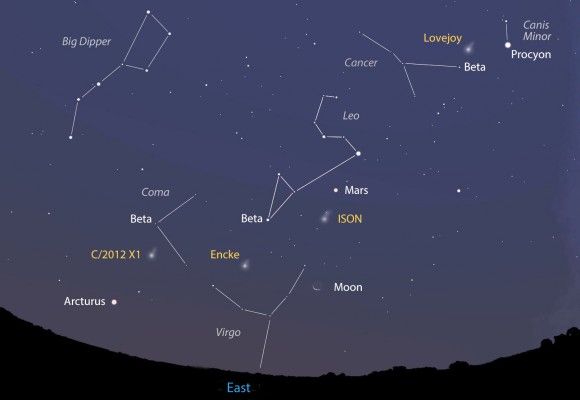 Rarely are four comets this bright in the same quadrant of sky. This map shows the sky facing east about two hours before sunrise on Oct. 31. Take note of the three stars are labeled "Beta". These are (from top) Beta Cancri, Beta Leonis and Beta Coma Berenices. We'll use these three stars and the planet Mars to hone in on the comets' locations in the maps below. Stellarium
Read more:
www.universetoday.com/105806/four-comets-haunt-the-halloween-dawn-heres-how-to-see-them/#ixzz2jk99P7lK
Good reports have come in on the surprise
Comet Lovejoy
- which is presently at Magnitude 6.5 and expected to glow with a maximum magnitude of 5. With a 16' coma and high in Gemini all night - it is the brightest comet around. Astronomers have been surprised at how easy it is to target Lovejoy. In our skies, it is has been viewed naked eye.
2P/Encke
in Virgo is brightening up nicely and should be a naked eye comet by the end of November. The coma is presently at about 3' in diameter and looks like a fuzzy cluster in the eyepiece, reports say.
2012 X1 (LINEAR)
brightened up unexpectedly in mid October and has the appearance of the famed Comet Holmes in 2007 - (which was a naked eye comet in the city.
The media has ignored these other three solar system intruders and focusing too much on ISON. It may brighten up nicely, but will never be "As bright as the Moon", as touted earlier when it was first announced. Pan-STARRS was also a big let down earlier this year after big media hype.
I have not the opportunity to target and observe any of these comet as of this post, but Lovejoy is at the top of my list on the next clear night...

. It will be difficult to organize a public observation session to catch these comets before perihelion, as all opportunities would be just before pre-dawn, but let's see what happens after the comets swing back out and away. ISON will pass close to Polaris later on in the new year, albeit it will dim considerably.
Stay tuned for updates on these four comets and potential open viewing sessions for our Chicago Astronomer Crew members and fans.