Post by Chicago Astronomer Joe on Aug 2, 2013 2:10:06 GMT -6
A clear evening brings me out and set-up the C11 outside of the garage on a warm summer's evening, as I have been having some issues with the CG-5 recently. I loaded the C102mm Refractor first and reset the CG-5 to factory settings. I was getting some slews that were off and frustrating me something awful. I recalibrated the polar scope, polar aligned the that scope with the main OTA and leveled the mount....but to no avail. Still off. Not by a lot, but enough to keep the eyepiece clear of the desired object in my previous session of two night's ago.
Starting fresh this evening from zero...I did all the tweaks mentioned above and now with a factory re-set on the hand controller - I was now finally...getting the objects within the FOV. Undertaking the "Polar Align" procedure made things even tighter - tweaking the mount to the last alignment star.
It was relatively early, as my sessions don't usually start till after midnight, and now just 10:30 pm - with M57 straight up...so let's shoot it...
This is decent for a blazingly lit alley-way...
Nice ring from the C102...and the slewing from star to star was accurate.
I then popped on the C11, and although it did continue to slew ok to my targets, it was not as accurate as with the 102mm.
It told it to slew to the "Blue Snowball" (NGC 7662)...an object I haven't observed in a long time - since C.A, Steve and I checked it out in 2009 on the Montrose Harbor Hill.
I wonder if I can image it....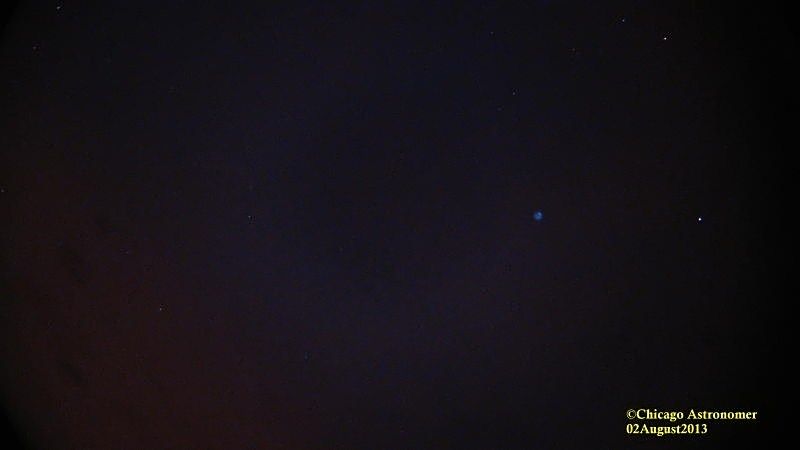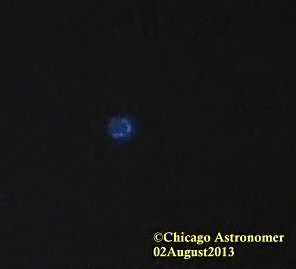 [/center]
I was getting structure in the imaging.
Very cool for the first time imaging in a light polluted site...

I then explored the Cassiopeia area again, blazing a path with laser power and clear a way through my neighbor's trees...
Visiting usual pals, I came across this binary...
I don't know which one it is, but the colors were pretty.
I was going to shoot the "Double-Double" quad star system - straight up - and came out with this interesting capture...
Washed out in the glare of the alley lights, we still were able to capture the system and a satellite! The glare makes the system look like it's within a nebula...

I tried to split the double-double into it's components and capture it via camera, but high clouds were moving in...and I lost my observation window and the session came to an early end.
And...
The waning Crescent Moon from two night's ago....