Post by Chicago Astronomer Joe on Jul 23, 2013 0:46:20 GMT -6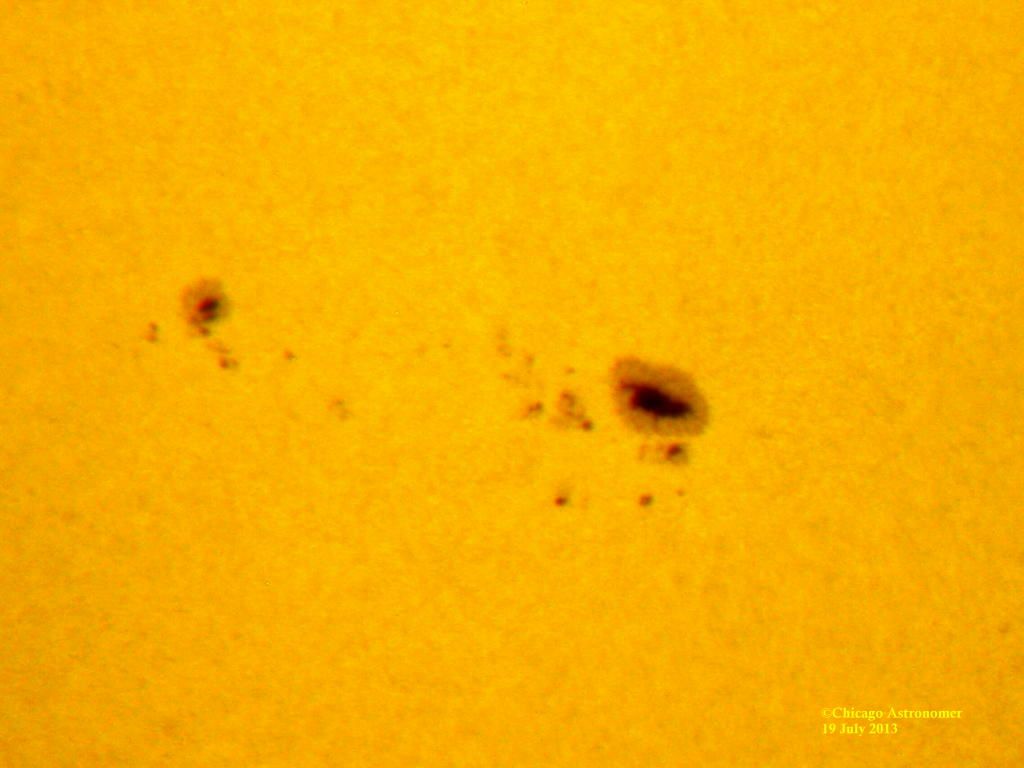 C102mm Refractor w/ full aperture Baader Solar Filter
On the Chicago Astronomer Facebook page,
(
www.facebook.com/pages/Chicago-Astronomer/20209633649437
3 )....
....I received a good question about solar filters...


I am looking for any recommendations/help for a sun filter for my Apertura AD12, 12 inch telescope. the outer diameter of scope is 14 & 5/16. what are the pro's and cons of a off axis versus full size filters, glass versus mylar.

Thanks for any help, Greg
Gregory....
Excellent question -
I prefer full aperture filtering over off-axis. Buy cutting down the aperture on off-axis...you are cheating yourself out of details on the solar disk. Yea, I hear about those who feel that the Sun is so bright, that you do not need a large aperture to observe. True...to a degree. But, you are also limiting the finer attributes that that a smaller aperture just cannot resolve and deliver. I have experimented with both full aperture and off-axis. Both work, but the full aperture way brings in finer granulation, magnetic lines around the sunspots and just makes the observing experience better. I have also read that full aperture increases heat current within the tube...but I have not found this to be the case.
Go full aperture...you can always cut down if you desire.
Early on, I thought glass was superior over film, and it was...but the Baader line of filters presently out there are excellent. I have a full aperture Orion glass on my C11 SCT. Works well, but lends a bit of "softness" to the image. Popping on the Baader full aperture filter on my C102mm refractor...brings in a much sharper image and more detail - 7 inches smaller in aperture! My intent is to eventually obtain the full sheet for the C11 and go that route for some spectacular solar imaging.
The full aperture Baader filter for my smaller scopes:
astronomer.proboards.com/index.cgi?board=Equipment&action=display&thread=4196
Also for photography....
It's difficult to image solar pics from the start, regardless on what you use, but the glass filters makes imaging a chore...as it seems that you cannot get a totally sharp image. The Mylar Baader filters do not have this drawback and imaging is good. All of my solar pics here on this site are from behind a Baader Mylar filter.
I have also utilized the Seymour Solar filters.....
astronomer.proboards.com/index.cgi?action=gotopost&board=Equipment&thread=3586&post=15582
Cheap, easy to apply and the film is black....lending an orange/yellowish hue/tint to the image. It's okay for fun and casual observing/public sessions...but not for detailed images...as it's on the soft side. It looks cool though and the general public likes it.
Bottom line....
Glass is cool for causal observing/public star parties, but Baader Mylar for serious observation/imaging and keeps the natural white color of the Sun. (I like to add a yellow & Light Pollution filter to my light path for contrast and interest.)
Full aperture over off-axis....you can always stop down later.
Let us know what you decided to go with...