Post by Chicago Astronomer Joe on Jun 21, 2013 8:15:47 GMT -6
With a clear, (but hazy), night ahead of me, I decided to spend some solo time with the urban cosmos, and bring in the Summer Solstice. Not feeling like messing with the C11, I popped on the CG-5 mount, the much more simple C5. This will give me a chance to work out some bugs with the mount while I'm at it.
Starting around 11:30 pm, I Factory re-set the Hand Controller, as I was getting some messed up alignments/slews the last time I worked this mount. The new polar scope worked well and after the re-set...the slews were right on. But this Handset, which is the industry standard, is so 1990's and it shows. (More like Windows 3.1 really.) Why manufactures of these mounts - and similar - don't upgrade to a better interface, is holding back astronomy big time. No way am I going to filter thru the archaic menus - a line at a time - to get to my desired target. You know what I'm talking about.... It's fine for the mounts initial set-up, but not for targeting during an evening's session.
Thank goodness for the computer interface!
I could hook-up a laptop to the CG-5, but that's just another cumbersome device to attend to. Now, I'm not an Apple guy, but I am grateful for the "Luminos" app on my iPad mini, to enable me to guide this mount in graphical luxury...
Looking over at the digital star chart and tapping on what you want to look it is neat. I like to follow the cursor and see it land on my desired object as the scope slews to it simultaneously. I thought I would do a binary session this night and the iPad mini interface worked very well. The blazing alley lights and my trees are another story...
My trees have always caused a problem, but this rainy spring has caused a unusual growth spurt...and the trees have spread into my alley site something awful. Alberio was occulted by leaves and peeked out enough to grab a pic...in a sea of green....which last year was clear of any obstructions straight up.
There are a lot of binaries in Cygnus and it was enjoyable to tap on them on the screen and have the mount center them in the eyepiece, which was a 2" adjustable Maxview on the C5. At this garage site, my south is totally blocked out and I am left with a northern vista, some eastern and so-so zenith angles. Ursa Major displays well and the old pals of Mizar & Alcor are easy targets.,..
I like this one, but I have forgotten it's designation....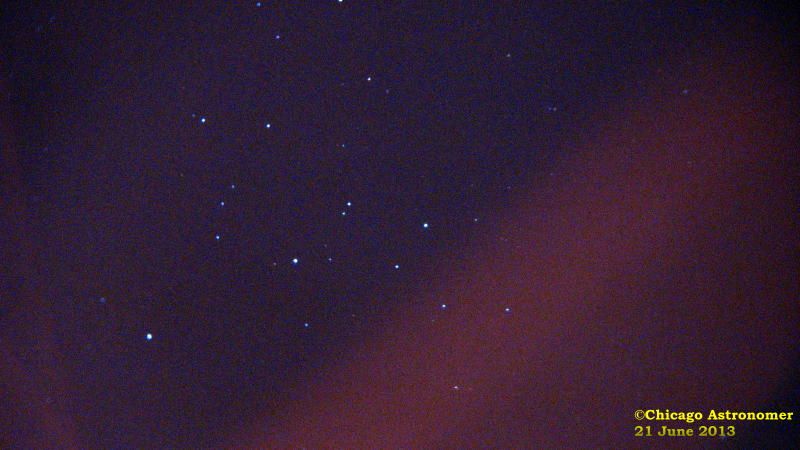 I think the above is M39
This is a neat little asterism, but I forgot what it is.
Above was a tight little grouping, only visible in the time exposure of 8 seconds.
There were also some pics of M101, M57, M33 and such, but with the small aperture of 5 inches, not impressive.
I spent till 3:30 am, exploring the small patches of sky that I could punch through and crippled by the intense alley light just above the garage and to the east. (Man, would I like to shoot them out...!)
Also...
The ISS made a spectacular near overhead pass at 10:00 pm...passing through my trees and exiting my neighbor's garage...
Leaning the camera on a trash can, I grabbed a 6 second shot...came out half decent.
On the trees....
I will have to drastically trim my trees by donning climbing gear and chain sawing the tops off. I like the shade and the purification that they provide, but they have gotten much too tall and are a potential danger in storms. A by-product of the massive trimming will be a regaining of sky for me...

A nice time bringing in the Solstice...