Post by Paulie pchris00 on Mar 29, 2013 15:23:18 GMT -6
During the summer of 2008, when I first bought my Dob, I observed little more than Jupiter for months. Every clear night I was out for as long as I could be, usually about an hour or two a night, watching as the Galilean Moons moved through their Jovian orbits. Each observation session I jotted down the relative positions of the moons and the time, trying to get at least two observations at least an hour apart. Over time I got very good at tracking them, and based solely on my observations and the known orbital periods, I figured out which moon was which, and could keep track of them as long as there weren't too many cloudy nights in a row. After thirty or so observations, I even started to guess at how the Galilean Moons would be arranged the following night. Most times, I was pretty close.
Now that I'm supposedly a better and more experienced observer, my documentation is exclusively photographic. And my time observing Jupiter regularly has become more limited. Now when observing the Jovian system, I rely on Curt's nightly graphs to identify the Galileans Moons.
www.curtrenz.com/jupiter
I observed Jupiter and the Galilean Moons for more than two hours last night, but hadn't consulted Curt's graph first. Ganymede, being biggest and brightest was easy to identify, as was dark and far out Callisto. That left Io and Europa to be identified. I did not identify either of them until I ended the session and had a look at Curt's graph, seen here.
I was looking for motion of the two moons relative to each other, but I wasn't seeing any, which is consistent with the graph above. What I failed to notice, and what I always noted when I sketched the positions by hand was their motion relative to
Jupiter
.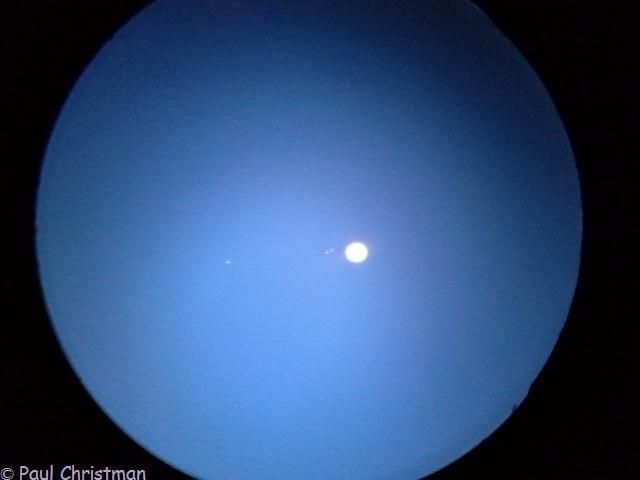 7:22 PM CDST.
At 7:22 PM CDST, Europa is less than one apparent diameter of Jupiter, while Io is about one apparent Jovian diameter from the limb of the planet. Even if I had noted these positions at the time of observation, it still wouldn't have helped me to identify either moon. However, because I did not note it, I was troubled a couple hours into the observation that I hadn't detected any motion from any of the moons. With slow orbiting Callisto and Ganymede towards the far ends of their orbits, I didn't expect to see motion from them. But not noticing motion from Io and Europa bothered me. I should have noticed that they were both getting farther from Jupiter.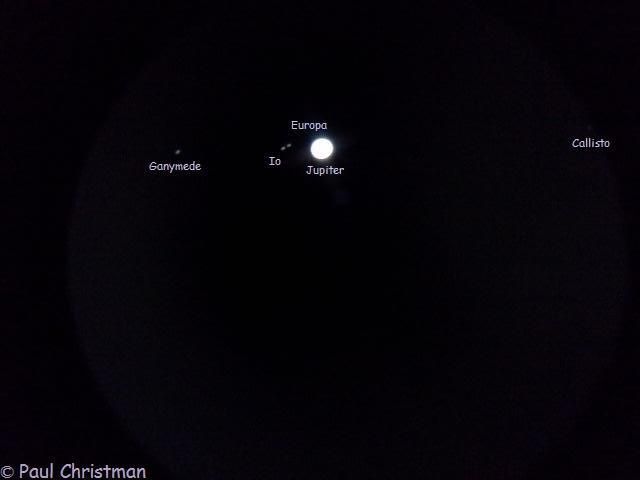 8:21 PM CDST.
In the final photo of the observation, Europa is now more than one apparent diameter of Jupiter from the limb, and Io is about 1.5 times the apparent diameter of Jupiter from the limb. It's obvious in the photos, but I failed to observe this motion in real time.
9:42 PM CDST.
Thanks to Curt for his nightly Galilean Moon graphs. When I can't figure them out on my own, it's the first place I look.