Post by Chicago Astronomer Joe on Jan 25, 2007 23:07:49 GMT -6
Organic Globules found in Meteorites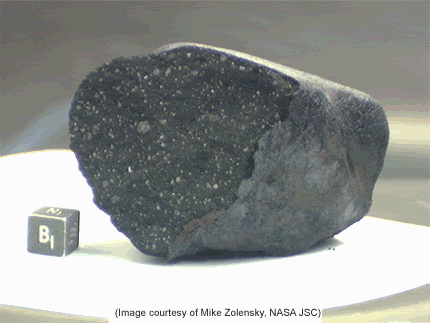 Hollow organic globules in the Tagish Lake meteorite probably formed far from the proto-Sun, maybe even in interstellar space before our Solar System formed.
Keiko Nakamura-Messenger and colleagues at the NASA Johnson Space Center in Houston, Texas, studied minute globules of organic material in the Taglish Lake carbonaceous chondrite. This meteorite was collected soon after it fell, so is fresh and likely to be uncontaminated with terrestrial organic compounds. Using microanalytical techniques the NASA team found that the globules had hydrogen and nitrogen isotopic compositions consistent with chemical reactions at strikingly frigid temperatures, only 10 to 20 K (-253 to -263 C). Temperatures that low occur in cold, interstellar molecular clouds like the one that collapsed to form the Solar System or in the outermost part of the disk surrounding the Sun when it was forming. These organic globules might represent the type of prebiotic carbon compounds that were delivered to young Earth.
One of the greatest arguments in meteoritics erupted in the early 1960s with the announcement of the discovery of tiny fossils in carbonaceous chondrites. The research had been done by microbiologist George Claus (New York University Medical Center) and organic chemist Bartholomew Nagy (Fordham University). They thought they had found spores in the carbonaceous chondrites they studied. Botanists and biologists were mystified by the structures, which Claus and Nagy called "organized elements," but all agreed that they were probably biological in origin.
No such problems with the Taglish Lake meteorite. It was found immediately after its fall (see PSRD article: Tagish Lake--A Meteorite from the Far Reaches of the Asteroid Belt), so is unlikely to be contaminated. It is also loaded with carbon compounds (2.6 % carbon by weight), giving us lots of sample to work with. Previous analyses showed that much of the carbon was in organic compounds, and in 2002 Nakamura-Messenger had found sub-micrometer hollow globules. However, she could not unambiguously show that the globules were extraterrestrial. New techniques for analyzing materials much smaller than a micrometer, in the nanometer range, are now available, and the Johnson Space Center is well-equipped with them.
Source:
www.psrd.hawaii.edu/Jan07/organicGlobules.html
==========
Do I hear Panspermia?