Post by Chicago Astronomer Joe on Jun 19, 2011 22:37:39 GMT -6
C11 Counterweight rehab and mod
Comparing the newly outfitted and painted C11 and tripod, the counterweight looked drab and needed some attention - and a mod...
I notice when I clean the weight, that a date is stamped on it....



August 1st, 1997.

I never noticed this before....almost 15 years old - very cool
I have always had a issue with the lock-bolt on the 22lb weight. One needs a tool to tighten and loosen it along the shaft...and out in the field, and I rather not lug one around. Must change this into something with a knob.
The bolt is 3/8ths..and I just happen to have one in Joe's warehouse...but in a long 3' long piece of threaded rod...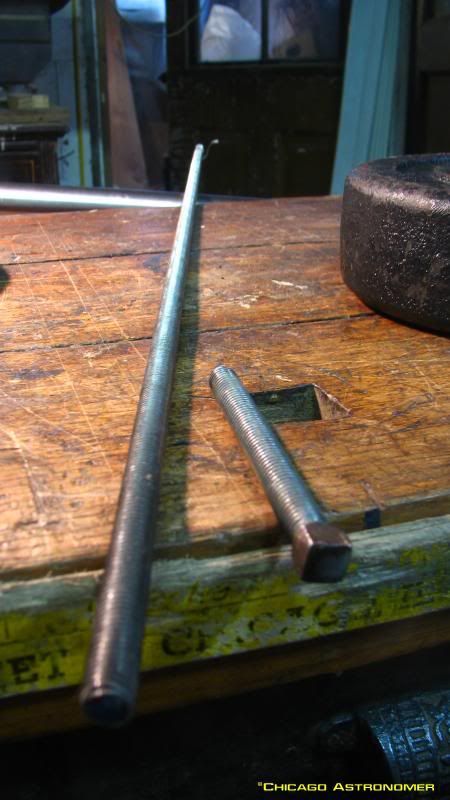 I cut me off a hunk of rod...longer than the original bolt. With gloved hand, I wanted space for padded fingers...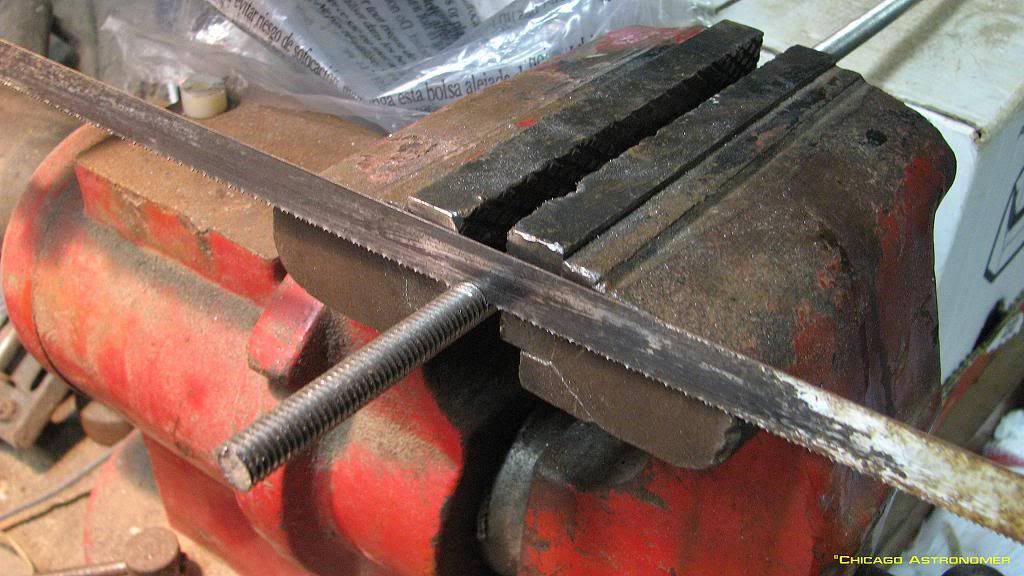 I also have a bag of these knobs. I took them off a exercise machine I had thrown out years ago....'cause someday they will come in handy. I have incorporated two of these already to secure the mount on top of the tripod base, but here, the screw thread diameter is too small to fit into the counterweight. So, I cut and drill it out...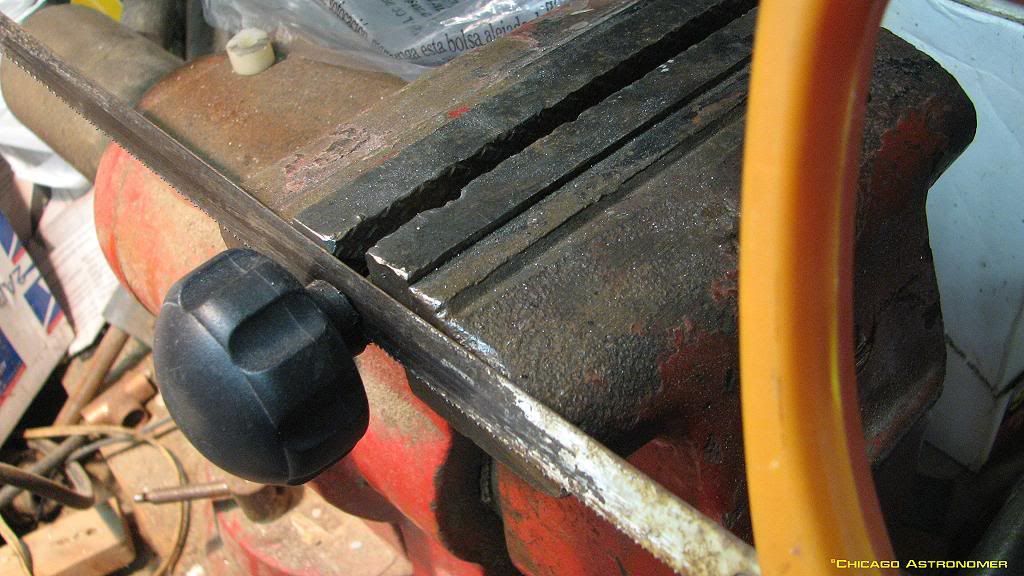 I use Gorilla Glue, real good stuff, to secure the bolt to the knob...
The glue expands a bit and now we have a knob where there once was not. I like... #Thumbsup#
But, we are not done yet...
With the additional accessories riding high on top of the C11, the 22 lb weight was not enough and I had to augment more weight with a counter weight from a G5 tripod mount. I used a bungee cord to let it "hang" from the counterweight shaft...not cool.
What I needed was more weight disks, but I was not about to buy some - paying for dead weight. Looking around the joint, I have these weights. I had them since I was a teenager when I started bodybuilding - and used them for decades. Bringing one to the workshop...it just doesn't fit. The diameter of the hole is too small and I have no way of enlarging it.
Many years ago, when I shared an apt with a lovely, we found 3 weight disks in her porch, (2.5lb, 5 lb & a 10 Lb), ...but they were Olympic sized and I had standard sized bars. I took them and she wanted them out anyway...'cause, you never know....

. I had them stacked in the back of the weight cabinet and had spider webs and dust on them. Bringing them out, they cleaned up well.
(I worked on the 10 lb one earlier just before this project and did a crude rubber stopper plug thing to it. It worked and I used it at a star party already, but I can do better.)
If I had some Lucite-like material or aluminum blanks, I would have used that...but instead, I use wood. The danger in wood is the swelling and shrinkage from environmental conditions...but it's all we got. I measure out a circle plug...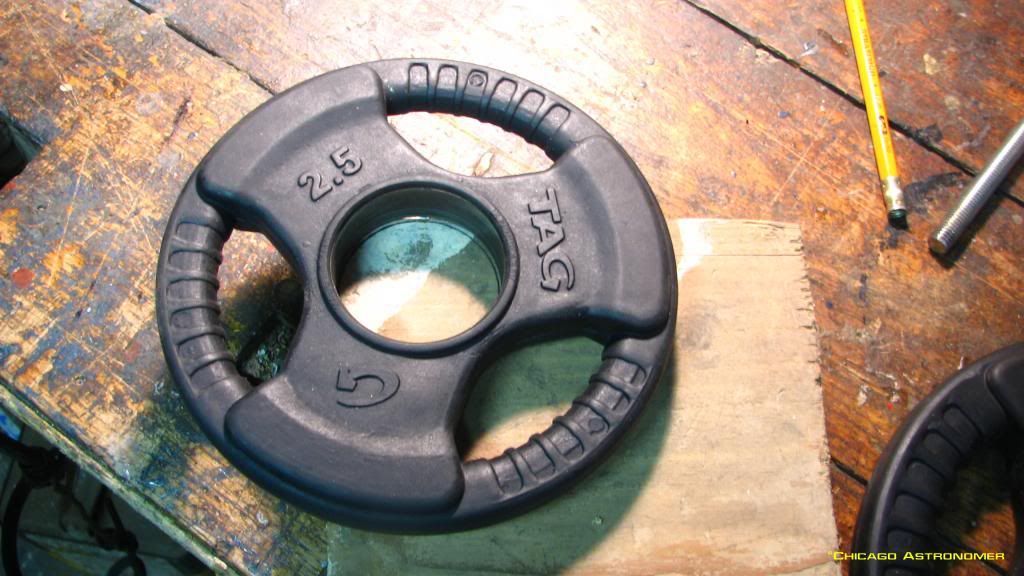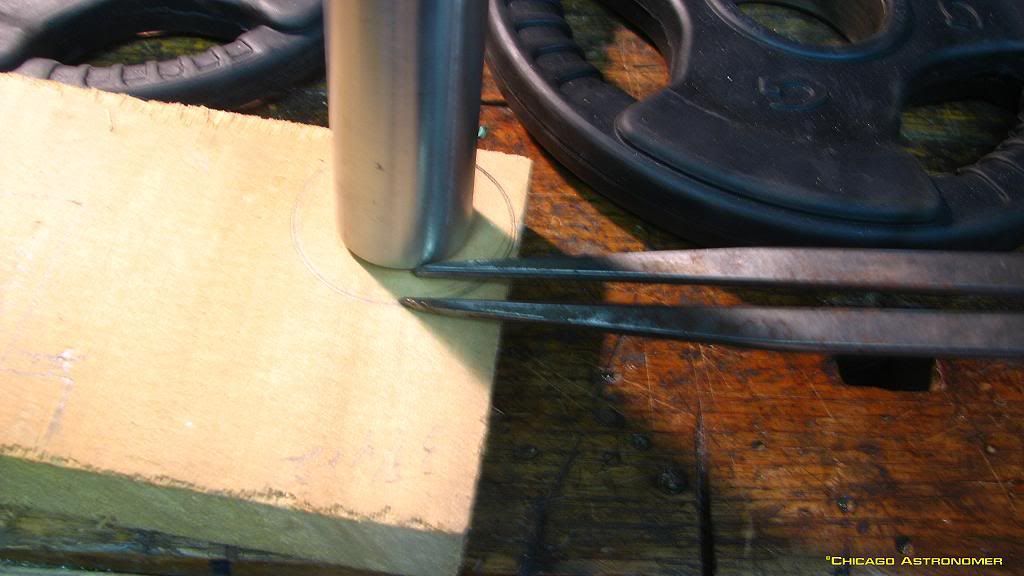 ..and the diameter of the weight shaft.
Bringing it to the band saw, I cut it out, making it slightly larger and with pressure points - as to make a tight fit...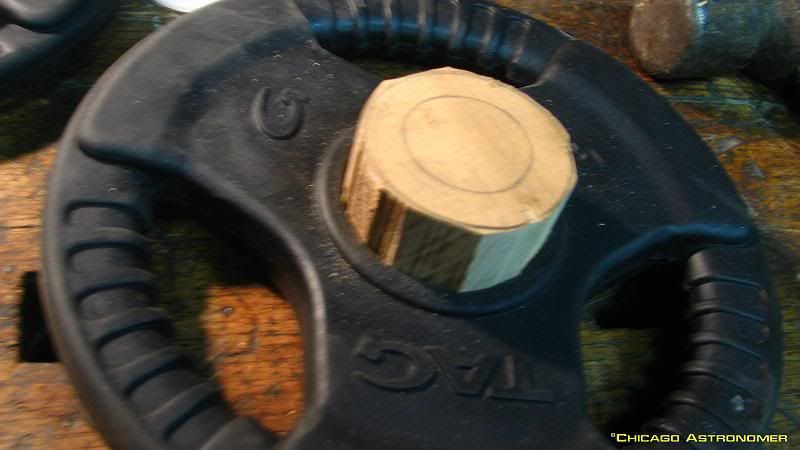 I use old faithful Gorilla Glue and give the I.D. of the disk a good coating...and then pound the plug it...
It takes quite awhile to pound it in place, but it sets nicely and ain't coming out. I use the drill press to drill out the central shaft opening...
Comes out nice...

But, not finished yet.
I want something to not only cover the wood and protect it, but maybe something to help hang onto the shaft while in use. I look around my warehouse and come up empty. Maybe something like a rubber washer I can attach...I dunno.
I go to the plumbing section and come across some left over bathtub/sink escutcheons. I bring one to the weight shaft...and it slides on tightly.
Excellent!
This is what we will use.
I attach the rings with screws to the disks and buff them up with metal conditioner...and they look rather cool....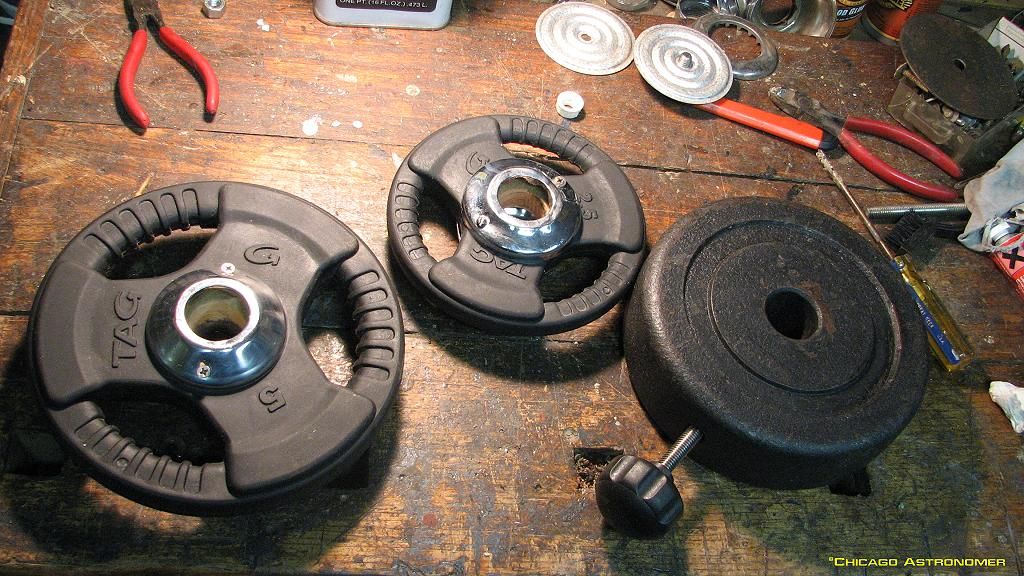 These will be referred to as my "Bathroom weights"... ;D
They hang on nicely to the counterweight shaft, but they need some sort of finish, as they are still kinda grungy. I like the Rustolium Hammered Paint that I have been using in this C11/tripod rehab and mod...and use it to brush on a coat...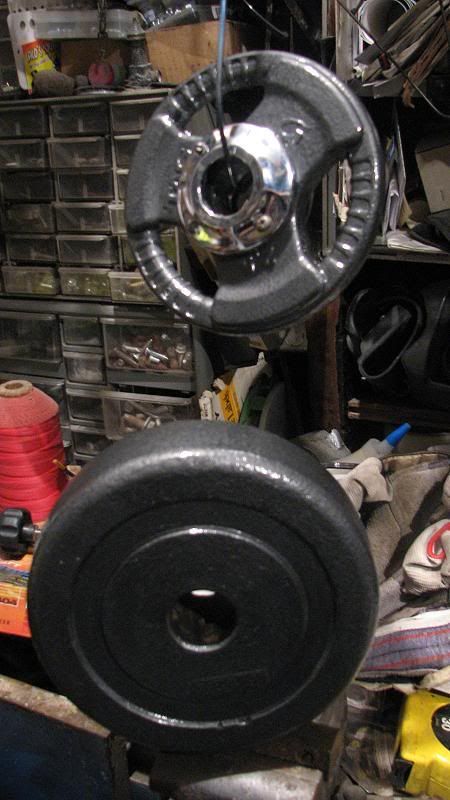 My weights, (the original and the Bathroom weights), look great and shiny.
We are almost done with the weights, just something else to do.
The stop bolt at the end of the counterweight shaft, keeping the weights from falling off and onto ones toes....is this feeble wing nut-like bolt...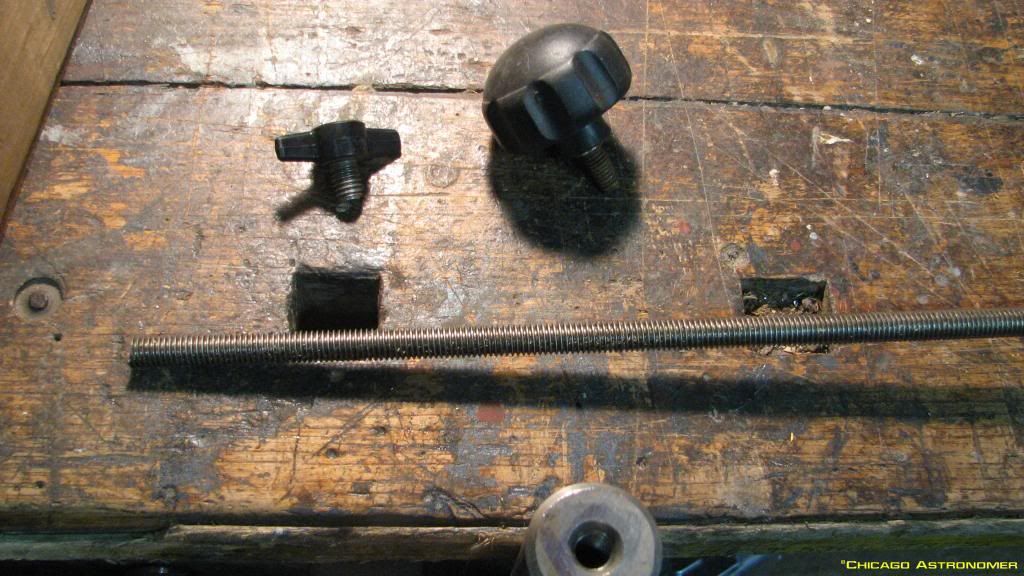 This has got to be swapped out as well for something beefier and my bag-o-knobs come into service again.
But that...for another day.