Post by Chicago Astronomer Joe on Jun 8, 2011 22:44:37 GMT -6
The Webcam for Astroimaging
At the Chicago Astronomer, we adapt non-astronomical items and press them into service.
Bags, carts, lighting, stands, etc....
There is a whole world of webcamming for astroimaging out there...and I wondered if I could do the same on the cheap. Many astronomers use the Phillps ToUcam, (and other makes), with great success...but it's expensive...if you can find one.
I have played around with a webcam before - with limited success. Mostly software glitches, it just didn't do it for me and gave up on it.
At my favorite overseas wholesale store, I found a wide assortment of USB webcams that I could probably adapt for some astroimaging. Won't know till I try.
I settled on two USB Webcams -
First is this lipstick shaped one...
2.0 Mega Pixels Cannon Shaped CMOS USB Webcam / Web Camera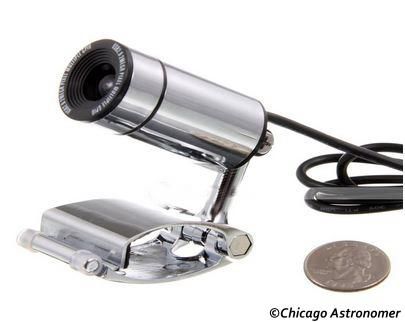 Specifications:

With good quality, this digital PC USB webcam can offer clear and vivid image
360°rotated and also attached on a button to pick up pictures
The USB webcam is easy to use, plug and play
PC video camera with clip design that you can put the USB webcam in any place as you like
Plastic material made
Computer camera built-in image compression
Automatic brightness adjustment
Automatic color compensation
USB interface, compatible with USB 2.0 and 1.1
Image Sensor: CMOS
Video Data Format: 8/16bit
Working Temperature: 0 °-40 °
Compatibility: Windows 2000/XP/Vista
Solution Selection: 318 (8.0 M Pixel)
Now, at only 2 Mp...not a great detail getter, but I like the shape and can easily conform it to work with an eyepiece.
And at only $9.15 delivered...safe to take a chance on.
Next is this boxy one...
10 Mega Pixels CMOS Laptop Webcam / Web Camera Black
Specifications:

This PC webcam is a Plug and play device
This PC webcam is designed with high speed USB interface
10 mega pixels resolution
Auto detected and installed, special for notebook
This PC webcam has 4 LED lights
USB 2.0 interface (back compliant to USB1.1)
The PC webcam supports internet specification
Frame Rate: Up to 30fps
Information Noise Rate: >48dB
Hi-Resolving Power: 160 x 120, 320 x 240, 640 x 480, 800 x 600
Max. Image Resolution: 1280 x 1024
Movement Range: >72dB
Sight Angle: 45-60 degree
Focus Angle: 3mm (macro) to infinity (normal)
Solution: 318+7670
OS Support: Windows 98/Me/2000/XP/Vista
Color: Black
Package Included:

1 x 10 Mega Pixels CMOS Laptop Webcam/Web Camera
At 10 Megapixels, much better and only $6.28 delivered.
Both are CMOS chipped.
There is some debate on CMOS or CCD chips being best for astrophotography. Plus and minus on both sides....and my experiences with webcammimg have been with the CCD ones....so we will see.
Now, my intent is to use these cams for imaging brighter objects through the scopes - Moon, planets and such.
Let's see how they work out when they arrive... #dunno#