Post by Chicago Astronomer Joe on May 2, 2011 10:30:51 GMT -6
Thought I would get a couple of Rini Eyepieces
One could get tens of eyepieces for different purposes - wide fields, details work, comfort, star party generics etc.... (I have quite a 1.25" spread and still use them often). Hundreds, if not thousands can be spent on a collection. Nice if you can afford them...

I have been very happy with my economical Celestron E Lux 2" set...
astronomer.proboards.com/index.cgi?board=Equipment&action=display&thread=2790
But my 2" eyepieces only range from 40mm, 32mm to 26mm w/ 2x Barlow. What I need is a 2" eyepiece in the higher powered range - a "Teener" or single digit mm perhaps - and have been looking around and receiving suggestions.
I could right out buy a TeleVue, (great eyepieces), but at over $100/$200+ apiece...kinda steep. Ebay has some good deals sometimes, but it's mostly luck.
I recall that a New Jersey man named Paul Rini, has been making eyepieces from quality surplus parts with good reviews. Many astronomers like his 2 " 30mm and reach for it first during a session - and he has made eyepieces all the way up to 100mm...!
But, I understand he is no longer making them and the supply of what is on hand is running out. I need to try one before they are all gone and the reviews have been mostly all positive.
I found a listing for a 10mm Rini on Ebay, but he wanted to auction it off - starting off at $24.95. Not in the mood in the off chance that I would get outbid, I kept searching. I found a on-line retailer that was selling some Rinis, a few in 1.25" and fewer in 2"....
Peaked my interest I looked into these.
First was the 10mm 2" -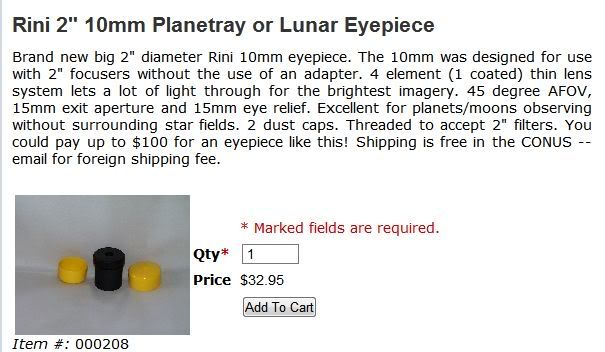 Not a pretty eyepiece, but as long as it performs.
And then this one....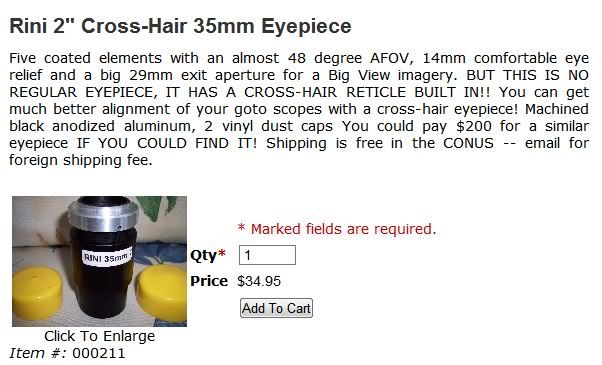 A 35mm reticled eyepiece could come in very useful for my 90mm guide scope.
So......
I got them.
Some would say the amount I spent on these ($67.90), should have been applied to a solid high powered Celestron/Meade/Nagler, with known performance and without the chance of much disappointment.
Perhaps... #dunno#
But, the Chicago Astronomer "don't follow no rules" of others and blazes his own trail. These may in fact be great eyepieces or they may blow chunks, but I won't know till I try - and at sub $70.00 for two and free shipping, hell...I'll spend that on gum, soda and candy.
More on these ugly looking eyepieces when I get them and put through some testing.
Here are some reviews on the Rinis from Weasner's ETX site, (mostly from 2005/07 and the prices reflect that) -
www.weasner.com/etx/eyepieces.html#rini
Paul Rini Eyepieces Paul Rini N/A $18
Ian Carney (ICARNEY@us.oracle.com) reports: "Just a quick note - in a short gap in the typical Portland weather, I managed to get a peek at Saturn and Jupiter using a 16mm Rini eyepiece, and a very brief look through a 40mm one. On first impressesion, the eyepieces are very good, and at $17.50 each simply can't be beat. Both planets were clear and sharp through the 16mm. The eyepieces don't have the cosmetic finish of the Meade ones, but they sure work. All I need now is some cloud free nights (in Portland in the winter?) and I'll have a good look."

Ronald Gilbert (rong@pogo.WV.TEK.COM) adds: "I just received a really HOT eyepiece from Paul Rini. He is now making a 13mm Modified Plossl with a field of view of 82 deg., eye relief of 5 mm, 6 element (2 coated), exit apr of around 10mm. Tried it on M42 and was truly amazed at the sight. Very similiar to a super wide angle. This one not only zoomed in on M42, but also the surrounding area. If anyone is interested he will be making these until his stock of lenses run out and that will be it for that type.
Remember this, he uses home-made type materials but the quality is good. At his web site he also has many other eyepieces to choose from. This one was $20.50 + $4 SH."

Michael McGarvey (mmcgarve@fvcc.cc.mt.us) comments: "I also tried out an eyepiece from Paul Rini. I ordered the 45mm 40' field eyepiece which offers a theoretical 1.44' true field at 28X. Wider than anything else on the market. After trying it out, I am really pleased. I'm not sure if it truly yields a full 1.44' but enough to really help in star hopping, almost double the area of the 26mm Meade. It really excels for looking at large extended objects. The view of Andromeda was excellent and the lower magnification reveals the dust lane which escaped my vision through the 26mm eyepiece. Dark skies are a must. The eye relief is quite long (and a bit tricky, a ruber eyecup would be nice), it would be great for eyeglass wearers. The secondary obstruction becomes a real issue when using it in the light of day, or before your eyes are dark adapted. Anyway, it's a great addition at a great price. I'm going to order the 13mm 82' reviewed recently on your accessories page next. That's a phenomenal bargain."

Susan Davis (sue@sue.net) reports: "The 45mm Rini was a replacement for the 16mm that I originally bought. I found that the 16mm was noticeably less sharp than the rest of my inventory, which isn't a problem out in the deep sky, but is on the Moon and planets, at the magnifications that the 16mm gives, especially through a Barlow. And it duplicated magnifications that other eyepieces provided either alone or with my Barlow. Rini's prices are great, though, and I figured that the sharpness problem would go away at sufficiently low magnifications, so I exchanged the 16mm for the 45mm, which through the ETX gives the widest available true field of any of his 1.25" line. The 45mm is cosmetically a lot more attractive than I expected; the black plastic housing matches the plastic parts of the ETX, and it looks like a natural part of the scope. The clear aperture is significantly greater than that of the ETX finder! The 45mm is a 3-element Kellner design; Rini labels it an "RKE", which it may well in fact be given the amount of Edmund's stuff that he has listed for sale. (Did Edmund's ever have an actual 45mm RKE?) The eye relief is enormous. Rini's specs say 36mm, which doesn't appear to be an exaggeration. I can swing my head from side to side to go from one eye to the other, and not touch the eyepiece with the tip of my nose. The huge eye relief is also mandatory -- if you get any closer or any farther away than exactly 36mm, the image vignettes down to a tiny little circle. It took me a few minutes to realize that that was what was going on; I thought that something was wrong with either the eyepiece or my ETX. You don't look through this eyepiece so much as at it; it's like watching a little TV screen. You have to keep your head lined up with the eyepiece, and just the right distance back, which can be somewhat awkward. It was cloudy the day that the 45mm arrived, so I tested it on the far wall of my living room. With such a close focus, the eyepiece exhibited very severe curvature of field, which worried me a bit. In the field and focused at infinity, however, the field flattened out nicely. With the ETX, the eyepiece gives an 84 arcminute real field at a magnification of 28x, with a 3.4mm exit pupil. The bowl of the Pleiades and most of the sword area in Orion fit nicely in a single bright field, with the green color of M42 very obvious. So much for the ETX being unsuitable as an RFT! Darkness wasn't evident between the stars of the Trapezium, but the correct shape was; other than that, the images were acceptably sharp for relatively undemanding wide field viewing. There was a very thin ring at the extreme edges of the field that suffered from severe astigmatism, but other than that, the image was consistently pretty good out to the edge of the field. 28x with a 3.4mm pupil is what you get from the $90 Apogee Wide Field Adapter with the 26mm Plossl that comes with the ETX; at $17.50, the Rini 45mm is a real bargain. With the 45mm in the WFA, you get 141 arcminutes of field at 17x, with a 5.1 mm exit pupil -- comparable to giant binoculars! And a 45mm Rini plus a reflex sight compares very favorably to the cost of a right-angle modification for the 8x21 ETX finder (which is throwing good money after bad, IMHO)."

Ron McCafferty (ronmccafferty@msn.com) notes: "I purchased one of Paul Rini eyepieces. It worked great except it doesn't fit in my Meade barlow. I called Paul who suggested sanding down the aluminum barrel. While I finally did get it to fit I ended up with aluminum dust in my barlow which was a dickens to clean out. I probably should've coated the barrel after sanding. Anyway I thought I'd send this note to let others know what problems they may encounter. It has long been past Paul's 30 days return date so I'm simply not using the eyepiece. I purchased a $33 replacement from the Orion catalog which works great. Actually my wife bought it for me. Orion's policy of emailing an order confirmation is wonderful. I always know what my wife is getting me."

Joe Hartley (jh@brainiac.com) adds: "I purchased 3 eyepieces - a 14mm, 40mm and 52mm - from Paul Rini, the New Jersey gentleman offering eyepieces for a phenomenal $17.50 each. The 52mm and 40mm are wonderful for wider fields of view. Large area clusters such as the Pleiades and the Beehive are marvelous in these eyepieces. The stars were sharp, and no chromatic aberration was visible to me, even at the edges. When I tested the eyepieces by viewing the shingles on a neighbor's roof, there was no noticable pincushioning. (For those who don't know, such as myself last week, pincushioning is the name given to the distortion in which horizontal and vertical lines bend toward the middle of the field of view.) The eye relief on these 2 eyepieces is tremendous! The specs on the website give the eye relief distances as 36mm and 26mm for the 52mm and 40mm eyepieces, respectively. This seems correct, though I haven't measured it. I like these because I can use them with my eyeglasses on! The 52mm ep is a little trickier to use than most, since you need to be 36mm away and on axis with the ep. It's easy to lose the view at first; you really need to be in just the right position to see. At that distance from the ep, a lot of the light from your surroundings can make its way into your eye. I'm considering adding rubber eyecups to these 2 eps. The website lists the eyepieces as modified Plossls (MPL), but the 52mm is labeled RKE. This is indicative of a "David Rank-modified Kellner for Edmund" eyepiece. The Astronomics website says "[RKE's] are computer-optimized ... for low to medium power use on telescopes with focal ratios down to f/4. Like all Kellners, however, they still perform best with scopes having focal ratios above f/6, and preferably above f/8." This eyepiece seems to work very well in the ETX at f/13.9. The 14mm is a bit different than the other eyepieces. It exhibited a bit of pincushioning in my "shingle test", and in viewing Saturn, showed some chromatic aberration at the edges. It is also a touch less sharp than the other eyepieces. This is still an excellent eyepiece for the money, though! At $17.50 each, all 3 eyepieces were better than I expected. The 40mm ep is one that no ETX owner should be without, and experimentation with the others is encouraged. With the ability to get 3 or 4 Rini eyepieces for the price of one Meade 4000 series eyepiece, there's nothing to lose!

Eyepieces being sold at www.surplusshack.com.

Kevin P. Kretsch adds: "Rini 45 mm RKE. First impressions: This is a very light eyepiece, and what a big piece of glass! Nicely coated, no blemishes or marks. So far so good. The barrel, as somebody previously mentioned, is a VERY tight fit and will need some work with 600 and 1200 grit wet & dry paper. Testing indoors in a dark room, using my watch as a target and not particularly well lit, this eyepiece gives an exceptionally bright and clean image. The Meade 26mm SP in comparison is positively dull. The image from the Rini is not so much 'sharp' as 'clean', and very pleasingly so. This Rini is approximately parfocal with the 26mm super plossl supplied with the ETX, which is a bonus. The images are good all the way to the edge of the field, with no obvious aberrations or distortion. In fact, it embarrasses the Meade plossl in this respect. The eyerelief is ENORMOUS, a whole nose and a fingers width from the eyepiece. This really takes time to get used to. Testing under a hazy, mildly light polluted sky reveals some of the limitations of the Rini eyepiece. Star images, as expected are no brighter than most eyepieces but the field of view is large enough to take in most of the Pleiades. However, unless you are looking at dense starfields, such as the gamma Cygni region, a dark sky is a must with this eyepice, as the brighter image also accentuates the sky brightness. Finding and holding the image with this eye relief is difficult. With time you get used to it, and then realise just how short the useable eye relief is on the Meade plossl. Using Jupiter and Saturn as test objects confirmed the indoor finding; exceptionally well corrected for aberrations and distortions. Again, the Meade plossl seems poor in this respect. Bottom line: It's obviously not a $100 eyepiece, but with a dark sky and a little practice the Rini 45mm RKE is a valuable addition to the case. For $17.50 + shipping, it would be a bargain at twice the price. (The gang at the Surplus Shack deserve a mention here to, shipping in less than a week to Ireland, at minimal extra cost.)"

Robert Van Den Huevel (rvdh@ecs.csun.edu) provides the following: "I wanted to add some info about the longest focal-length eyepiece that Paul Rini makes in 1.25", the 52mm, which provides a magnification of 24x at an apparent FOV of 30 degrees, which is very narrow, almost like a finderscope or a gunsight. It comes into focus more than an inch away from the barrel. The actual field is not much different than that of a 40mm, only it is smaller and quite a bit noticeably brighter, which is probably the main benefit. The optics are clear and bright, and the design is supposedly "RKE", a modified kellner. This eyepiece costs $17.50. I have not had a chance to view any deep sky objects with it but I will report when the weather clears."

Steve Grosvenor adds: "Having read your eyepiece review pages and quite frankly being fed up with UK rip off prices I decided to have a go at obtaining one of Paul Rini's offerings. I thought that buying over the Internet would be long drawn out and difficult but $17.50+$5 shipping was worth a gamble. I found out somewhere (possibly on your site) that these eyepieces are being sold by Surplus Shed (have internet site) and ordered two: 38mm and 9.5mm. The 38mm arrived here in the UK within a week of the order being confirmed ( the 9.5mm was at the time of writing, out of stock). Fred Lamothe of Surplus Shed was most courteous and confirmed and thanked me for my order via E-mail. Well what did I think of the lens? In short its brilliant! I've read a few reviews discussing the merits of various eyepiece designs, angles of view and other associated clap trap but I slid this one in (good slide fit, no sanding!) and in my humble opinion its better than the Meade plossl. Sharp pin point stars at last! Jupiter and Saturn definately sharper, and I can use it with my specs on. I used it on the Moon tonight with my Barlow which incidently cost me 50 ($80+)! and I could plainly see terracing inside crater walls etc. What can I say? I can't wait to try the 9.5mm!!!!"

Damian Davis dad@headplant.freeserve.co.uk) reports: "Eyepieces reviewed:- Rini 45mm, Rini 11.4mm 72deg

Having read the reports of the Rini eyepieces on your site, I just had to see what all the fuss was about. I decided to buy the 45mm and the 13mm WA from Surplus Shed.

Slight diversion. I live in England, and e-mailed Fred Lamothe (f.lamothe@worldnet.att.net) at Surplus Shed about posting overseas. The next time I switched on my PC, he had replied with all the details. I sent my order, and received another e-mail in double-quick time from Fred saying that Paul Rini no longer makes the 13mm, and offered an 11.4mm 72deg at $28.50 instead. Was I interested? I said "yes", and within the week, I had a postcard from my local mail sorting office requesting 7.78 (approx $12) towards Her Majesty's living expenses. I paid up, and the whole process was really that quick. I cannot praise the lads at Surplus Shed highly enough. It felt like my order actually meant something to them, which is very unusual this side of the Pond!
Plug over, back to the details.

The 45mm had the traditional over large barrel, which responded to some aluminium oxide finishing paper, although some of the paint on the casing came off onto my hand, leaving a mottled finish. Not a problem, it's used at night, when it's dark. The lens is light, and projects 43mm above the eyepiece holder on the ETX. The "eye" lens is 29mm in diameter, and is recessed 10mm into the housing. It's described as "45mm MPL 5 elements" The 11.4mm has a chromed steel barrel, blackened and threaded internally, and is fairly heavy. I couldn't see how many elements it has. The first thing to catch the eye is how low it is. The eyepiece projects just 8mm above the holder. The "eye" lens is 11mm across. There were no fitting problems.

After what has seemed like perpetual cloud cover, the skies cleared last night, so out with the kit at around 2330, when the last bit of blue finally vanished from the sky. Line up on Arcturus and Vega, then goto M57, the Ring Nebula. The Meade 26mm Plossl showed a dim grey "smoke ring". ( The skies where I live suffer from tremendous light pollution. How much? I don't need a torch to use my copy of Norton at midnight!) The nebula was, however, clearly defined. I switched to the 11.4mm Rini, and immediately came across the first problem. Because of the lens' low profile, it was difficult to get close enough without hitting anything. I am 'left-eyed', and have a red dot sight on the right hand side, matching the ETX finder. I had to stand at right angles to the scope, so that my nose was over the rear cell in order to see anything. (eye relief is about 5-6mm) All you normal 'right-eyers' will have a similar problem with the finder, I suspect. The Rini did not cleanly snap into focus, indeed it was difficult to see when exact focus was achieved. The image was very dim, seeming to suffer from lack of contrast, and averted vision had to be used to see M57 at all. None of its structure was discernible. Not too good so far, but I do accept that my polluted sky could be to blame. On to M13, the globular cluster in Hercules. The Meade 26mm gave a clear, well defined view with good contrast, and a black background. The bright core, gradually dimming towards the edges was easy to see. No individual stars were resolved. The 45mm gave a pleasing view of the area, with a grey background as mentioned by another contributor, due to the bright image this lens gives. This is definitely an artefact of light pollution! The field of view looks to be about 40-50% greater than the Meade, but the 'spot size' of the stars was bigger than through the Meade, however. The 11.4mm showed a dim fuzzy blob, which could be viewed 'directly', although averted vision was better. No individual stars could be resolved with this lens either. Compared to the Meade, the image was too dim to see the brightness variations across the cluster. Maybe I'm looking at the "wrong" objects, so it's off to Albireo. The Meade was pin sharp, and the colour contrast was discernible against a black background. The Rini 45mm gave another good view of the starfield, with the grey background. If you knew what colours the two stars are, you could convince yourself that you can see the difference. The 45mm showed no distortions to the edge of the field, but its long eye relief took a little getting used to. Your eye must be in exactly the right spot, or the image vanishes. It is not difficult to achieve, however, and the results are very pleasing. The 11.4mm showed the colours easily, and at last was beginning to give a good account of itself. The spot size was bigger than the Meade's, but with a magnification of nearly 110x, I would expect it to be so. Time for a challenge. Would it split alpha Herculis, with a separation of just 4.6 seconds of arc? Having centred it with the Meade (which unsurprisingly did not split it), the 11.4mm showed the orange 'main' star, and its greenish (by comparison) companion, separated by dark sky. For that focal length eyepiece, in the real world of light pollution, heat rising from roofs, etc., that is not bad at all.

Overall, my first impressions of the 45mm lens were that it gives clean, wide views, with good brightness and contrast. The 11.4mm did not perform well on the extended objects, but was better on double stars. It did lack contrast though.

Value for money? The 45mm cannot be beat at $17.50. The 11.4mm at $28.50 is more debatable. It seems to lack contrast, and doesn't produce that satisfying 'snap' into focus like the Meade. Maybe I'm being too hard on it, as I haven't looked through an 'expensive' eyepiece of similar focal length to make an exact comparison. Maybe what it shows is how good the Meade eyepiece supplied with your scope really is. I will have to wait for the planets to come round again, and the Moon to climb above the trees, and do some more looking.

Damian Davis, London, England"

Jim Oneill (jplowry@concentric.net) adds a counter opinion: "i have purchased the paul rini 45mm rke e.p. and compared it to my university optics 32 mm konig II e.p. let me tell you the konig II ,32mm blew it away by 50% more f.o.v. i returned the pr45mm.it hought it would give me more f.o.v. but it didn't ,the konig it's worth the 112$ ,i have the entire set as well for the ortho's for EXECELLENT planetary detail . check out uo's website,@ www.universityoptics.com."

[08/24/04]
Paul Rini advises: "I just wanted to drop you a line that the Rini eyepieces are available again and at almost the same price but the barrels are all machined anodized aluminum and threaded for filters. The new ones can be taken apart ,cleaned and put back together. The website is still under construction for the 1.25" eyepieces but they can be pictured at www.astronomy-mall.com under the private ads. The website is at: www.ganymedeoptics.com I really enjoy your site and appreciate all the great comments. I still believe in making some good affordable eyepieces for those who don't have a lot or for the observatories that can't use their top eyepieces.
Thanks again and clear skies, Paul Rini/Ganymede Optics"

[09/19/04]
Lora Lind (llind@ticon.net) adds: "I'm glad, that Paul Rini is back in the eyepiece game. I purchased his 45mm eyepiece (ganymedeoptics.com) for $24 + $6 s+h. Wow and double wow. Looking into the very well aluminum machined, black finish with standard threading for filters, 1 1/4" eyepiece is a real plus for looking at large celestial objects--such as: open clusters, globular clusters (the lower magnification seems to show more detail) and double stars (both for the beauty of them plus the age old question--how is the seeing tonight ? Can I separate the double stars with low power? ) The eyepiece is lightweight-so no counterbalance is needed. The field is very flat--almost to the edge. At $30-a-pop this is a real bargain. When I use a Barlow, the eye relief is just like watching a small television picture of live stars. Great Job Paul--Keep em' comming !"

[03/24/05]
From Paul Rini Optics (proptics@joimail.com): "Hi Michael; I just wanted to say thanks for posting my web site information. Recently, I have changed the name of the company to Paul Rini Optics with the new web site at: www.proptics2.com or my e-mail address of: paul@proptics2.com I have had some astronomers compliment your site with the lead to my site."

[10/12/05]
An update from Paul Rini (PROPTICS (proptics@netscape.com): "I have change my web site address because I have a new type of site that will handle the different available web browsers. The new address is: proptics.ieasysite.com Thank you for the link so other observers can try my 1.25" 45mm which seems to excellent for use with the ETX. Thanks again and clear skies, Paul Rini"

"