Post by Paulie pchris00 on Dec 9, 2010 7:30:55 GMT -6
After Tuesday night's short but frosty lunar session, I desperately wanted to get more telescope time in while the sky was clear. I spent time with Hillary instead. When I got home around 11:30 PM the sky was still clear, but I was tired, and needed a nap. I got up around before 2 AM, looked outside and saw Sirius shining through the window, so I bundled up for some frozen observing. Once I was outside, however, I saw the sky was mostly cloudy. The only clear spots were over Orion, the Big Dog, and the Big Bear.
The clouds were moving through quickly, so I toughed it out for a little while, but there was always another bank of clouds following the ones that had just moved out. In the summer that wouldn't have bothered me much, but I wasn't going to fight both the cold and the clouds. My frozen fingers and toes told me it was time to go back to bed.
I woke up to a sunny sky in the late morning, and still couldn't shake the desire to observe. There has been interesting activity on the Sun this week, and I wanted to check it out.
www.space.com/scienceastronomy/huge-solar-eruption-photo-filament-101206.html
I also looked at NASA's Solar Dynamics Observatory website, and found this picture of the Sun, only about an hour old at the time.
I waited until after lunch to observe the Sun, and by that time, clouds were again moving into the area. They were scattered enough to allow me to observe, but heavy enough to keep the session short. I found the pair of large sunspots so prominent in the SDO image. It was a short session, about 15 minutes, but finally I was satisfied at being able to observe interesting phenomena in real time.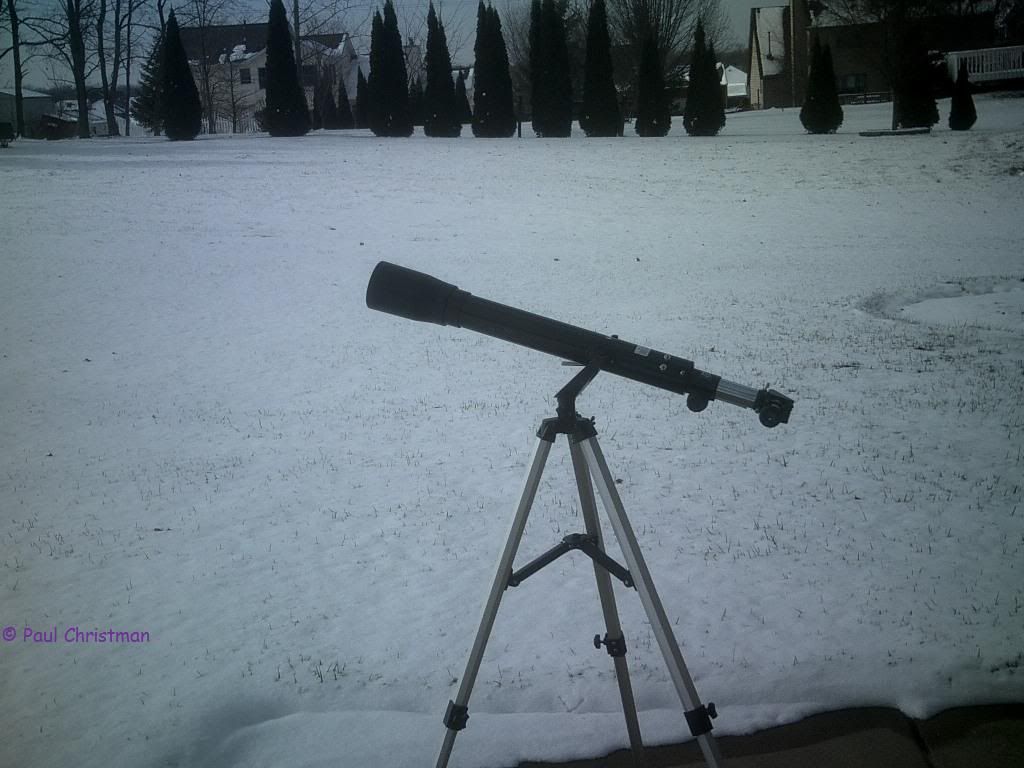 My solar setup. It's not the best, but as sunspot activity increases as the Sun cycle moves toward maximum, it gives me another outlet for observing.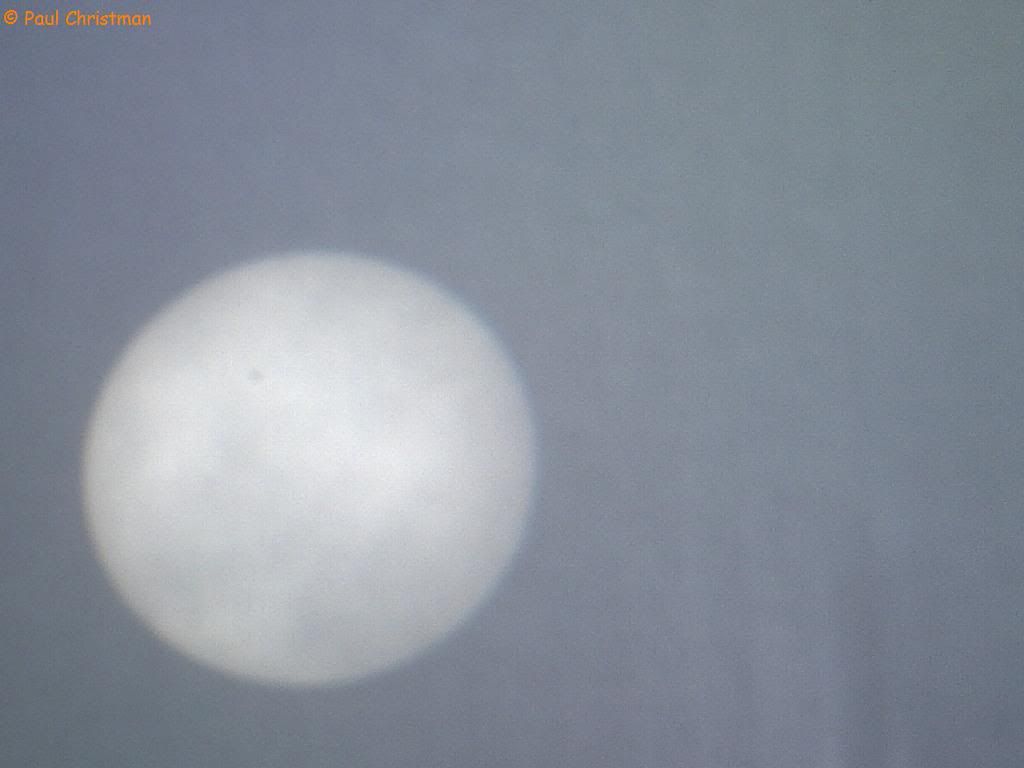 My best image of the Sun. A cloud was obscuring the Sun at the moment, so it didn't come out clear.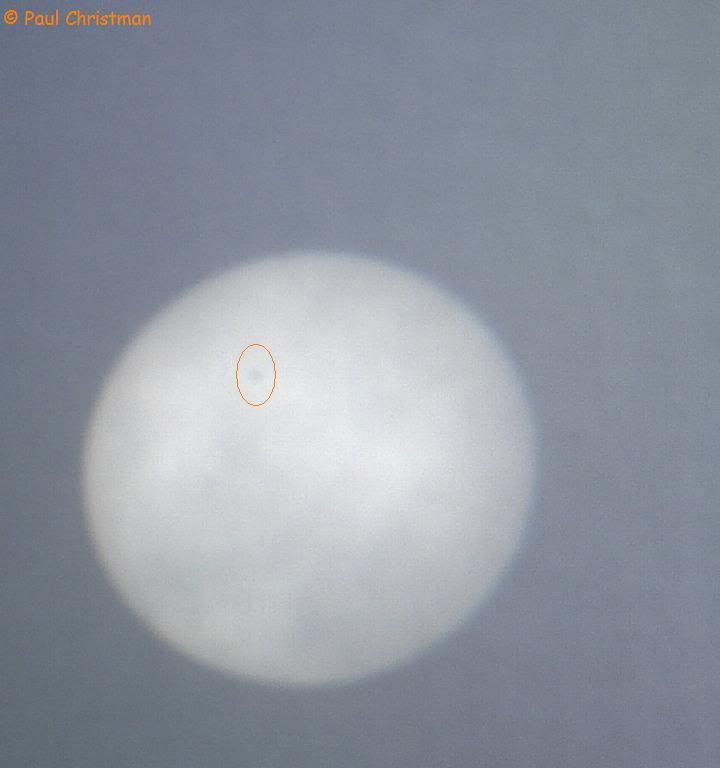 The same image, cropped, with the large sunspot circled. Is this sunspot as big as Jupiter, maybe?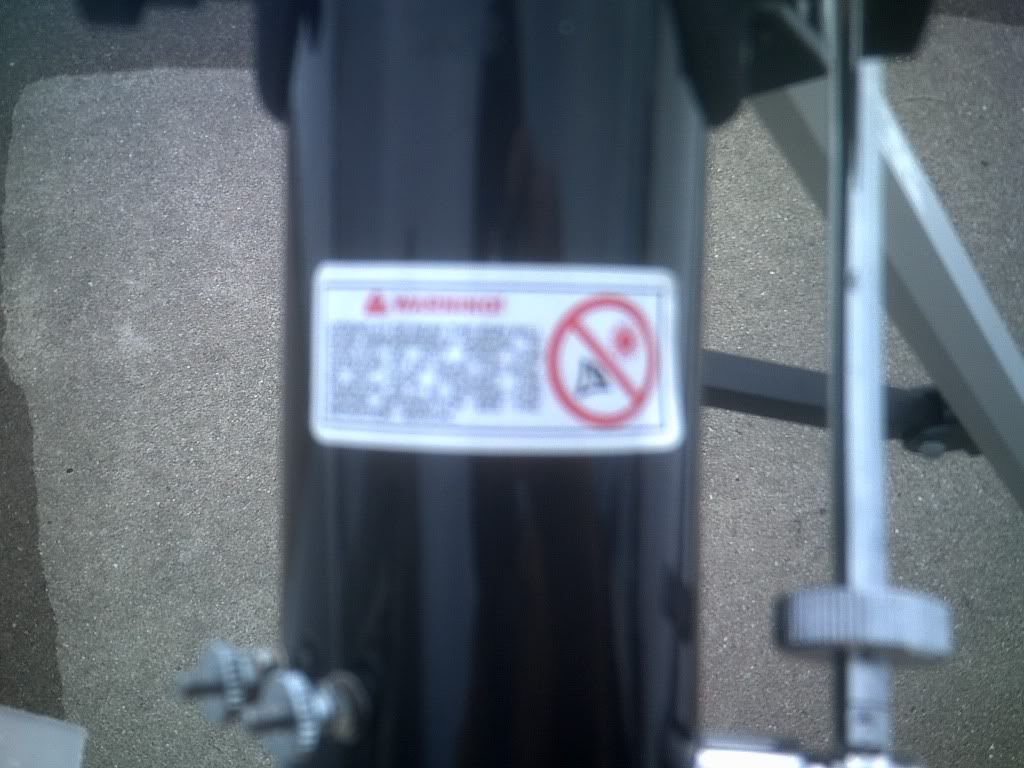 The warning label on the telescope, cautioning to never look at the Sun.