Post by Chicago Astronomer Joe on Oct 22, 2010 0:46:24 GMT -6
Adler After Dark

21 October 2010
A clear night for the Adler Planetarium's "Adler After Dark" monthly public event.
But it got cold.
With the near full Moon in the sky, the two main attractions would be the Moon of course...and Jupiter.
I had intended to bring out the Mighty Nikon 4" refractor, but saw a big box in the Telescope storage area. Next to the two 8" SCT's was a newer 10" Meade Forked SCT... and really... hardly used.
I brought it out.
Pretty hefty and bulky, I rested the huge box on a transport cart, threw the tripod on a lower shelf and off I went. This evening we set up outside by the South Entrance of the Museum, as the South Terrance is now a poor location, due to the relocation of the Museum store and the added ambient light glare.
With help from Adler scoper Fred, I mounted the two together and discovered that it had no 2" visual back, nor a 2" diagonal...
Again, having Fred watch the scope, I went back to the storage area and searched for some parts. None were to be found in the parts/accessory bins. I was disappointed that I might have to return the SCT back. I checked out the 8" SCT in it['s hard shelled JMI case...and there I found a 2" Visual Back and attached diagonal.
Sweet!
With prize in hand, the Adler telescope crew were already on Jupiter and the Moon...and Jupiter was the highlight of the Doane Observatory as well.
Attaching the parts to the Meade, I was impressed on it's performance. Jupiter was crisp and the lunar craters near the darkened limb were sharp. Slipping in a light blue filter, brought out the banding on the planet - increasing the contrast nicely.
Our visitors, who had just returned from the observatory in the back, thought the Jupiter in my scope was comparable, if not better than the Doane 20" Scope. It had a lot to do with the blue filter.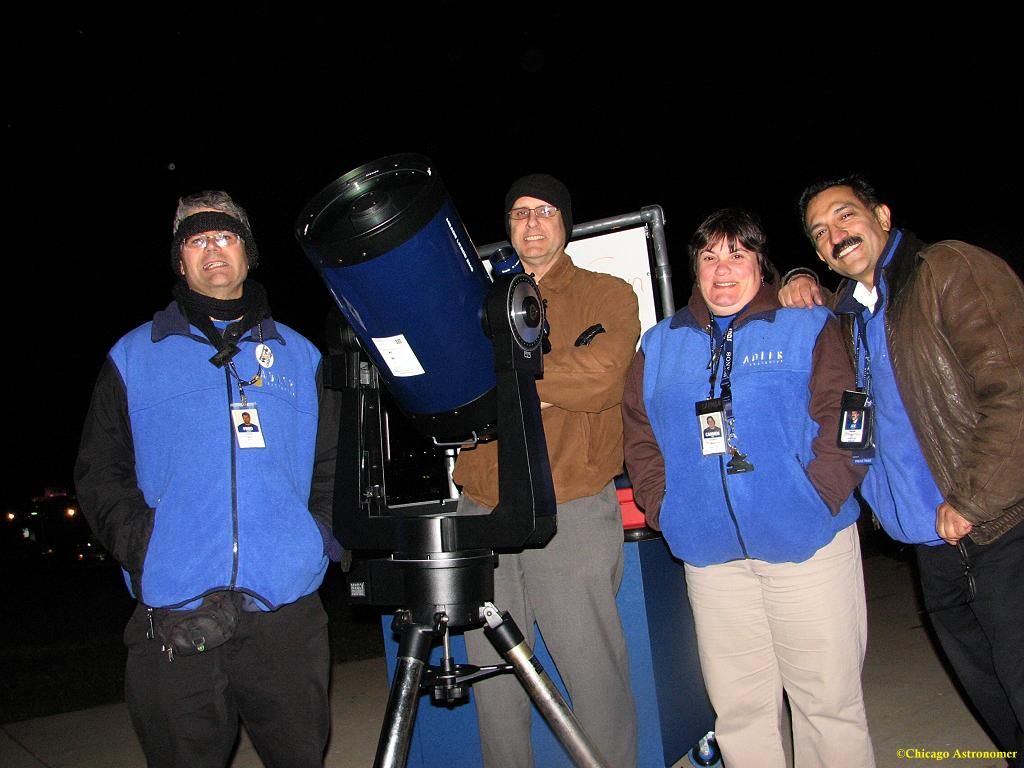 AAD's telescope crew: Fred, Steve, Carmen & myself
(The blue fleece Adler garments are sooo warm....

I had the rolly-cart display board act as a impromptu light & wind shield for the evening and I had my own red flashing light on the scope for attention and awareness. Sizable lines formed at our scopes - 4" Celestron Refractor, 8" Dob and the 10" SCT. Discussing astronomy and the Jovian environment throughout the evening.
No GRS or transits this evening, but our visitors really enjoyed the views. (My own C11 needs to be this sharp. The collimation appeared to be spot on in the Meade and my own needs just a bit of tweaking.)
On toward the colder November AAD.