Post by Chicago Astronomer Joe on Oct 16, 2010 1:58:09 GMT -6
A last minute Decision to do some Jupiter & Lunar viewing/Imaging by the Adler

15 October 2010
I had planned earlier to attend the Exo-Planet lecture in Chicago Astronomer Curt's part of the world...but I did a massive roof work this day...and my back was aching something powerful.
But as I was finishing for the day late in the afternoon and as I put my tar stained hands on my lower back, seeking some relief, I happened to look up - and marveled at a clear sky.
I really hate to waste a clear evening - and with some rest, I decided to head up to the Adler area for some strict Lunar & Jupiter imaging in a last minute decision.
Some function was going on at the Adler this evening and my usual parking spot was taken. I found a spot a bit far back in line along the drive - farther than I'm accustomed to and wasn't about to lug the C11 beast and accessories to our usual site off the parking lot - even with the Astrocart.......so I just set up right there - outside the van and didn't feed the meters.
The area is not at all conducive to astronomy at all, with all the intense streetlamps blazing. But Chicago Astronomer Joe carries his own shade where ever he goes and set up the proven "Astrobrella"...
It provided a nice shaded area for me and the scope...and so I begin.
I wanted to image the lunar terminator this session with my adapted video camera attached to the eyepiece. I had successful trials prior to tonight during the summer, but the Laptop could not find the damned driver. I don't know where the hell it vanished to and flustered that I couldn't use it.
And even more upsetting....
The Dec. cable wrapped around the base plate and while slewing....popped out the RJ-12 socket....most likely breaking off a tine in the socket.
Damn...
Fixable...but yet another delicate project to address.
Chicago Astronomer Steve stopped by to try out the SkyScout he has and see if it'll work while attached to his 4" refractor...
Setting up in my shade, (should have charged him), he tried to get the thing to work, but without much success...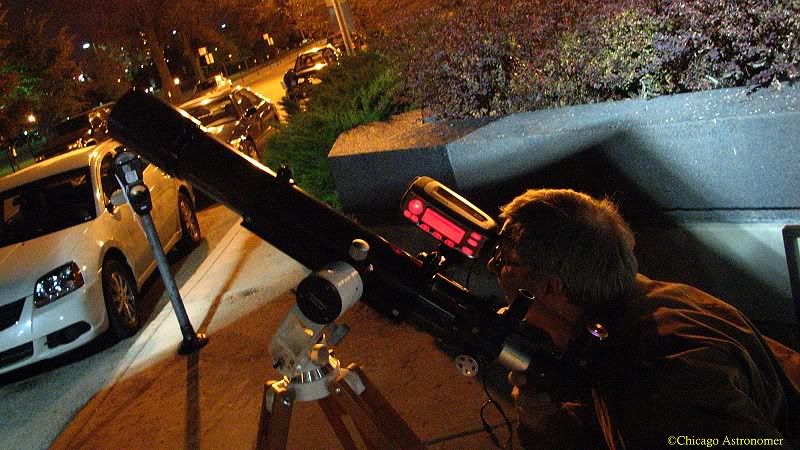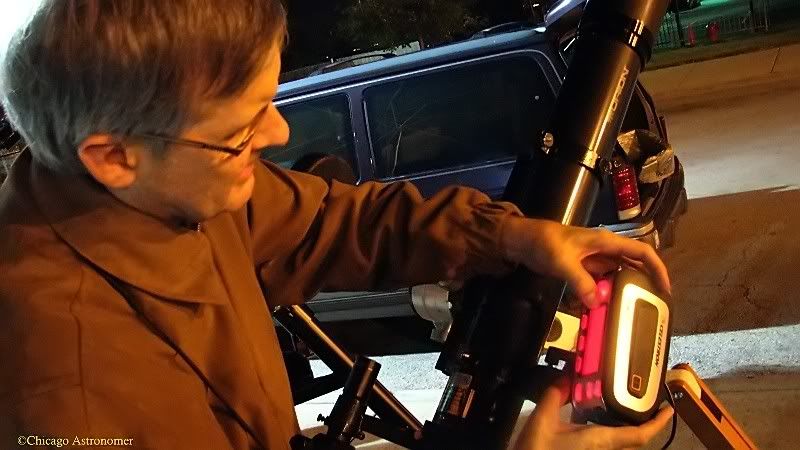 It's a very sensitive instrument and the metal of his scope, my scope and other metals in the area would not allow it work properly or calibrate and guide. (When I tried to use it at the Adler, I could not. The Adler Planetarium building was interferring with the GPS and the only place I could get any use of it was close to the lakeshore...
)
So now three things went wrong this session and Mercury gotta be in retrograde.
I attached the Canon Powershot S3 to the C11 and used it as the imager for this session. I had noticed that I just missed capturing a occultation of a star on the dark lunar limb, but there was another star approaching...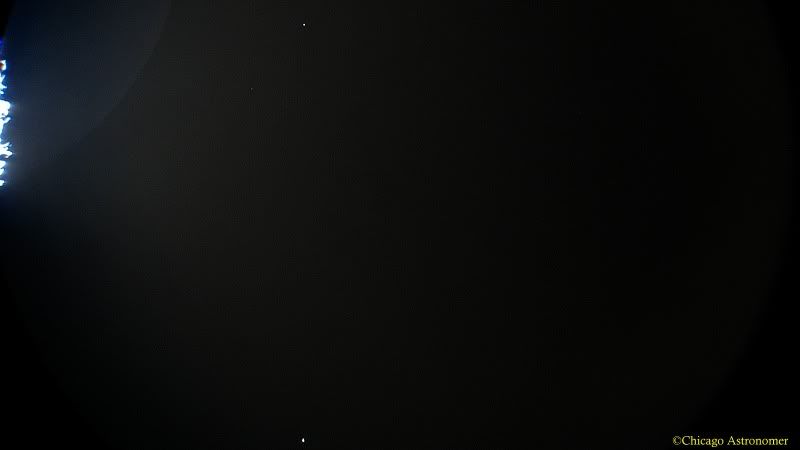 And I thought I was going to witness this event, but the star was a disappointing skimmer...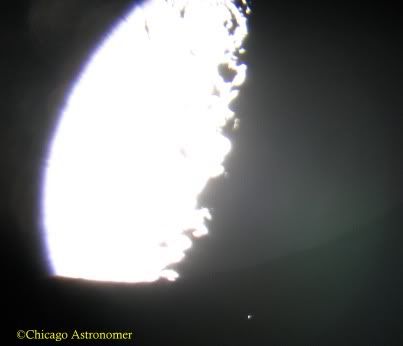 So far...I'm 0-4.
Well, ok. I started taking images of the 1/4 Moon...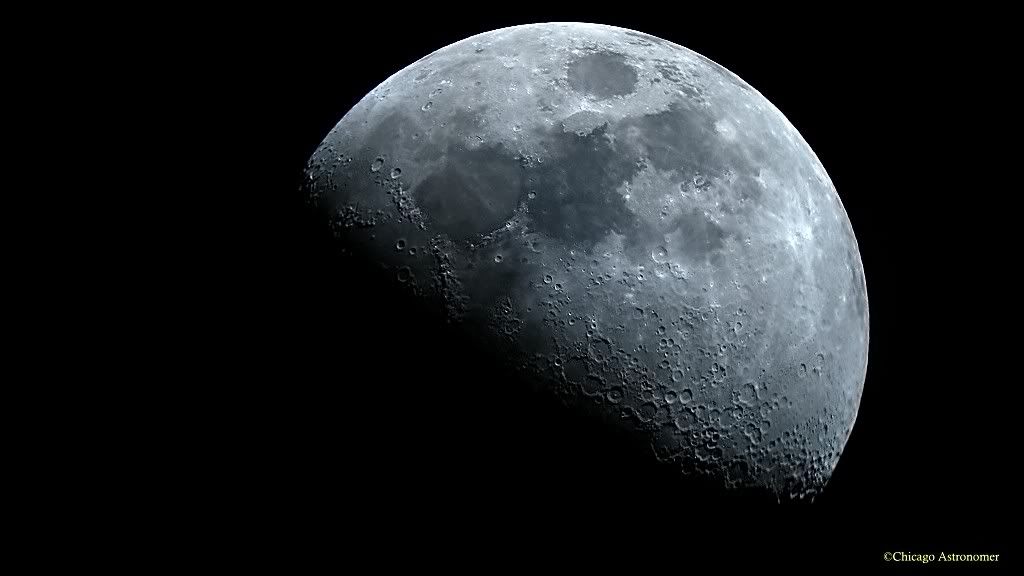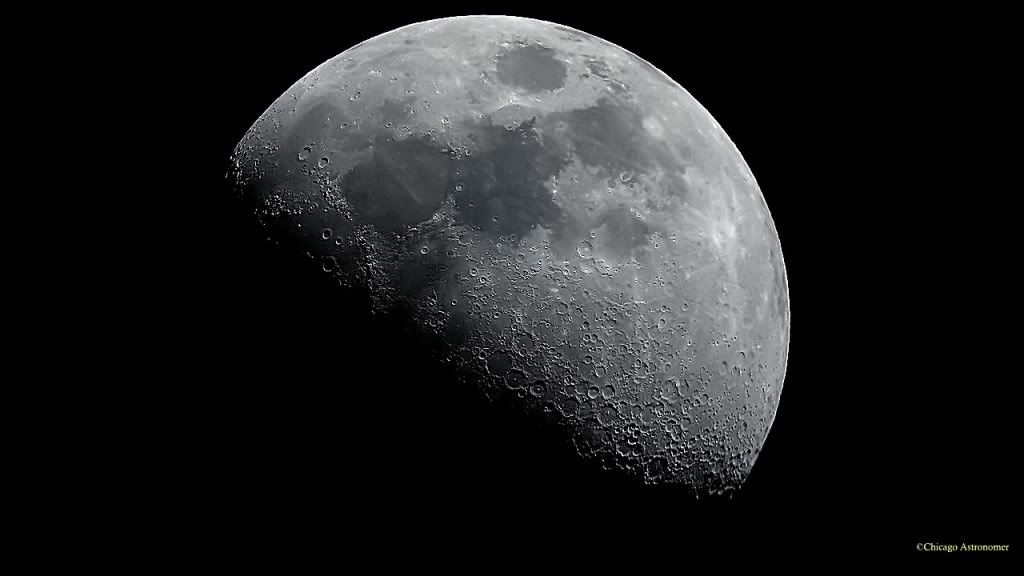 Even with the wide field 40mm 2" eyepiece, I can't get the entire lunar orb in the field with the camera. So to shorted the Focal Length, I removed the diagonal and inserted the eyepiece into the the OTA directly..and made for good whole Moon captures above.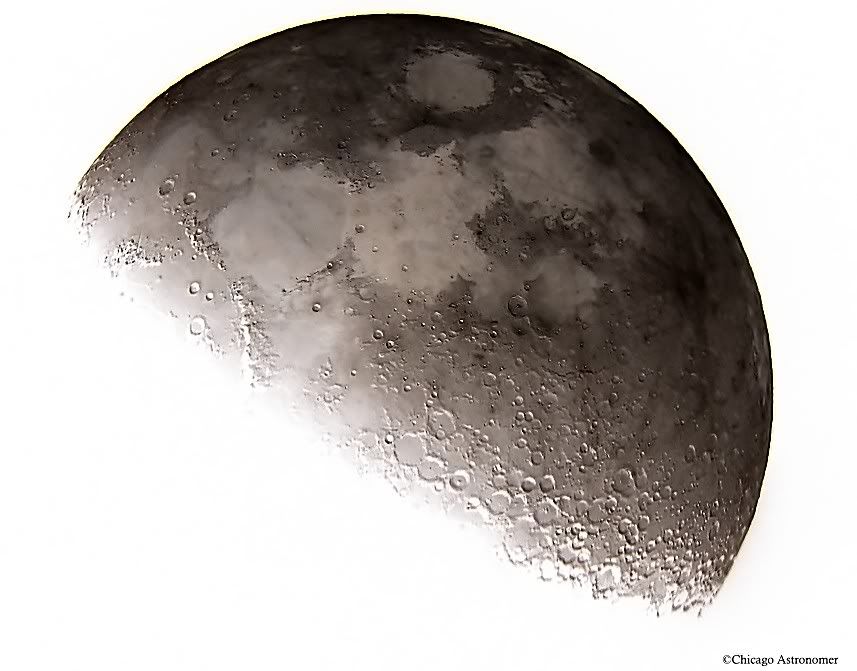 I dig this one above a lot. Brings out the texture nicely and gives it a different feel than what we are used to.
Popping in a 32mm/26mm 2", some close up shots...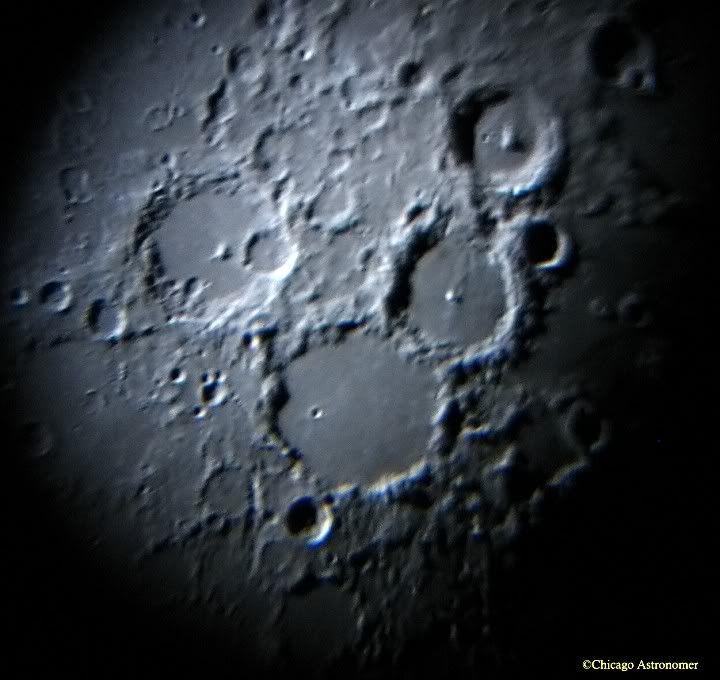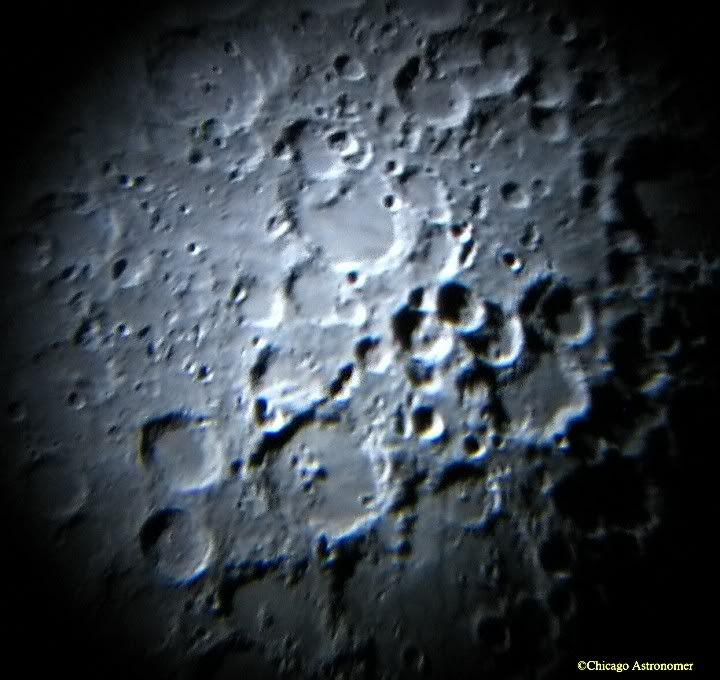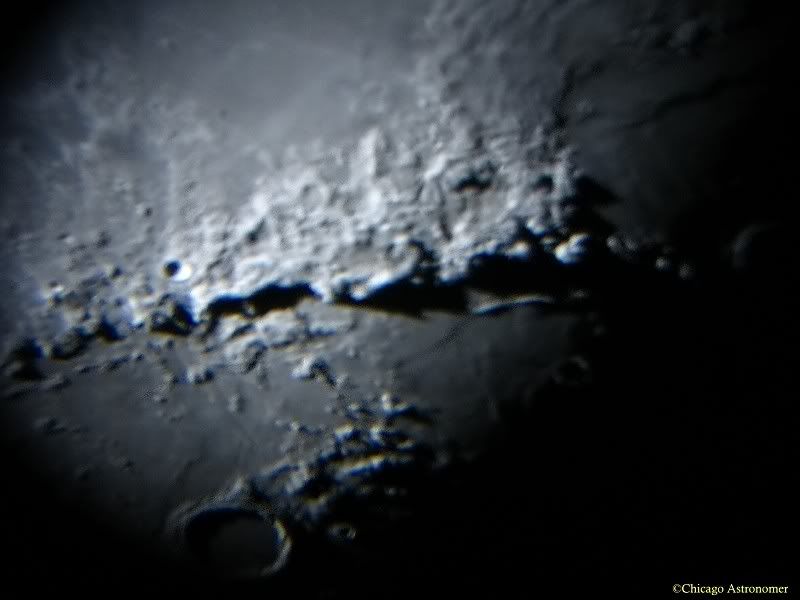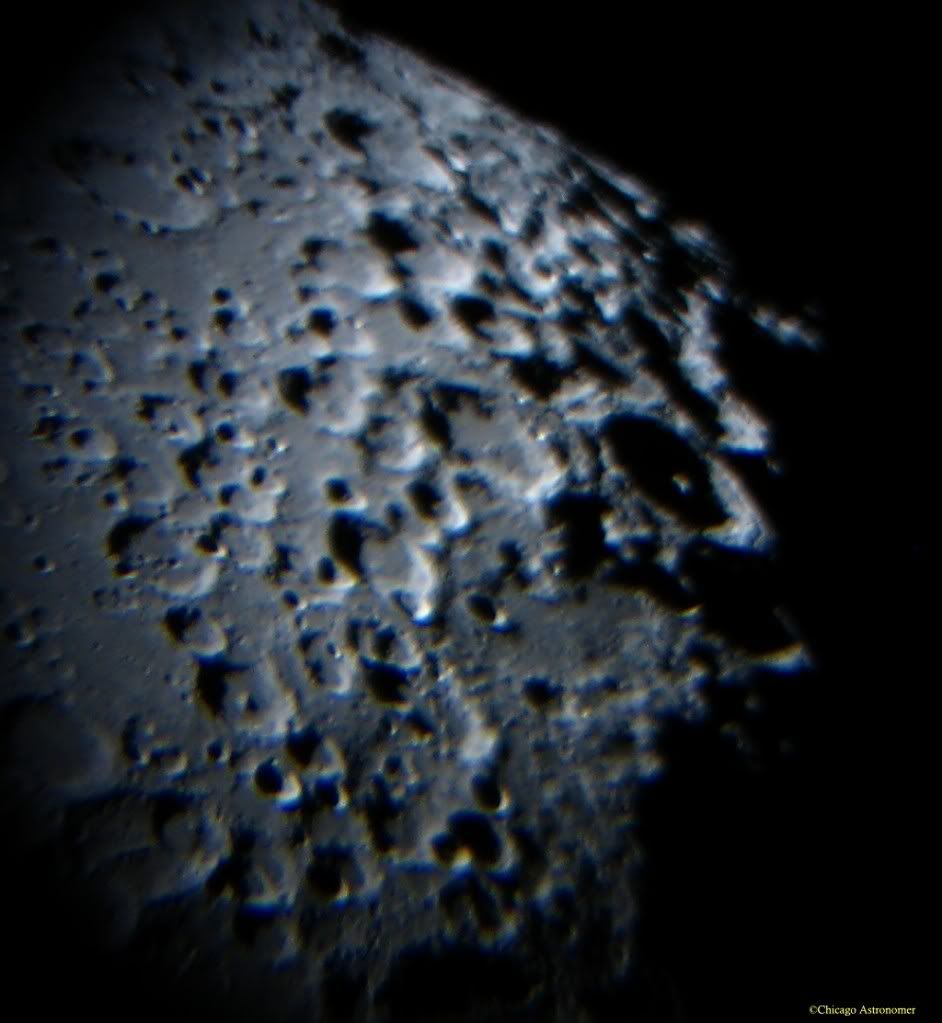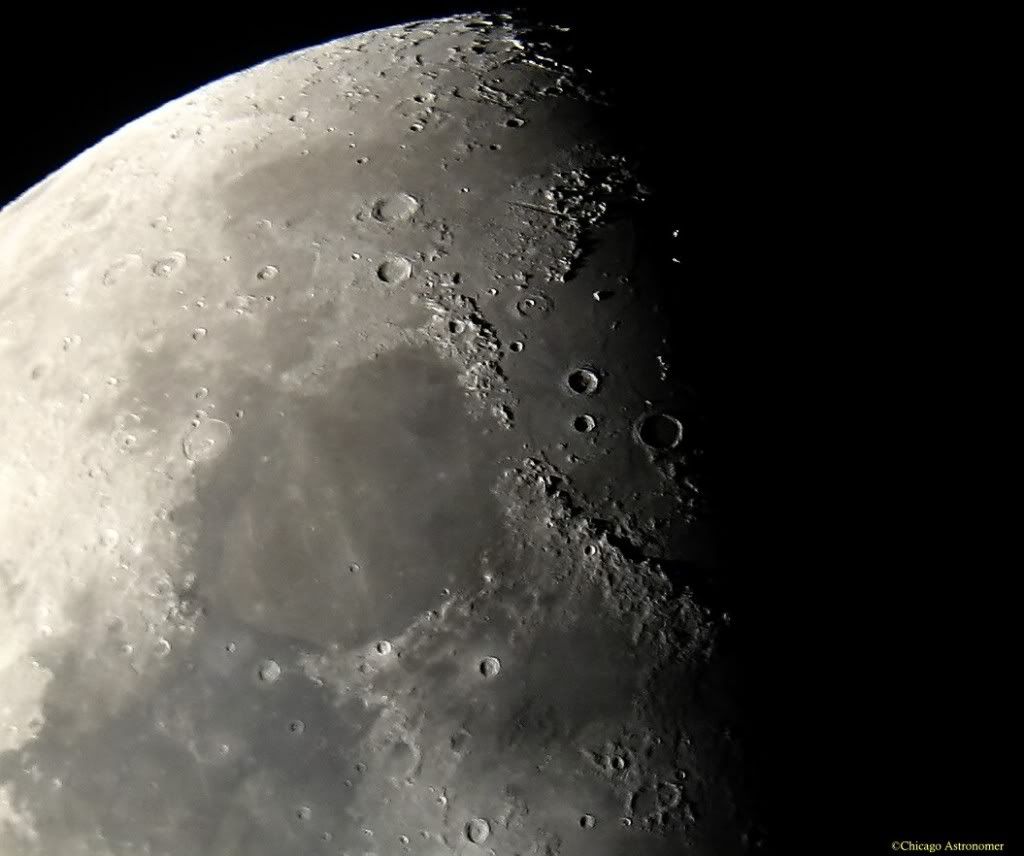 We had visitors throughout the evening stop by and desiring to peek through our scopes and talk astronomy. My lovely friend Nina stopped by after work to join us in her first telescopic Chicago Astronomer experience, showing her Jupiter, the Moon and the "E.T" star cluster...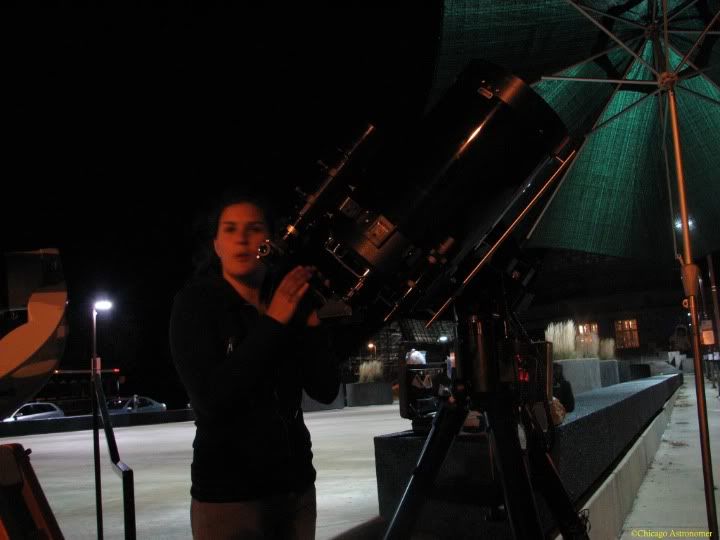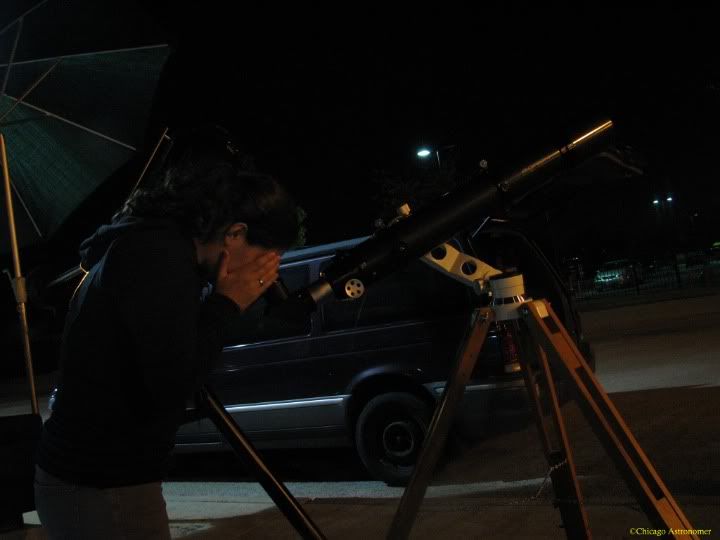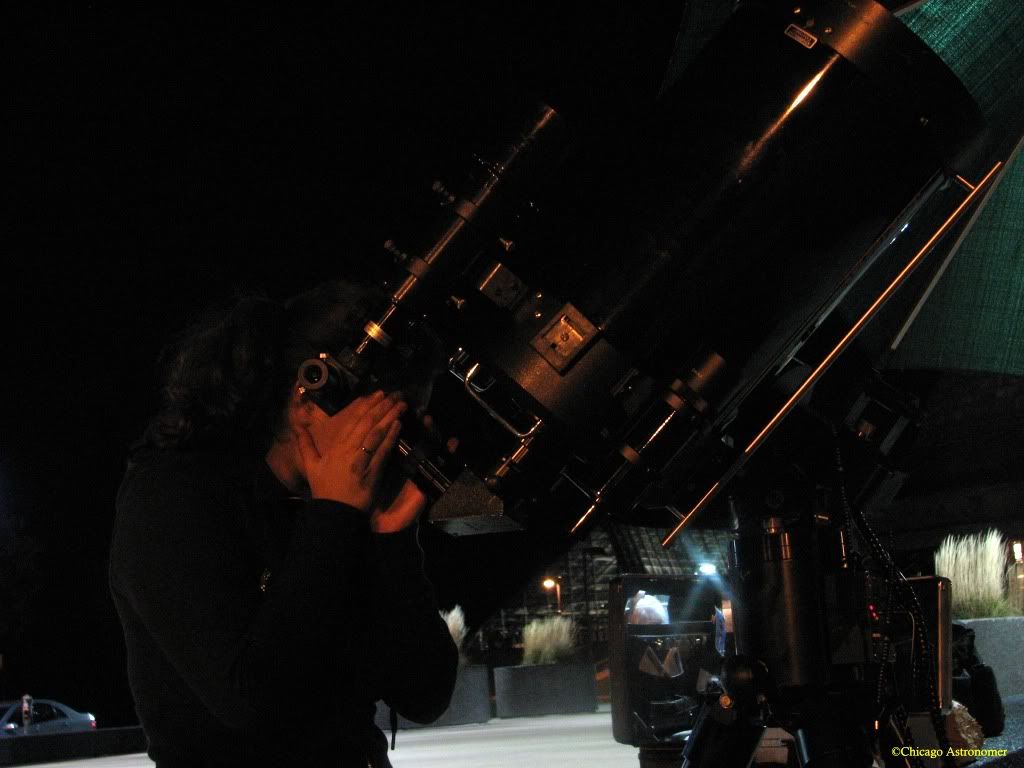 The intense lighting of the area prevented any other targets to view unfortunately.
I met very nice people this evening who enjoyed the views of the cosmos...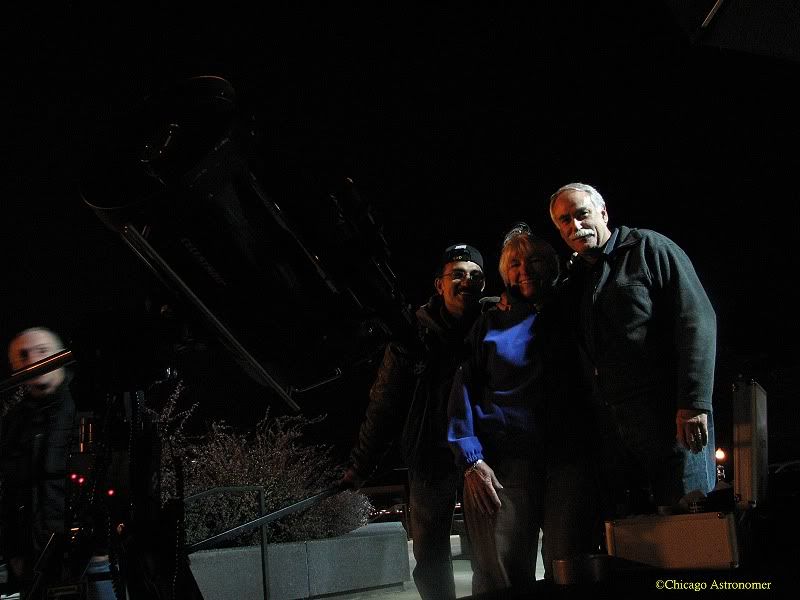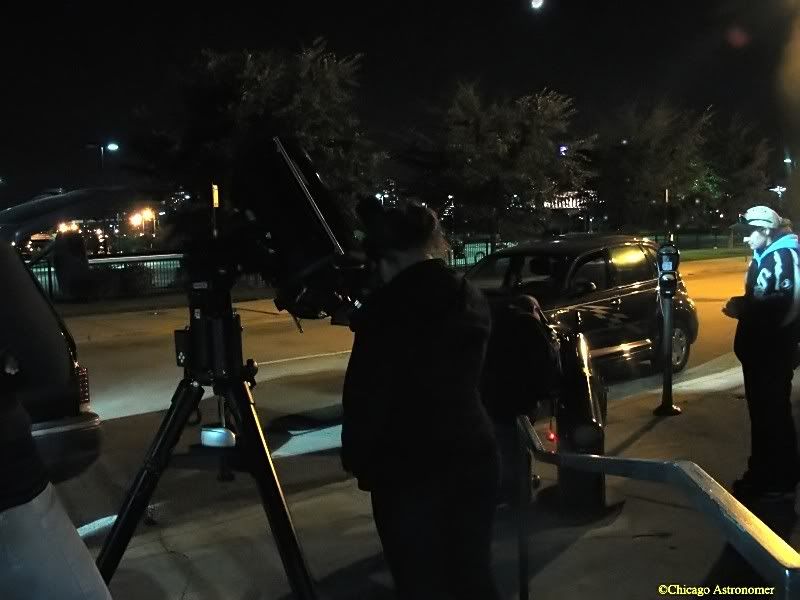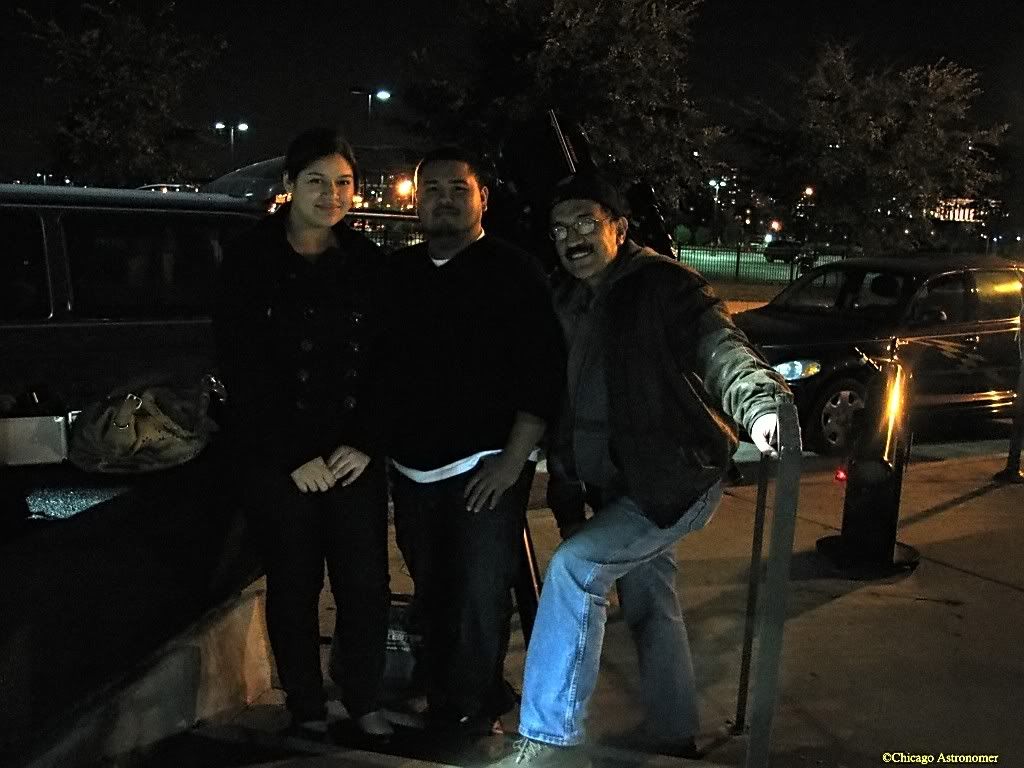 Above, Liz was very excited about seeing our scopes and wanting to take a look through them, as she is very interested in astronomy. Passing her my card, I instructed her, (and others throughout the night), to email me and I will include them in the Chicago Astronomer email notifications - and an open invitation to join us in future star parties.
Steve left, but not before a mandatory pic...
Chicago Astronomers Paulie & Hillary stopped by on their way back from the Exo-Planet lecture in Arlington Heights to join us for a bit and shared views with our visitors...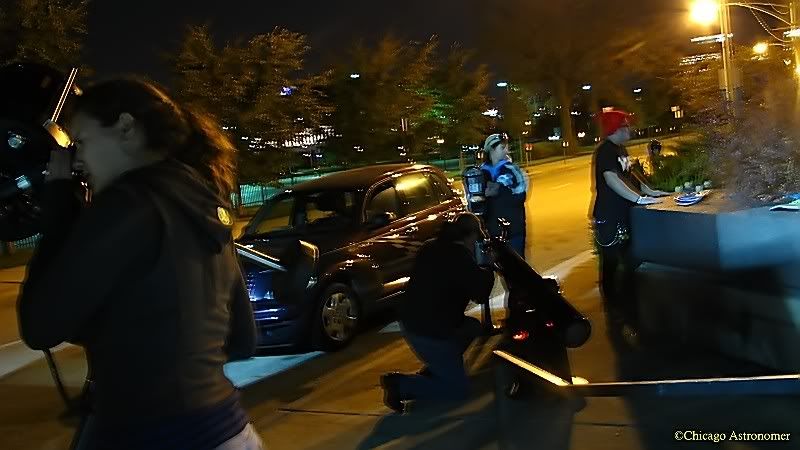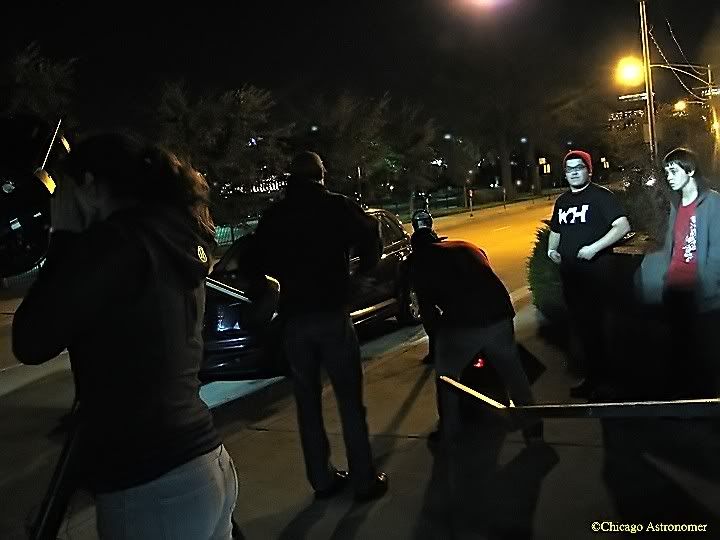 We stayed till well after 11:00 pm, when security was kicking out others from the area...but leaving the astronomers alone....

And we take final pics of the session crew...
This session turned out well after some set backs earlier when it stared at 7:00 pm. Nina was getting into it and guiding visitors on how to properly observe through the C11 and I hope she joins us for future sessions. Glad that Steve came out to join me and always good to see Paulie & Hillary and their enthusiasm.