Post by Chicago Astronomer Joe on Sept 18, 2010 23:16:32 GMT -6
Five Different Consumer Astronomy Magazines I read and recently brought home

September 2010
When I need to go downtown for work/business, I often stop by the local Borders Bookstore and look around for interesting titles. I stop by the magazines on the way out and see if any of my favorite magazines have anything interesting.
I picked up four, as I already has one one my case going in.
Let's start out with "
Astronomy Now
"...the one from England...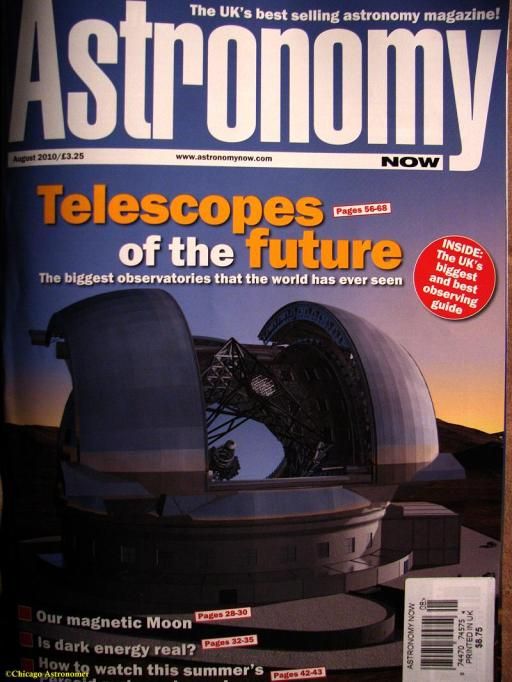 Although it's geared for UK astronomers, there's a lot of good stuff in there and the latitude closely matches our own. In this issue, there are nice articles on Lunar features, basic astrophotography, equipment reviews and the worlds largest telescopes.
It's a pretty hefty magazine but, it's quite expensive at $8.75 an issue...
Next is "
SkyNews
" from Canada...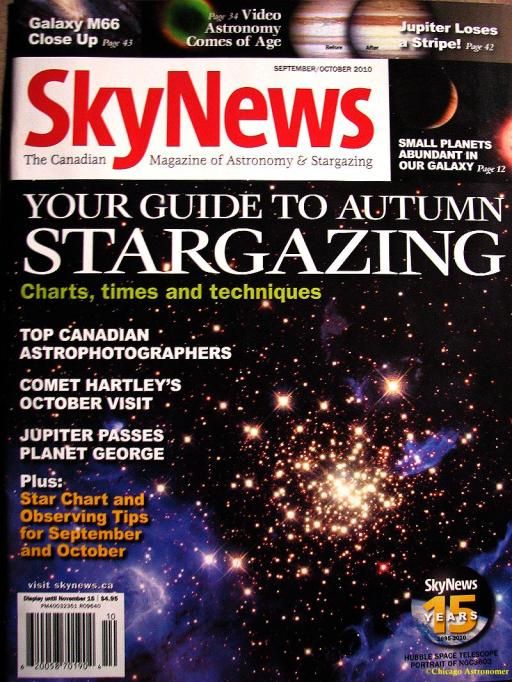 There is a lot of advertising in this magazine and rather thin, but it's nice to read about astronomy north of the border. There are personal experiences on observations and equipment and a nice "what's up in the sky" section... especially one on Comet Hartley in this issue.
Sells for $4.95
Next is "
Sky and Telescope
"...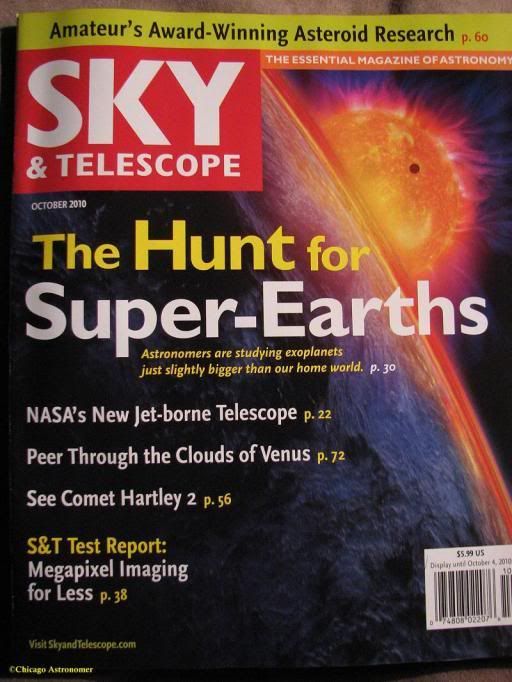 I have been reading S&T since I was a kid and still have old magazines from the 1970's in my library. I would get very excited when the month's issue would arrive in it's paper sleeve - made me feel special and would take it out with me on observation sessions. That and my 60mm Montgomery Ward Refractor.
Many of the articles were way above my head, much technical and Amateur Telescope Making content and highlighted astronomers with equipment I could only dream of. Of the two main astronomy magazines, (S&T and Astronomy), S&T was considered the more technically advanced of the two.
It has "Dumbed down" some in recent years, expanding it's influence for the sidewalk/backyard astronomer and the need to compete with "Astronomy". It's a good publication with excellent product reviews and in depth details on upcoming events.
Sells for $5.99.
I also picked up a Special Edition magazine from S&T...
I don't know if this will be a regular publication, but paging through it, it had nice articles on the constellations and I thought would be great to use for public star parties and share the info.
It has nice sky charts and individual constellation-points of interests details. It also has a good primer on the different types of telescopes and a good reference to show those who often ask the Chicago Astronomers on what kind of telescope they should consider to buy.
In this issue, it has a nice read on urban astronomy.
Sells for $6.99.
Lastly, "
Astronomy
" magazine...
Astronomy is more of the layman's astronomy magazine, with great pictorials and beginners guides. But even seasoned astronomers appreciate the content and is a great resource regardless on your level of star gazing.
In this issue, there are nice articles on: budget astronomy, amateur contribution to science, Cluster hunting, planetary ringlets and a good guide through the fall sky.
Sells for $5.95
In comparison of the magazines...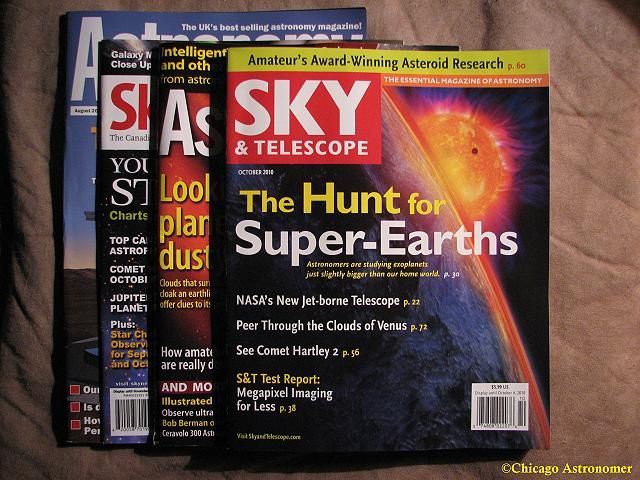 Physically, The "
Astronomy Now
" from Great Britain is the largest and heftiest and just slightly narrower then the rest -with 98 pages.
"Sky and Telescope"
is the smallest in dimensions and with 86 pages.
"Astronomy"
is the median with 72 pages.
"SkyNews"
is the thinnest with just only 46 pages.
All good publications and there is always a magazine not far from me.