Post by Chicago Astronomer Joe on Jul 15, 2010 1:35:00 GMT -6
Just delivered: 2" Celestron Eyepiece kit

14 July 2010
Being in the dumps recently over an automotive incident, my too cool Aunt gave me a gift to help.
And it does...!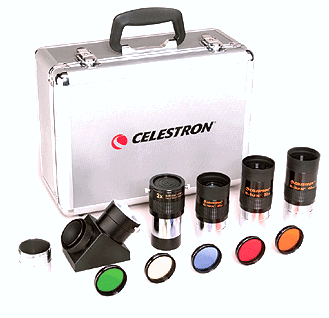 www.celestron.com/c3/product.php?ProdID=272
Although brand new in the box - this kit is a few years old and Celestron no longer sells the E-Lux line of Eyepieces, but those who have used them, like them. Lower line series of eyepieces and not in league with Naglers or Televues, these will make a great addition to my astronomical arsenal.
The 2" Eyepiece and Filter Kit (#94305) contains:

• Three E-Lux 2" Eyepieces - 3-element fully multicoated optical design with a 56° apparent field of view (40mm has 50° ) Comes with 26mm, 32mm and 40mm focal lengths.

• 2" Barlow Lens - 2x - A Barlow lens doubles the magnifying power of your eyepiece by doubling its effective focal length. The E-Lux 2x Barlow is fully multicoated and gives you a total of six power combinations.

• Five Colored Eyepiece (Lunar and Planetary) Filters - 2" - Included are Kodak Wratten #12 (deep yellow), #21 (orange), #25 (red), #58 (green), and #80A (blue). These filters will greatly enhance your enjoyment of our solar system.

• 2" Mirror Diagonal - This high quality 90-degree multicoated mirror diagonal allows you to take advantage of the wider field of view provided by 2" eyepieces. It fits all rear cells of Schmidt-Cassegrain telescopes and includes an adapter to use with refractor telescopes.

• Aluminum Carrying Case - This sturdy and well-built case fits all of the above items in the die-cut foam interior.
Here is a review:
E-Lux – Celestron E-Lux telescope eyepieces are good quality, 4-element Plossl eyepieces which are fully multi-coated, sport fold-down eyepiece cups and are threaded for filters. They were available in both 1.25" and 2" barrel sizes with a choice of focal lengths of 6mm, 10mm, 25mm, 26mm, 32mm and 40mm.

While the Celestron E-Lux plossl eyepieces are no longer in production, they should be considered a classic eyepiece and are still a sound investment which can be found occasionally in overstock warehouses or buy out lots. While they do display some astigmatism and ghosting, the color correction is outstanding and considering the price range – the Celestron E-Lux makes a superb field eyepiece. The larger 1.25" barrel models (25mm and 40mm) have rubber grips around the barrel to assist in handling, and the smaller models (6mm, 10mm and 25mm) have a safety ring cut into the barrel to help prevent the eyepiece from sliding out of the focuser should it become accidentally loosened.

The 2" barrel model Celestron E-Lux eyepieces are of the Kellner design – and are comprised of three lenses. These are excellent eyepieces for low power, wide field work. With an outstanding 20mm of eye relief, these eyepieces work very well for eyeglass wearers and they are also threaded to accept standard 2" filters and come equipped with soft fold-down rubber eye shields and rubber grip bodies. Like the smaller barrel design, the 2" Celestron E-Lux eyepieces display a certain amount of astigmatism and edge-of-field aberration, but when used at low power the problem is minor. The anti-reflective lenses are fully-multicoated on all air-to-glass surfaces for above average contrast and the color correction is excellent. This makes the Celestron E-Lux a good choice for those wishing for a large, wide field eyepiece at a budget price.

www.universetoday.com/guide-to-space/telescopes/celestron-e-lux/


It was delivered today, (Wednesday, 14 July 2010), and found it on my doorstep upon arriving home, as the UPS guy knows to toss them over my fence and onto my porch as per instruction.
Eagerly, I opened it up like Christmas morning...
Packed securely, I saw no damage to the outside shipping box. Always a good sign.
The inside box held the aluminum case safely with bubble wrap...
Smells new and like Indiana Jones, I savored the slow opening of the case for the first time...
I have used 2" eyepieces and accessories prior, but being almost exclusively a 1.25" user - the sizes of the eyepieces was impressive...
Three big glass eyepieces, gigantic right angle w/ adapter and 5 filters and Barlow...
Let's examine what we got...
------------------
The 2" Right Diagonal -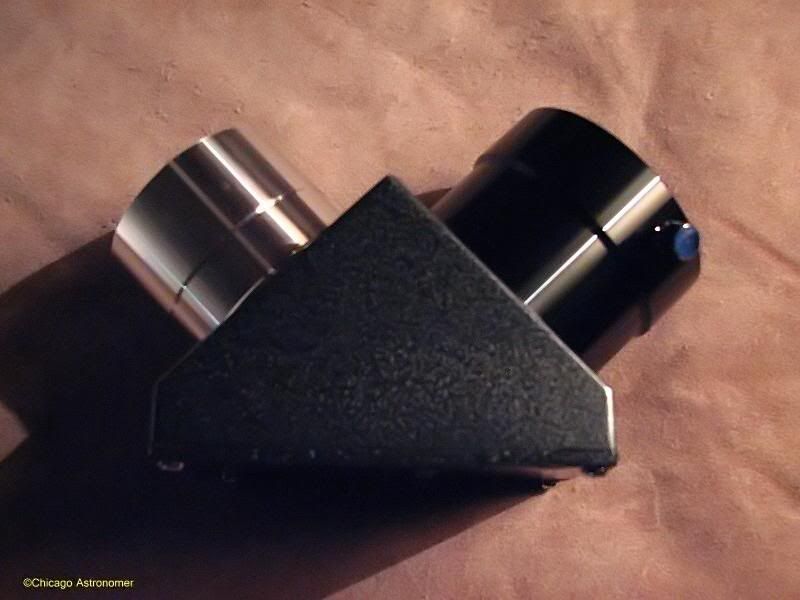 The 2" Right Diagonal is hefty and big - with a mirror instead of a prism...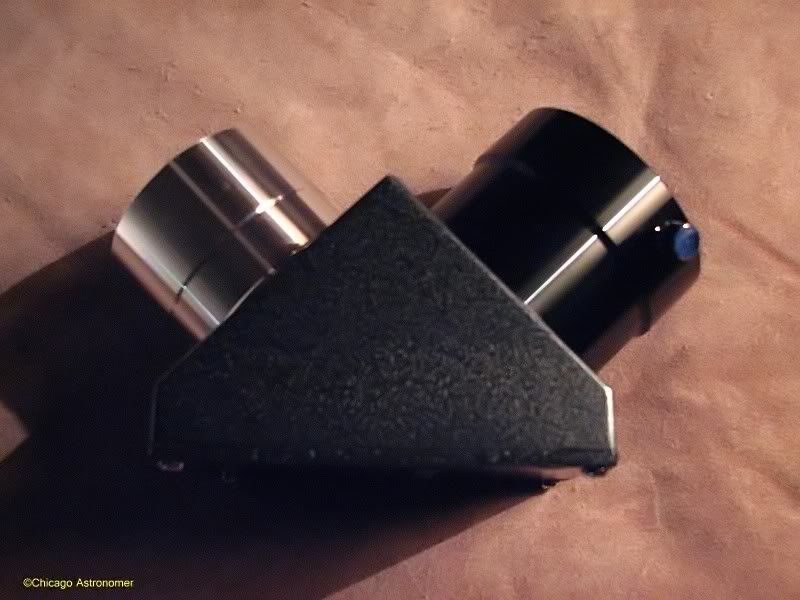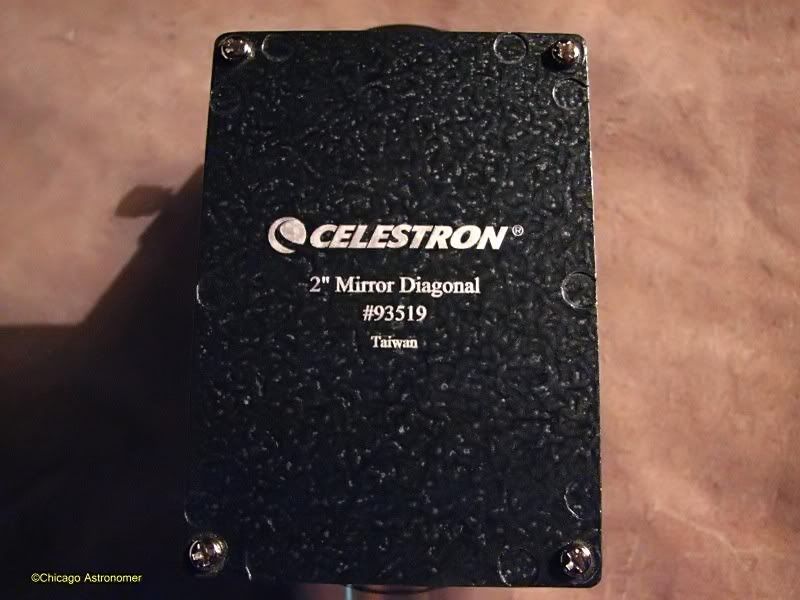 The 2" Diagonal dwarfs the 1.25" right angle...
There is the option to either use the adapter tube for refractors, or in my case, slipping into the JMI Micro focuser, which also accepts 1.25" or 2" accessories.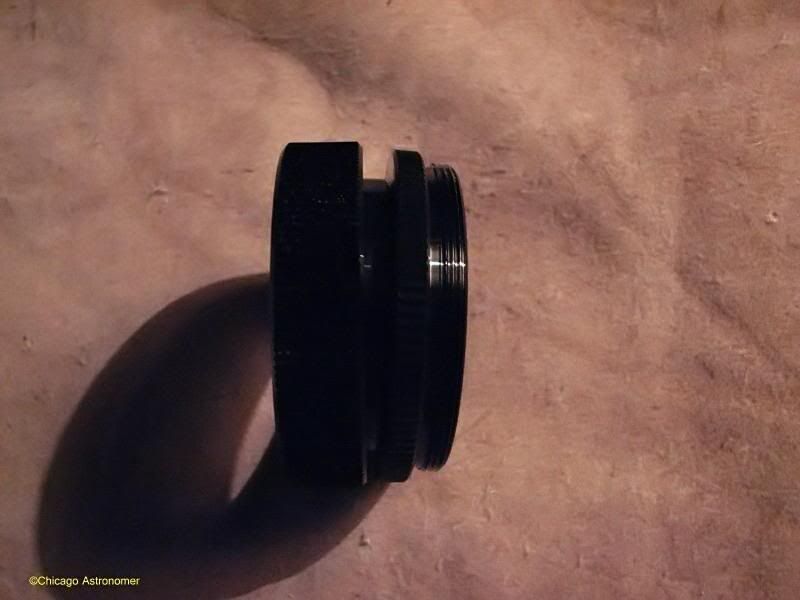 But if one desires, one could screw the diagonal directly into the back of a SCT with this adapter.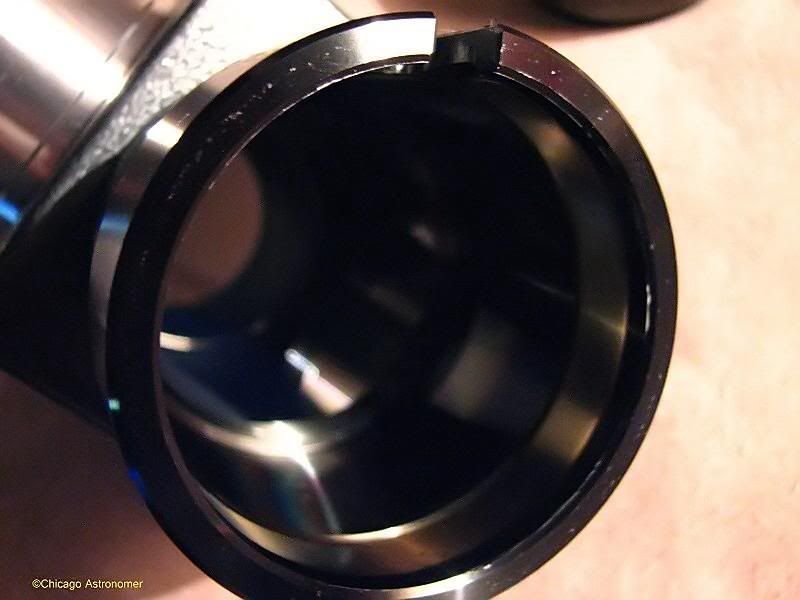 The right angle has a notch to attach the 1.25" adapter and brass compression rings to snug up the eyepieces without marring them. This is very nice.
----------------------
The 2" Barlow -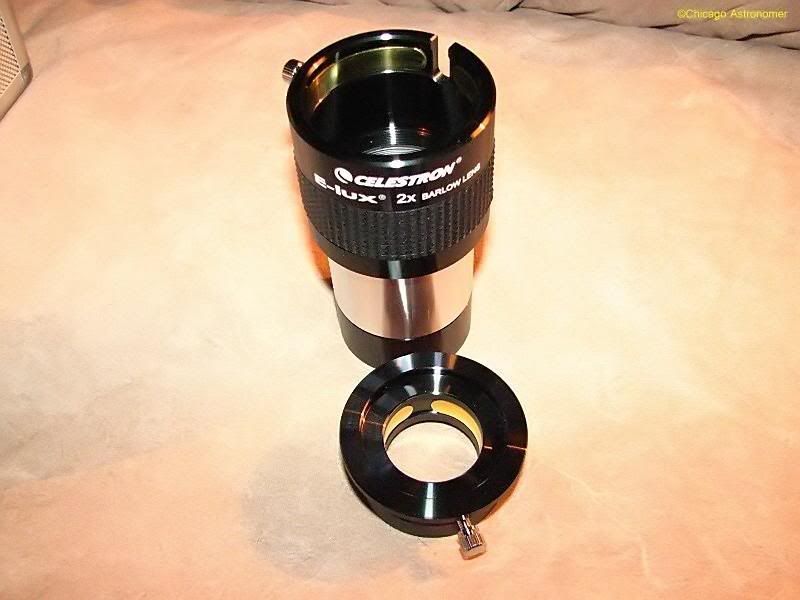 It towers over the 1.25" and is a solid machined accessory. Shown here with the 1.25" adapter, they both have the very cool brass compression rings...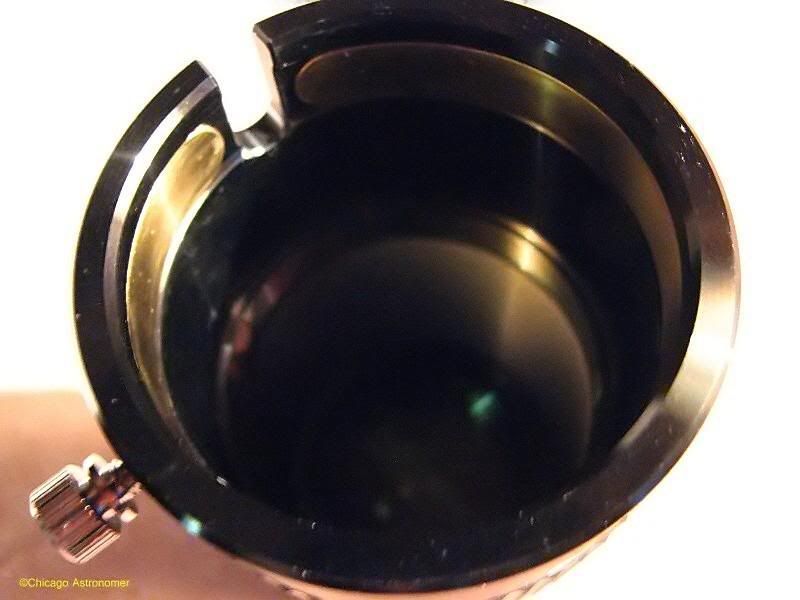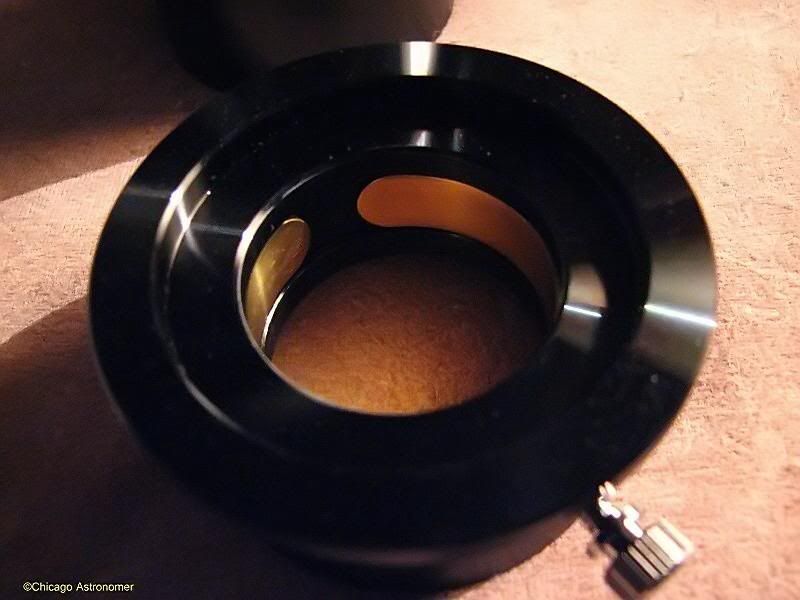 And shown with the adapter in place...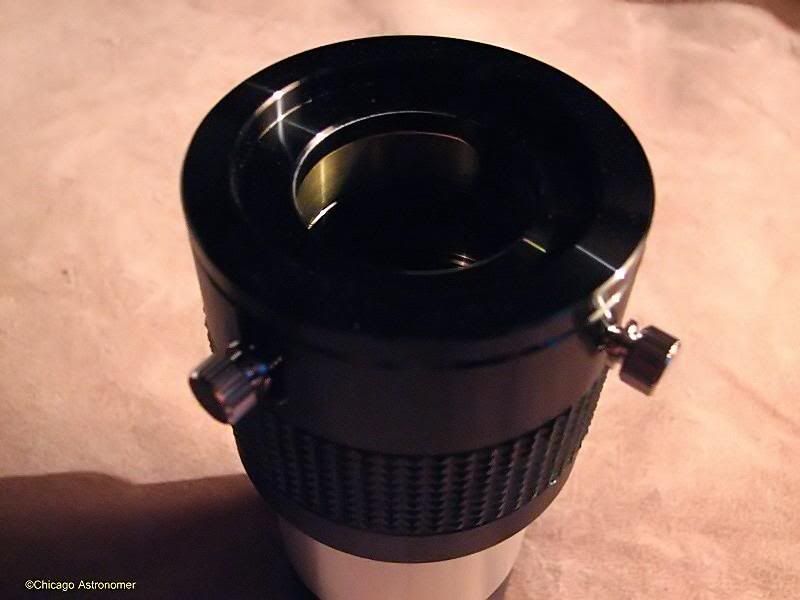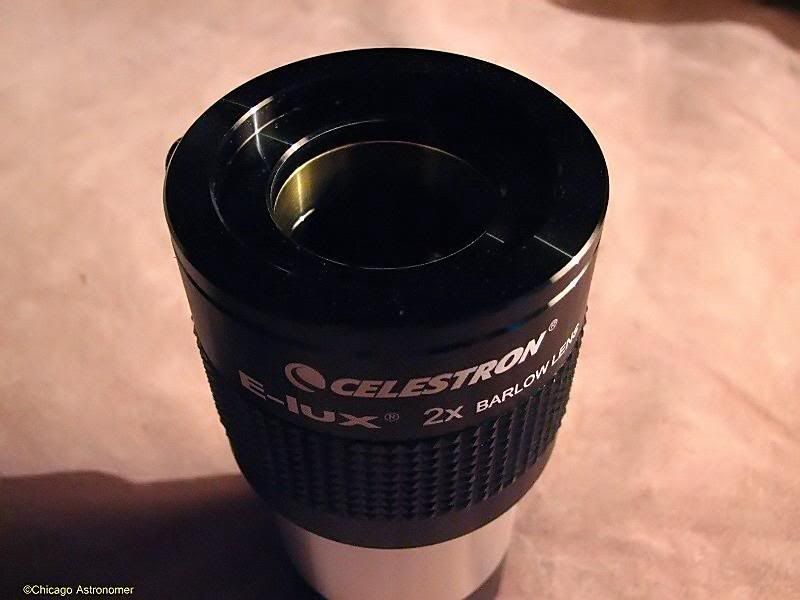 With a 2" eyepiece in place, it spans a great height of 8"...!
In comparison with the 1.25" Barlow...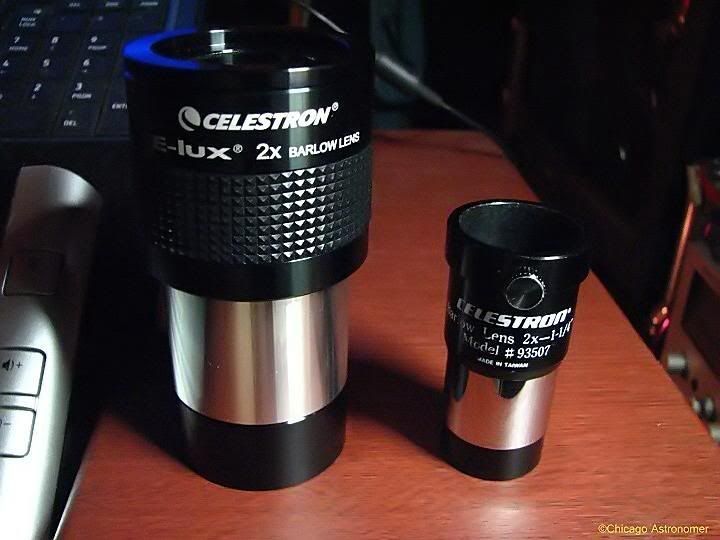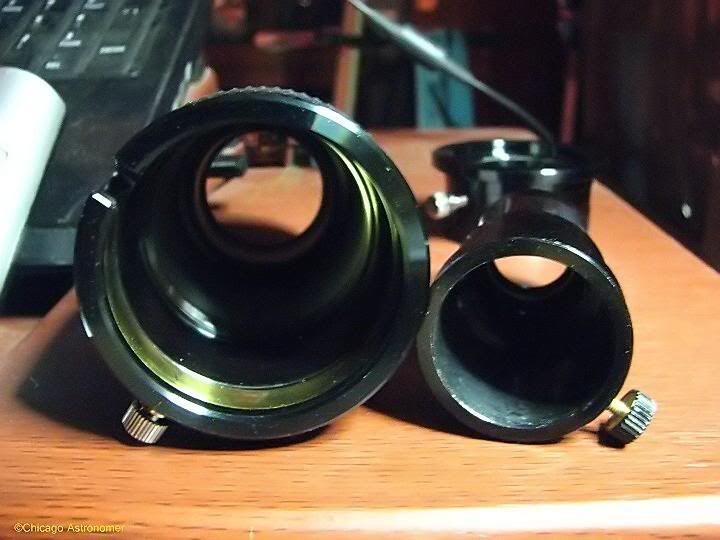 ...makes me giggle.
------------------
The Eyepieces -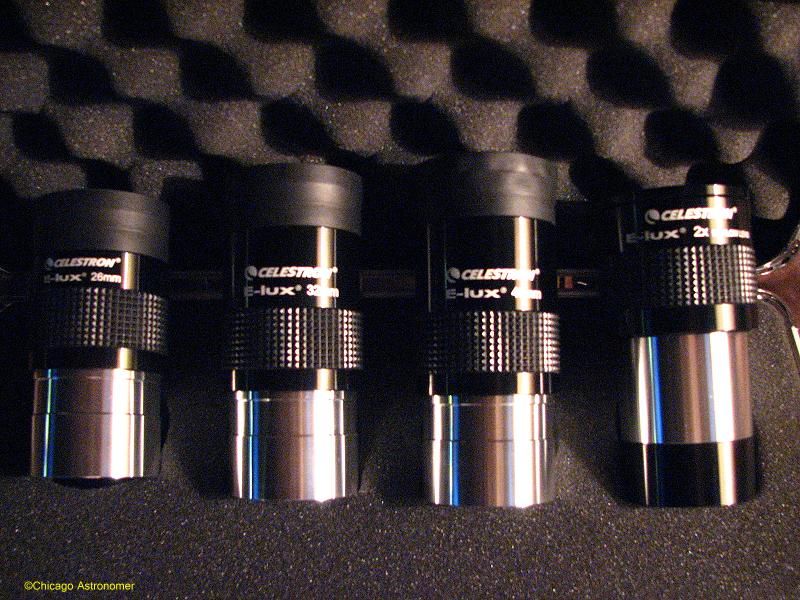 I am pleased that I finally possess a 2" 40mm eyepiece. This will make for great beautiful low power-wide field touring of the skies and good for public star parties. I do intend to get a Focal Reducer/Field Flattener soon - and coupled together will be something to behold.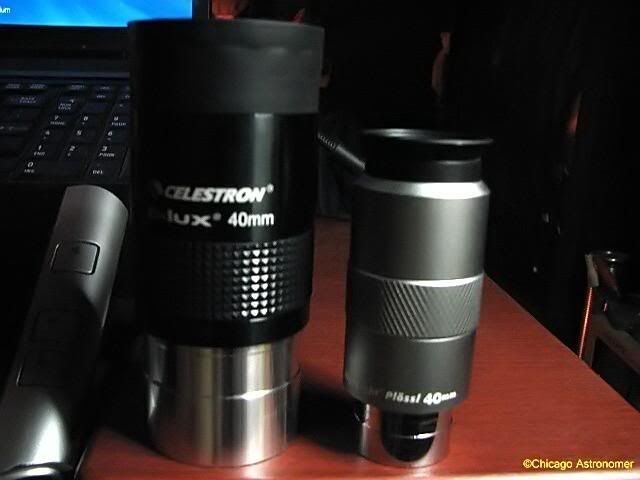 I got this 40mm 1.25" eyepiece from an Ebay winning bid - along with the 1.25" Barlow for cheap, ($30.00). It's almost as tall as the 40mm 2", but it still is little in comparison...
Grabbing the 26mm 2 incher next, I compare it to the closest mm1.25" eyepiece I have - a 25mm...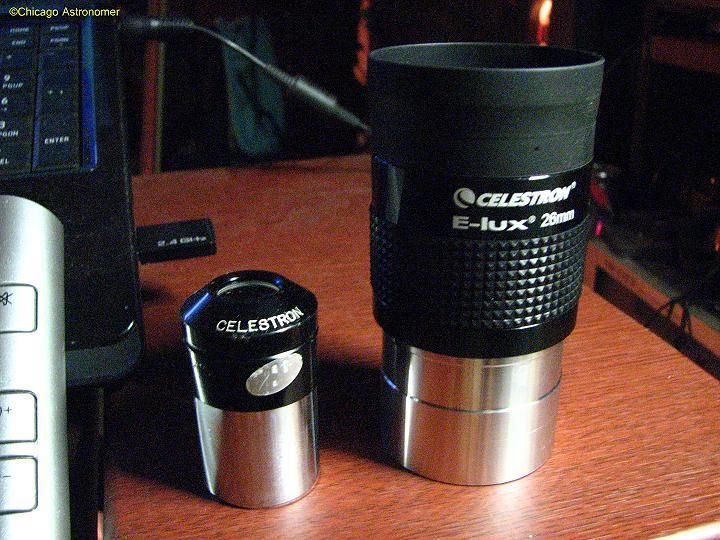 I have no comparable 32mm eyepiece to stand against, but it is also quite hefty.
--------------------
The Filters -
I dig these filters...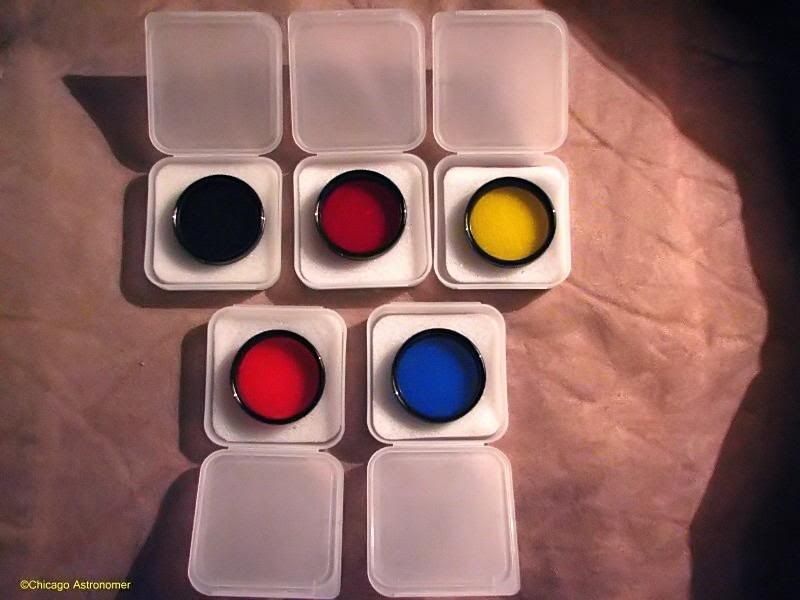 Accustomed to using 1.25" filters for so long, it seems rather indulgent... ;D
No exotic filters such as OIII, Nebula or Sky Glow filters, but this is a nice selection.
-----------------------
Testing out the new stuff -
As we all are, I was anxious to try and test out the new toys. It was a lousy night for a try though - with hazy soupy skies, high humidity and temps in the 80's. Yuk.
But still.....

I set up the smaller C5 SCT, just to see how things worked out. The eyepieces would make better use of the larger aperture and wider light path of the C11, but no point in setting up the C11 beast under these crummy conditions...
Hell, the 2" Diagonal and eyepiece makes the OTA look small!
It screwed directly into the rear of the C5 with the handy adapter, but it did not tighten well and solid. There was the smallest amount of play of the diagonal - and even when the knurled knob was tightened, the diagonal had play enough to spin around...
And also, it's so massive, that the diagonal bumps up against the focus knob of the SCT...
...limiting the amount of comfort angle.
The skies were really bad, but not fully cloudy, so I thought that I could catch Vega, being a zero magnitude star. But, it was so hazy and transparency so lousy that I had a hard time seeing it. Making it out, it must have degraded down to a magnitude 3 object, but I slewed over to it with the C5 and a 40mm 2 incher.
Peering through the eyepiece, it brought a great wide vista - porthole-like, bringing Vega and surrounding stars to pinpoints.
Quite cool.
The eye relief is good. I don't even have to remove my glasses to view and can keep a comfortable distance from the eyepiece, and with my astigmatism - keeping the glasses on makes for sharper views.
I replaced the 2" 40mm with my 1.25" 40mm - swapping them out alternatively. The magnifications and quality were about the same, but going back to the limited Field of View of the 1.25" was disappointing and I found myself returning the 2" for more leg room.
I swapped out the 40mm for the 32mm and then the 26mm...and all provided pleasing wide field views. I then repeated the sequence, but this time with the 2" Barlow in place. They all performed well and Vega was pinpoint throughout the series.
One con in the eyepiece evaluation. The rubber eye cups are thin and rather flimsy. But I like the solid feel and well machined surfaces of the eyepieces. They slip in the diagonal solidy and there is a slight vacuum when removing them - making a metal-to-metal slid sound and pop...almost like a pneumatic tube...

This odd aircraft trail was spotted, tearing through the fast moving clouds.
Disappointed that the skies were so crummy, I at least put the new eyepieces thru their first test...and even with the limited boggy skies of this eveing....the results were good.
I can't wait for a crystal clear night to do a proper test.
---------------------
For those who are looking for economical eyepieces, here are some more reviews on the Celestron 2" E Lux Eyepieces:
The E-Lux 32mm eyepiece is a designed to produce wide fields of view of the night sky. The 2" diameter body allows the field of view to be larger than would be possible with smaller 1.25" diameter eyepieces. It is an economical and effective way to get a much more comfortable wide field view in a telescope with a 2" or larger focuser.

Description

The 2" size eyepieces were developed to obtain wider actual fields of view than the more common 1.25" diameter telescope eyepieces allow. The housing and eyepiece proportions are all scaled up, resulting in what looks like an XXL version of a telescope eyepiece with greatly increased weight. They can only be used in telescopes able to send such a wide light path to the eyepiece. This is usually a feature of telescopes with larger 2" or bigger focusers designed for photography with large format cameras (or schmidt cassegrains).

The E-Lux eyepiece is very solidly built and yet has a very soft rubber light shield around the eyepiece. The wide lenses are coated, so internal reflections are minimized. The main body has a rubberized grip built into it. The inside of the eyepiece body is blackened to minimize glare. The nicely-chromed collar for the draw tube has a notch in it to catch set screws and prevent the eyepiece from falling out.

The only complaint I have in this department is the eyepiece does not come with either a top or a bottom lens cap. As a result, I have been leaving it in a telescope with the ziplock bag it came in on it. I have been looking for at least a top end plastic cap for it. So far I haven't found a part with a reasonable fit.

Performance

The E-Lux 32mm 2" eyepiece can be most easily understood in comparison with Celestron's 32mm 1.25" Plossl eyepiece. The two have the same focal length, and the overall body of the 32mm eyepiece is as long. However, the barrel is much smaller on the 1.25" size. Since I had both, I have given them both a trial. I have been using the 32mm E-lux in the Celestron 80ED f/7.5 refractor, and its performance has been such that it is the eyepiece I leave in it at all times.

The difference between the two eyepieces tells why 2" size hardware exists. The 32mm 1.25" eyepiece has a 46 degree apparent field of view, which is limited by the diameter of the 1.25" collar. This gives a bright image, and the image is projected well away from the eyepiece, but the scale is limited. In comparison, the E-Lux eyepiece is a 56 degree apparent field of view. It doesn't sound like that big a difference, but approaching the telescope shows a completely different appearance. Instead of having the feeling of going to peer through a small hole, this eyepiece gives the feeling of looking trough a porthole. It's the difference between looking through a knothole in a fence and looking over it. The image is projected so far from the eyepiece and the field is so wide, looking into it is effortless. The actual magnification with these lenses was 18.75 power with an actual field of view just under 3 degree across (large by astronomical standards).

The E-Lux design has three lenses inside, so many would claim it is theoretically limited in its ability for color correction. In practice, this is not the case, and the field, though slightly curved (slightly fisheyed), comes into sharp focus from edge to edge. It is only able to show some false color on the edge of the moon if you move the moon all the way to the edge of the field of view. Here, the interior side of the moon will show a razor thin red edge, and the exterior side will show a similar sized violet edge. Since the telescope is a refractor, this may be more from its optics than the eyepiece. In actual use, this is so difficult to see, I doubt a visual observer would find reason to complain.

In astronomical use, star clusters such as Double Cluster and the Plieades show their stars as bright pinpoints and present a beautiful 'Diamonds on velvet" appearance. Nebulas such as the Orion Nebula can easily be seen in their entirety, but need a dark sky site out in the middle of nowhere.

As a secondary test, I put this eyepiece into an 18" f/5 dobsonian telescope belonging to a friend and found it was now possible to see the entire double cluster, which was not possible with the 17mm Televue Nagler he had been using, despite its 70 degree apparent field of view. The simple E-Lux design held up surprisingly well with this competition, and worked well with this very different telescope. The resulting image was extremely bright and sharp, and made extended objects visible.

When pointed at objects on the ground, the 32mm E-Lux eyepiece gives nice wide razor sharp images. As a case in point, a few weeks ago I was outside during the day and two air force planes flew over (Tucson is cool). I looked up at them as they went by overhead, and saw to my surprise they flew in front of a tiny pinpoint of light visible in the middle of the day. I thought at first I might be seeing a satellite, but the object appeared nearly stationary. On the chance it would be there, I went in and quickly brought out the 80ED with the 32mm eyepiece mounted in it. I pointed it at the object and took a look. It turned out to be four yellow children's balloons tied together with what appeared to be an orange note attached (someone out there has sent a message on a balloon...).

Conclusion

The E-Lux 32mm 2" diameter eyepiece is an economical way to get very wide angle performance from any telescope with a large focuser. The eyepiece is flexible for day or night use, and gives a very bright and sharp image across its field of view. Although higher performance and wider field eyepieces are available, this one does what it does very well for what it costs, and that is the true sign of value. In comparison to its 1.25" diameter cousin, its performance is obviously more pleasing. Its biggest fault is the lack of included lens caps, which would have been a trivial expense for Celestron to correct.

Recommended:
Yes

www.epinions.com/review/Celestron_32mm_E_Lux_Plossl_Eyepiece__93335_/content_208614231684
This is a great set of 2 inch lenses for the money. I have a 102 Celestron Refractor and man what a difference. Let the light in! I live in a highly light polluted area and ever with no filter, I got great views of the Orion Nebula and the Andromeda galaxy as well as great planet views.

I highly recommend this set. It comes with filters, a nice solid carrying case and a fine 2" 2x barlow. Best buy I've made in awhile.

These are very inexpensive 2" lenses. I like the 2" format for low magnification, and will try to stick with it for future lens purchases.



I've noticed, however, that I get greater clarity from the 1.25" 25 mm lenses that came with the scope than from the 2" 26mm lens that comes with this kit. It may be because of the lenses, or the diagonal which comes with the kit, but it is a little disappointing.


Also, note that these are all lower magnification lenses. Unless you are going to purchase yet more lenses, you won't get the full range of capability from your scope with this kit.

www.telescopes.com/telescope-accessories/eyepiece-and-filter-kits/eyepieceandfilterkit2inchformat.cfm?TID=CELE210&source=pjn&subid=3578#ReviewHeader

My Newtonian accepts 2" eyepieces so I thought I'd pick one up to see how it would perform. First, let me note that Celestron's E-Lux 2" eyepieces are an older Kellner 3 piece design. This is why they cost much less than other 2" EPs. Big Kellners like these specifically do not work well in "fast" short focal length scopes like my f/5 Newtonian. That is to say, they have noticeable distortion (coma/astigmatism) around the edges of the field of view. In a longer focal length scope like an SC, this Kellner would work much better. In any event, I thought the EP performed acceptably for the price, even in my scope. I picked it up for $45+s/h and I find that about 75% of the FOV is usable in my scope, which, for the price, is fine with me. That said, I was surprised that the FOV wasn't wider. My 1.25" Celestron X-Cel 25mm has about the same apparent FOV. I was also a bit surprised by the short eye relief. It's not bad, just not as nice as the 1.25" X-Cels. It is also lighter than I expected given its size....not as much glass as a more complex EP like Celestron's ultra-wide Ultima and Axiom lines. However, this EP proved very good for getting a wide-feeling view and for scanning. In short, if you have a cheaper newtonian with a 2" focuser and don't want to spend a lot to try a 2" EP, this is a great buy, but don't expect to use the entire FOV. If you have an f/10 or longer scope, this EP will also perform much better. I was pleased with the EP, but I also knew that it would have limitations in my scope. I plan to keep it for specific use cases, but I doubt I'll use it every night. It also had a relatively thin rubber eyecup compared to the X-Cels, and the eyecup was a bit distorted/misshapen.

www.amazon.com/Celestron-E-Lux-2-32mm-Eyepiece/dp/B00008Y0S2
From Cloudy Nights...
I personally own a 32mm version. It works great but with a f/4.7 it gets soft around the edges but if you center the object they work great. I have used a 40mm in a C-14 and that view was great all around. They seem to work better with the long focal length. I call the E-Lux a expendable eyepiece, I do alot of big group stargazings and the E-Lux is good for the price and keeps my Panoptics and Naglers from getting trashed. But go ahead and buy one I think they are great.

I've used all three. I didn't care for the 26mm at all.
From my experience, I'd have to say that none are very good under F/8. I found the 40 mm to be the best of the lot. I no longer have the 26mm or the 32mm, although I still have the 40mm and find it to be a very decent low power eyepiece with my 6" F/8 Newtonian and my 4" F/10 refractor. At those F ratios, it's pretty clean to the edge. That one should be quite fine with your 80mm F/11.25.

By the way, they're Kellners and the AFOV is around 58 degrees.

These might be ok in your F11 scope, but the 32mm 3 element ep that came with my F5 dob performs poorly in it.

My observing buddy got the 32mm for his Nexstar 11 and it does a fine job with that long focal length. We put it into my 4 inch f/6 refractor and it has problems at the outer 30% of the field of view. So, as long as you are dealing with a long focus scope it will do fine.

The 32mm was the first 2"er I ever bought a few years ago but retired sometime ago due to my getting better 2"ers for my f/6 and f/5.It performed well.


www.cloudynights.com/ubbarchive/showthreaded.php/Cat/0/Number/1346741/page/0/view/collapsed/sb/5/o/all
I know that most of us have either used or own a more expensive eyepiece. This eyepiece is still a joy to use. I have used it in a 8 inch sct and and find the stars focus to tight points of light. A Tele Vue plossl or a Celestron Ultima will focus to slightly sharper. For this eyepiece, stars are in focus for 90% of the field of view getting soft right next to the edge. I don't find this to be a problem for most viewing. Because of the multi-coatings and having only 4 elements, this eyepiece holds its own when looking for faint deep sky objects. It is nicely constructed. It looks and feels like a well made eyepiece. I like the fold down eyecup which folds almost flat against the top of the eyepiece. This prevents my glasses from being scratched. I can just see the entire field of view when my glasses just touch the eyecup.

I know that many will reject a low priced eyepiece such as this. I have found mine to be a joy to use.

www.excelsis.com/1.0/entry.php?sectionid=22&entryid=524
The Elux is the bottom of the line EP that Celestron ships with many of their scopes. I think they have been discontinued but if you find them at a dealer they are cheap.

www.astronomyforum.net/telescope-eyepieces-forum/98707-hyperion-vs-e-lux.html
Celestron E-Lux 40mm vs Celestron 40mm Kellner.

I guess I just don't give up easily. When I heard that the ETX-90 wasn't
well suited to deep-sky work, I took exception...After I hauled my
telescope to the darkest of dark sights (see Galaxy hunting with the
ETX-90 ra, User observations.), I have been bent on proving that the
little "90" was a viable deep-sky instrument...I was bent enough to
convert a 2-inch 38mm Erfle to a 1.25 inch format just to prove my
point!

Once again I found myself in the high desert of Yucca Valley on New
Years eve, just east enough to avoid the upcoming storms of the season.

My goal, to test 40mm eyepieces, under dark conditions...

I recently acquired a circa 1980's Celestron 40mm Kellner (circle-T)
which I had high hopes for, seeing the low glass count, which may let in
just a little more details in faint objects. I also had a modern Plossl,
the 2005 Celestron 40mm E-Lux, with it's 31mm eye relief and 43 degree
apparent field, not to mention modern coating technology.

The targets, M42, M78 and M1,(try finding these Nebula in the city!),
and the 3 little stars that skirt Alcyone, in the Pleiades,which I chose
to test the limits of magnitude for the little 90mm.

The results: M1 remained averted vision only, but both eyepieces
performed identically on this faint object. M78 was slightly brighter
than M1, but again, I couldn't discern a difference in the eyepieces!
The triangle by Alcyone has a dim component that blinks in and out with
direct vision, on both eyepieces, again a draw...

On M42, I could just see a little more detail with the E-Lux, possibly
due to better seeing in a slightly turbulent atmosphere.

Despite the seeming equal performances of the eyepieces, I must give the
nod to the E-Lux, and here's why...

The E-Lux had a very wide FOV, easily framing the 7 sisters with no
distortion at the edge, or obvious black-outs at comfortable eye relief
levels...The Kellner, however, had a much narrower FOV, and the eye
relief was non-existent...I have a hollowed-out barlow that I use that I
use as an extension with my high power Orthoscopic eyepieces to keep my
nose out of the stock finder...this was the first time I had to use this
extension on a 25MM-plus eyepiece!

Bottom line, the vintage Kellner was a match for a more modern eyepiece
in terms of resolution, the Kellner was pin-sharp right to the edge of
the field...at a price, but why settle when you can have the best of
both worlds, a wide FOV, great eye relief, and sharp views?

www.weasner.com/etx/reviews/2006/c40.html
I have the 2" kit #94305. I got a deal on it on eBay.

A truthful review of it is :

After having used it a bit, I have decided it is sufficient as a "stop-gap" set to at least have a selection of eyepieces to use with my new scope. After all cheap eyepieces are a lot better than no eyepieces, right?

All of the filters seem to be of nice quality and will be retained but I will be upgrading both the eyepieces, diagonal and possibly the barlow as my budget allows. As far as individual components go, the 32mm eyepiece seems to be the best of the three visually.

The 40mm has a narrow 50 degree AFOV and a bad tendency to "blackout". I assume this is due to excessive eye relief > 20mm but am not sure as I can't seem to find full specs on these E-lux eyepieces. The 32mm as mentioned is a better choice. Doesn't blackout like the 40mm, but still has a limited AFOV of 56degrees for a low/medium power eyepiece. I haven't used the 26mm too much except with the 2x barlow. That combo gives me 215X in my CPC1100 so I have mainly been looking at Jupiter and the moon with it. With the barlow I have found that focus is a bit touchy. Outside edges don't seem to quite focus in synch with the center of the field and vice versa. I haven't made up my mind whether it is the eyepiece, the barlow, or the combo that is the issue.

The star diagonal seems to be heavy duty and solid. I can't speak for it optically because I havn't compared it to anything except the rather poor 1-1/4" diagonal that shipped with the scope. The 2" does seem adequate to the job, but I have also slated it for eventual replacement with a 99% reflectivity dielectric coated one at a later date.

After a lot of personal research i have decided to start my replacement program with Celestron Ultima LX eyepieces (all 70deg AFOV), taking advantage of the current sale that Celestron is offering through the end of February. I will proably start with the 32mm, 13mm, and the 2x barlow. This will give a a good low power eyepiece, a much better high power eyepiece, and a highly touted barlow by the reviews I've read. This 2 eyepiece combo should essentially replace all 3 of the E-luxes. I already bought a 20mm Williams Optics SWAN (72deg AFOV) from a buddy but haven't tried it out yet. Who knows, it might sway me in a different direction but I doubt it from on-line reviews.

As I replace the components of the set, I will put the retired pieces up for sale, either at our local astronomy club or on eBay. (Never been a seller before.)

www.celestronlife.com/groups/orca/topic/Celestron-2-Accessory-Kit.htm