Post by Chicago Astronomer Joe on Jul 12, 2010 23:37:43 GMT -6
The Chicago Astronomer gives a "Thumbs Up" to Galileo's Place.com
Recently, Chicago Astronomer Robb had his drives fail on his "Galileo G-1202MD with the motorized EQ mount" due to unknown reasons.
His scope is similar to this: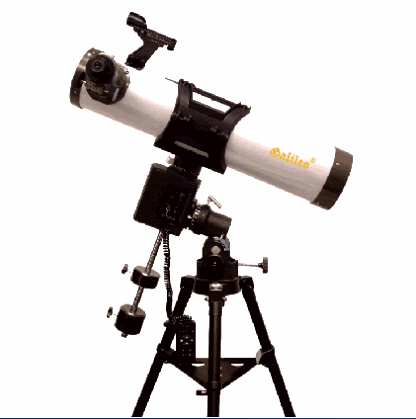 I know how frustrating and aggravating a problematic mount can be. Although the optics are still sound, the lack of tracking and slewing can just suck the enjoyment out of an observation. We attempted to remotely "repair" the drives here on the Chicago Astronomer community, offering solutions and ideas to get them functioning, but failed to get them working.
Seems they saw better days...
A simple email from Robb to Galileo's Place Customer Service Dept., inquiring on a possible solution, brought surprising unexpected results.
They sent him a new mount - at no cost to him whats-so-ever!
Incredible.
Here is Robb's entire episode - from break down to replacement:
Galileo's Place went above and beyond to make a amateur astronomer happy and back on to tracking celestial objects. They took good care of a Chicago Astronomer and have re-instated my faith in good customer relations.
I even wrote the fine people a note:
Dear Galileo's Place,

This is in regards to the correspondence between Robb Walker and your fine company.

Mr. Walker is a member of the "Chicago Astronomer" crew, very enthusiastic about urban astronomy and was disappointed that his scope, ( Galileo G-1202MD with the motorized EQ mount), no longer tracked properly. Disheartening, but yet he still pushed and nudged his scope as best he could, as frustrating as it was.

Upon arrival of the new component, he eagerly shared the news with the Chicago Astronomer community about his totally unexpected complimentary replacement of the faulty drive mount. We were all looking for a solution to his problem and ergo, his note to you, inquiring about possible solutions.

Your delivery of a brand new mount is not only appreciated by Mr. Walker, but myself. You treated one of my members with great positive customer service, re-enforced good will and made an astronomer very happy. Good above and beyond service as such is a rarity and thank you.

I have created a new Galileo's Place thread and will keep it "sticky" near the top of the subject board. It can be found here:

astronomer.proboards.com/index.cgi?action=display&board=Equipment&thread=2785


Thanks again for taking care of one of my members!

Respectfully

Joe
I give the company unsolicited praise and kudos for great customer service and helping to make urban astronomy ...a little bit easier...

Thanks guys!