Post by Chicago Astronomer Joe on Jul 10, 2009 6:56:21 GMT -6
Sun Finallly Displays Sunspots - 1024 about to turn the corner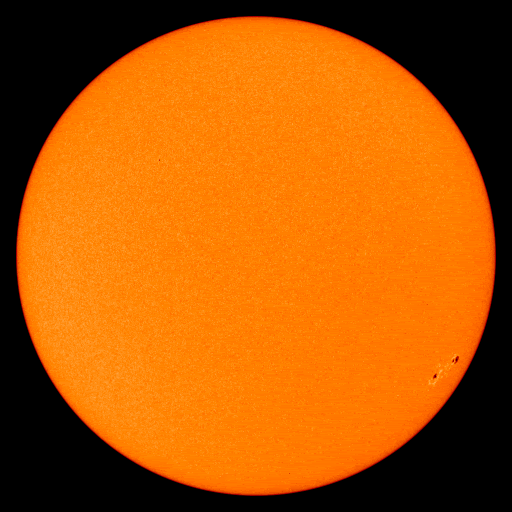 Our Sun has been quiet, very quiet for the past two years. Astronomers don't know why, as the Sun was supposed to come out of Solar Minimum...but had not.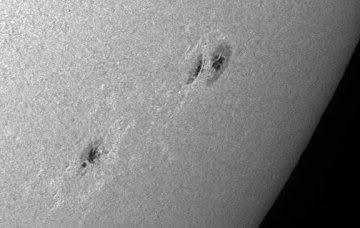 Shown above, is Sunspot group 1024.
(Spaceweather.com)
Astronomers around the globe have been noting that 1024 is very active, and to keep an eye out for good promenences as it approaches the solar limb.
SpaceWeather says: "Solar telescopes should train their optics on the edge of the sun. Even minor eruptions from sunspot 1024 could hurl photogenic blobs of hot plasma high over the limb where they would shine in beautiful relief against the black of space beyond. The parting shots could be the best of all."
At the Adler, with our H-Alpha and white Light filtered telescopes...the sun has certainly been, well....boring. With not a single sunspot for so long, visitors did not find the solar disk interesting. Even with a yellow filter installed, it was not much to look at. And there is so much one can describe about the surface granulations.
From a September 2008 NASA article:


"Astronomers who count sunspots have announced that 2008 is now the "blankest year" of the Space Age. As of Sept. 27, 2008, the sun had been blank, i.e., had no visible sunspots, on 200 days of the year. To find a year with more blank suns, you have to go back to 1954, three years before the launch of Sputnik, when the sun was blank 241 times.

"Sunspot counts are at a 50-year low," says solar physicist David Hathaway of the NASA Marshall Space Flight Center. "We're experiencing a deep minimum of the solar cycle."

And From a April 2009 NASA article:
The sunspot cycle is behaving a little like the stock market. Just when you think it has hit bottom, it goes even lower. 2008 was a bear. There were no sunspots observed on 266 of the year's 366 days (73%). To find a year with more blank suns, you have to go all the way back to 1913, which had 311 spotless days: plot. Prompted by these numbers, some observers suggested that the solar cycle had hit bottom in 2008.

Maybe not. Sunspot counts for 2009 have dropped even lower. As of March 31st, there were no sunspots on 78 of the year's 90 days (87%). It adds up to one inescapable conclusion: "We're experiencing a very deep solar minimum," says solar physicist Dean Pesnell of the Goddard Space Flight Center.

"This is the quietest sun we've seen in almost a century," agrees sunspot expert David Hathaway of the Marshall Space Flight Center.
Here NASA plots past Sunspot Activity and predictions on the upswing curve post 2009.
Something going on? The outer planets have been heating up and Jupiter lost a band for awhile. At least now at the Adler my fellow Telescope facilitators and I might have good solar views to show.
Perhaps the 2012 line of thought isn't too far fetched...