Post by Chicago Astronomer Joe on Mar 20, 2005 13:44:55 GMT -6
Solar Observation at the Glencoe Blast-off fair...
19 March 2005
Not familiar with the Glencoe area, I set out early on my trek. In no time I was in front of Glencoe South elementary school and smiled as our parking spaces were reserved with a huge "Adler Planetarium" sign for Debra and I.
It was 8:30 am I was greeted warmly by various school staff, shown around the building, and presented with cool credentials for the event. Debra arrived a short time later and we commenced to set up in their nice English courtyard. As the forecast called for mostly cloudy skies this day, we were hopeful for some breaks in the overcast. I just brought along the H-alpha scope with a 25mm and a 12.5 mm eyepiece. I regretted not bringing along the 4" refractor or a Dob for the event as I was soon to find out. As I was bringing in the scope on my shoulder, two young boys got exciting on seeing a telescope and hung around with me while I set up. And for their company and conversation, they were the first ones to peer through the scope before any one.
It was now close to 10:00 am and the event about to begin. The day still was mostly cloudy, but we waited and searched for short breaks in the overcast. I kept track of the sun manually and as the sun broke through, all around rushed to catch a glimpse through our scopes. We were lucky to get more than 30 seconds at each break, but this offered only one or two individuals to observe, while disappointing the next ones in line. The sun offered good views this day, as two good sunspot groups were visible, and in H-Alpha - numerous prominences . But the cloud cover was quite disappointing and heavy. One little girl waited patiently by the scope for at least 10 minutes for the sun to show, and I kept reassuring her that she would be the first to see the sun when the clouds would part. She listened and watched as other small children and parents asked questions about the sun. It did not seem like the sun would show for her, so I brought out a wide field eyepiece and told her to look through it at the courtyard. Her face lit up as she called out to her Mom that she could see her upside down! Content that she saw something new, off she went…then a minute later the sun broke through. Another youngster kept returning to view and like an old friend continued to greet me with a "Hey Joe!" every time.
Debra had good lines of kids and parents at her personal Meade SCT, fitted with a white light Kendricks filter. Views through it were very good and crisp. Her technique in explaining solar facts were entertaining, and her relationship with the kids great. She had the foresight to bring along foldout poster images of the sun in different light frequencies. Came in very handy. I was also impressed with her Telrad solar finder. Too cool.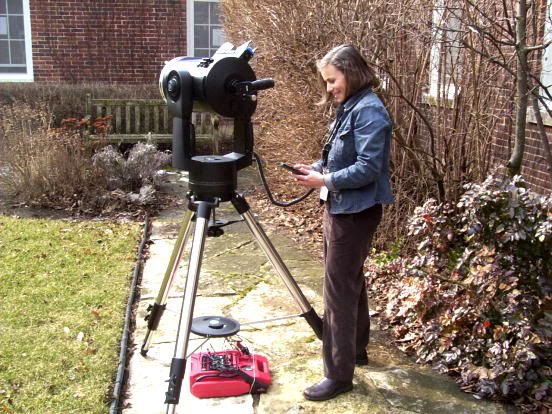 Here Debra sets up her Meade
In my H-Alpha-scope, due to the heavy filtration, I was having more down time than actual showing. I proceeded to remove the top and bottom filters and put them away. And with great MacGiver skill, I fashioned an eyepiece holder from odds and ends to start solar projection viewing. As the focuser is a 2" and the eyepieces were 1.25" I used a sunglass neckband to increase the diameter of the eyepiece and viola! This was much better, as the sun could still be viewed through the light haze. The kids and parents also seemed to enjoy it better as it now became a group activity, and the sunspots features could now be pointed out to all at the same time.
The Glencoe school staff were very accommodating and made us feel like special guests. They even brought out to us our meals and closed the doors to provide us some quiet dining time. We ate our meals alfresco and talked shop while the kids lined up behind the doors until the astronomers were ready. And throughout the day...the staff always asking if we needed anything.
It was now around 2:00 pm and the clouds were as thick as ever this day. We called it a day and packed up our equipment. At the end of the event, we were thanked and offered yummy home baked goods to take. Principal Catherine Wang graciously posed for a group shot and was a gracious host throughout.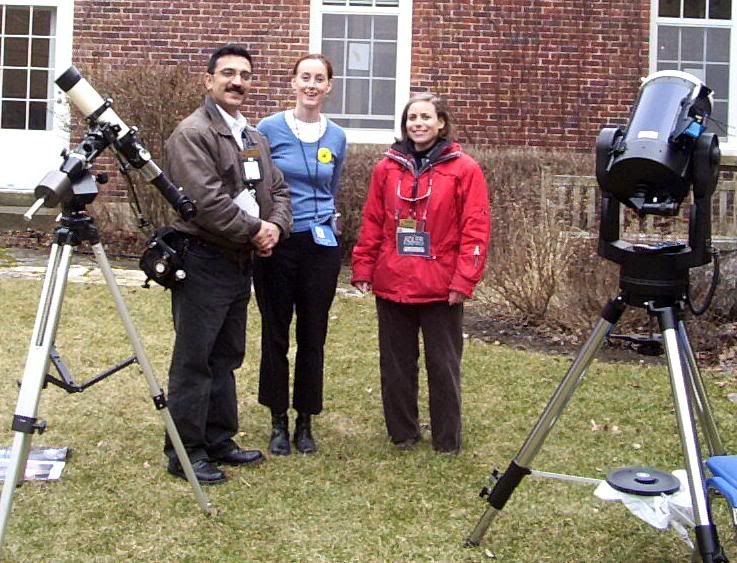 From left to right: Joe, Principal Wang and Debra
I took the long way back to the Adler using Green Bay Rd. as my guide, enjoying the ride and the day's activity. I returned the H-Alpha scope and eyepieces back to the telescope storage area, chatted with Adler staff some and so came a close to the astro event for the day.
It was an enjoyable day in showing our closest star to young enthusiastic children... ;D
Respectfully submitted,
Joe Guzmán
Telescope Interpreter
Adler Planetarium