Post by Chicago Astronomer Joe on Apr 16, 2005 18:48:35 GMT -6
Astronomy Day at the Adler
The day showed great promise of clear skies and warm temps for a day of solar observation, and it was a good assumption.
Starting out about 11:00 am, we set up Adler scopes for public viewing. We brought out the H-Alpha scope, a 8" Dob with aperture filter and a 8" SCT. I took the role of lead "astronomer" for the event and with a great crew of fellow telescope operators, started to set up. As part of Adler certification, telescope operators need to know their scopes and the operation thereof. So I took the opportunity to go thru the basics of the scopes with the crew. I have confidence they will pass quite easily.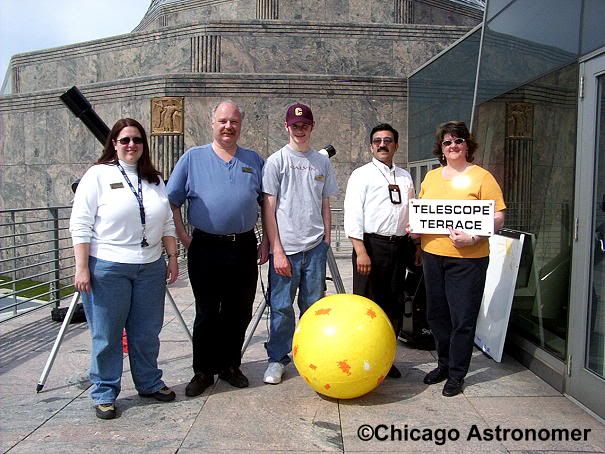 Team Solar:Stephanie, Tony, Phillip, myself and Sue.
I decided that the SCT was more than we needed for the day, as I could not easily get the entire solar disk on my projection screen. I replaced it with the 4" refractor for a much better view. I also screwed on a yellow filter for a more aesthetic image of the sun. I find it better than a plain white image.
The sun had one large sunspot and a much smaller one, and my red laser pen came in quite handy to point out the spots. It was noticed that the motion of the sun throughout the day made it seem like the smaller sunspot was orbiting the larger one in a clockwise direction.
In H-Alpha, the sun was rather quiet this day, but some prominences were visible, but not much.
The time went by rather quickly, but we were searching for shade after spending hours in the sun. We have a deck umbrella in the telescope storage area, and I think I'm going to see if I can adapt it to the Telescope Terrace area for the solar teams for respites and better shade for solar projection.
There were many representatives from various astronomy clubs throughout the region and we spent a good time discussion aspects and activities of their organizations. One young woman told of her home made Dob from a sono tube and toilet paper focuser. Too cool! I passed on this forums info to her and hope she stops by to tell us more.
I made it a point to meet fellow Chicago Astronomer member Jeff from ITT. He had a table set up for his Mac/ astronomical intergration. We had a nice small chat and I encourage him to join us in an observational session at the Adler one evening, as he has exotic optical equipment and it would be great to peek through a few of them. It was nice to have met him and his family.
The day ended for us about 3:00 pm and we broke down the equipment and put it all away. I enjoyed the time with my team as they explained various solar components quite well and made the event a more pleasant one.
Respectfully submitted
Joe Guzmán
Telescope Interpreter
Adler Planetarium