Post by Chicago Astronomer Joe on Jun 5, 2005 18:40:21 GMT -6
Adler Solar Observation Session
The day turned out to be warm and pleasant, with a slight threat of storms. I arrived at the Adler at 1:00 pm, and saw that my colleagues were already set up on the telescope terrace.
Oscar brought his own nice 8" SCT and the huge accessory case, and Bill was on hand as well. The sky was mostly sunny and it was getting hot out there, so I set-up the patio umbrella for much desired shade. Bill had the H-Alpha scope out, and Oscar was doing direct filtered observing, so I decided to utilize solar projection with my favorite scope, the 4" refractor. I positioned the scope in the shadow of the umbrella to shade the clipboard on which I focused the sun on. Later on, I used a large white sheet of paper attached to the roll about cart.
So we had three scopes out, and two trainees, Linda and Arnvid. This was their first solar session, and we quizzed them on various solar techniques and scope set ups. They learn quick and soon will successfully take their certifications tests.
There were a great number of sunspots this day, as my pic demonstrates...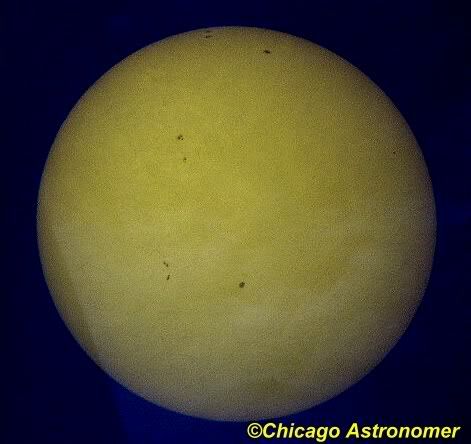 Good definition and prenumbra structure around the spots. Highly definable faculae and patchyness. A very good day for solar viewing!...

In H-Alpha, it was quite active with one great prominence and smaller ones encircling the sun's circumference. I have never seen a prominence like the large one before as I saw today. It had a curly-cue structure to it and very "prominant"... ;D
I was using a great graphic from Astronomy Magazine showing the structure and activity of the sun, and our new trainees picked up on the explanations and origins of sunspots and other solar activity quickly, passing on their knowledge to the public who came to view.
Storm clouds were approaching from the SW, and our solar session came to an end. We packed up the equipment and ventured indoors to continue some type of observations, but we mostly discussed astro stuff amongst ourselves and had laughs.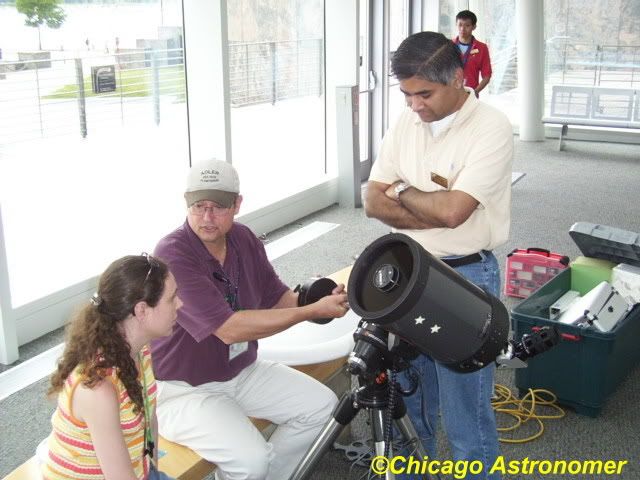 Here, Oscar demonstrates setting circles on his SCT.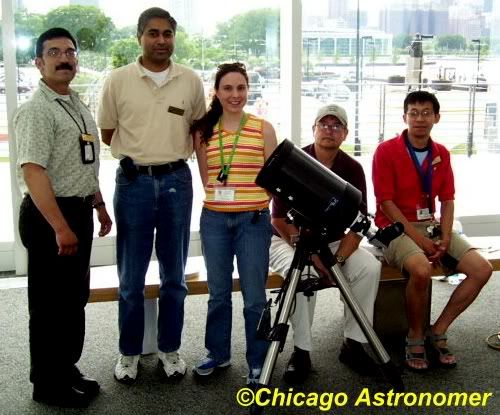 And here...the crack Solar Session group of 05 June
It was a good solar session, with fun people operating the scopes and quite enjoyable.
Respectfully,
Joe
Adler Planetarium
Telescope Interpreter