Post by Chicago Astronomer Joe on Dec 6, 2006 19:23:05 GMT -6
NASA Images Suggest Water Still Flows in Brief Spurts on Mars
*I have been on record for quite sometime now, that water presently flows on Mars. My comments are all over this forum with associated NASA images...and now NASA releases the news that it and some of us - has known for many years...
=================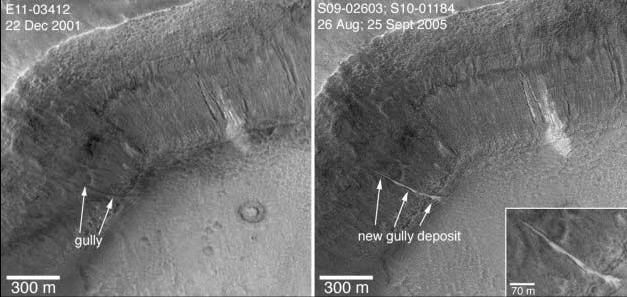 NASA photographs have revealed bright new deposits seen in two gullies on Mars that suggest water carried sediment through them sometime during the past seven years.
"These observations give the strongest evidence to date that water still flows occasionally on the surface of Mars," said Dr. Michael Meyer, lead scientist for NASA's Mars Exploration Program, Washington.
Liquid water, as opposed to the water ice and water vapor known to exist at Mars, is considered necessary for life. The new findings heighten intrigue about the potential for microbial life on Mars. The Mars Orbiter Camera on NASA's Mars Global Surveyor provided the new evidence. The deposits appear in images it took in 2004 and 2005 but not in a 1999 image of one site or a 2001 image of the other site.
"The shapes of these deposits are what you would expect to see if the material were carried by flowing water," said Dr. Michael Malin of Malin Space Science Systems, San Diego. "They have finger-like branches at the downhill end and are easily diverted around small obstacles." Malin is principal investigator for the camera and lead author of a report about the findings published in the journal Science.
The atmosphere of Mars is so thin and the temperature so cold that liquid water cannot persist at the surface. It would rapidly evaporate or freeze. Researchers propose that water could remain liquid long enough, after breaking out from an underground source, to carry debris downslope before totally freezing. The two fresh deposits are each several hundred meters, or yards, long.
The light tone of the deposits could be from surface frost continuously replenished by ice within the body of the deposit. Another possibility is a salty crust, which would be a sign of water's effects in concentrating the salts. If the deposits had resulted from dry dust slipping down the slope, they would likely be dark, based on the dark tones of dust freshly disturbed by rover tracks, dust devils and fresh craters on Mars.
Mars Global Surveyor has discovered tens of thousands of gullies on slopes inside craters and other depressions on Mars. Most gullies are at latitudes of 30 degrees or higher. Malin and his team first reported the discovery of the gullies in 2000. To look for changes that might indicate present-day flow of water, his camera team repeatedly imaged hundreds of the sites. One pair of images showed a gully that appeared after mid-2002. That site was on a sand dune, and the gully-cutting process was interpreted as a dry flow of sand.
Today's announcement is the first to reveal newly deposited material apparently carried by fluids after earlier imaging of the same gullies. The two sites are inside craters in the Terra Sirenum and the Centauri Montes regions of southern Mars.
Sources:
adsfree01.mail.com/scripts/mail/read.mail?folder=INBOX&order=Newest&mview=a&mstart=1&pbox=2&msg_uid=1165451206&mprev=1165451207&mnext=1165451204
space.newscientist.com/article/dn10740
================
It "ain't" no dust or gas flow. Just accept it.