Post by Chicago Astronomer Joe on Jan 30, 2006 3:42:44 GMT -6
NBC's Cape Canaveral correspondent retraces the Challenger tragedy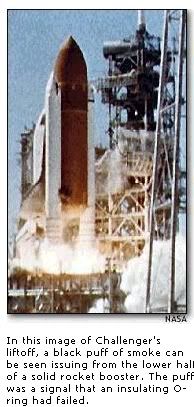 The booster engineers felt helpless. For months, they had been studying the O-ring seal problem. They knew a disaster was coming, but no one stepped forward and said, "Stop this train until it's fixed!
During several earlier shuttle missions, disaster did everything it could to crawl into the shuttle launch system and turn it into tumbling flaming wreckage. The primary O-rings on those flights suffered severe erosion from superheated gases, sometimes accompanied by lesser erosion. And the erosion had occurred after launch temperatures much higher than on this freezing Florida day — 53 degrees was the lowest launch-time temperature up to that time.
Searing gases rammed through and rushed past the primary seal. For 2 1/2 seconds, black smoke jetted out. Then, instantly, it vanished. For within the curving flanks of the rocket, aluminum oxide particles created by the burning fuel miraculously plugged the leak in the joint before flame itself could escape.
Unaware they were now in mortal danger, the astronauts waxed enthusiastic, shouting with excitement as Challenger hammered its way higher and higher.
When the side load of the winds smacked into the right booster, they struck an already-weakened rocket. The wind was physical impact. It jarred loose the aluminum oxide particles that at launch had sealed the lower joint where the O-rings had failed. Now the aluminum oxides broke up, spat away from the booster.
There was nothing left to hold back the raging fire and enormous pressure. A tongue of dazzling flame burst through the joint opening, creating a fearsome blowtorch of immense power precisely 58 seconds into the flight.
No one in the crew cabin knew what was happening.
The pilot's seat was nearest to the disintegrating booster rocket. In whatever instant of time was available to Smith he knew something terrible was happening.
He had no more than that instant. No more than that infinitesimal moment. Just enough time to utter a single cry, "Uh-oh!"
A decade after the accident, the best evidence tells experts that Challenger's seven astronauts did not die in the blast.
The evidence led experts to conclude the seven astronauts lived. They worked frantically to save themselves through the plummeting arc that would take them 2 minutes and 45 seconds to smash into the ocean.
That is when they died — after an eternity of descent.
The full and intreguing story here:
www.msnbc.msn.com/id/3077897/
============
This is one of the best accounts I have read about the failure of the Shuttle and NASA resulting in the loss of Challenger and her crew. The story blames incompetence and greasy political arm twisting.