Post by Chicago Astronomer Joe on Dec 22, 2006 5:46:26 GMT -6
The Red Planet - A Fundimentalsits View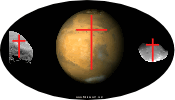 Some excerpts from the site:
"The Red Planet has two sides, front and back. The two sides represent the front and back of Jesus Christ on the Cross. The front represents acceptance and the back represents rejection. Salvation is a matter of personal choice. The planet is pock marked with craters and volcanoes, which represent wounds of the Lord Jesus Christ who was battered, bruised, punctured with nails and thorns, and stabbed with a spear...""The active volcanoes on the Red Planet represent Fire Testing. They do not represent the female on the Red Planet. The volcanoes are made by Elect Angels. Along with the volcanoes come earthquakes, which are also under the control of Elect Angels. These angels are dynamically representing the cursing of the humanity of Jesus Christ on the Cross...""During the trials before His Crucifixion, the Lord Jesus Christ was punched, beaten with rods, and scourged. His face was unrecognizable, which corresponds to the formless appearance of the Red Planet without visible continents.
Then they spat in His face and beat Him with their fists; and others slapped Him, (Matthew 26:67, NAS)...""The Red Planet symbolizes the blood of Christ, which represents His substitutionary Spiritual death for the sins of the world on the Cross. The planet is alive with dynamic events that demonstrate the significance of the witness of the blood of Christ in the history of Creation and the Appeal Trial of Satan. The witness of Elect Angels on the planet is evident in the daily and seasonal changes in the weather and volcanoes..."
Source:
biblenews1.com/planets/red_planet/redplanet.htm
=========
The Bad Astronomer has an opinion thread on this wacky site:
www.badastronomy.com/bablog/2006/12/20/mars-is-hell/
I wasn't too sure where to put this, as it deals with belief, but it's so full of errors and unbelievable I had to post it.
Fundimentalists in any flavor, (Muslum, Christian, Moonies etc...), are quite dangerous...

I prefer to get my religious fundimentalism from sources like "The Life of Brian" and Monty Python and the Holy Grail"... ;D