Post by Chicago Astronomer Joe on Apr 30, 2007 15:51:12 GMT -6
Stargazing at home under $25,000 dome
FAR N.W. SIDE | Man installs $6,000 telescope in observatory built into attic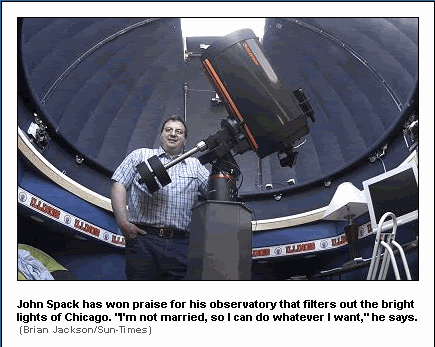 Atop John Spack's house sits a white dome that says that even though he may be a CPA by day, he is a serious stargazer at night.
When Spack remodeled his house on the Far Northwest Side last year, he decided to create an observatory. He also researched technology that would allow him to sidestep the light pollution that plagues astronomers in cities.
Spack spent $25,000 on his observatory, which was constructed in the attic of his home in the 6400 block of North Olympia. It features a $6,000 Celestron telescope.
"I'm not married, so I can do whatever I want,'' he said, with what seemed to be glee.
A remote control device opens a slit that lets him view the stars. The fiberglass dome is outfitted with a computer that enables him to photograph and view celestial objects. The dome's interior also features a Fighting Illini border. But what he is most excited about are the technological advances that help his telescope filter light pollution. "You can see the Andromeda galaxy,'' he said. "I've seen two comets here.''
Spack, 50, had a telescope as a boy, but Chicago's push for brighter street lights hampered his study of the night sky. "You live in the city, you couldn't see anything. It got put on hold,'' he said.
A few years ago, he found himself drawn to the hobby of his youth.
"He's really a pioneer," said Kris Koenig, a consultant who installed the dome. Amateur astronomers like Spack "can't travel to a dark site ... they've sought out equipment that will allow them to have an astronomical experience in an urban environment."
"He's using a HyperStar lens and video cameras that use digital technology to take a series of images and integrate them, recapturing the night sky that's being destroyed by light pollution. He's seeing, in most cases, more than what the Yerkes telescope was seeing in 1900."
Spack is believed to have the only home observatory in Chicago, said Joseph Mayer of the Chicago Astronomical Society.
"If it's 4 in the morning, if it's clear, I can go up and look,'' Spack said. "It would be nice to name a comet.''
Source:
www.suntimes.com/news/metro/363863
,CST-NWS-stars30.article
===========
I have often thought about putting a dome on top of my garage. I wonder what kind of permits are required for this?
Great that Spack built this nice observatory on his home. Looks comfy!...