Post by Chicago Astronomer Joe on Aug 11, 2006 14:53:12 GMT -6
IBM's historic PC was clunky, slow and very expensive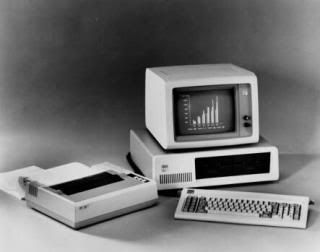 It was no more powerful than a modern calculator and cost a month's salary -- but the original IBM personal computer was still an epoch-making event in the evolution of modern life. The IBM 5150 PC was released on August 12, 1981, the product of a year's feverish development by a close-knit team of computer engineers working in Florida.
"Designed for business, school and home, the easy-to-use system sells for as little as 1,565 dollars," IBM's original press statement said back then.
That price is worth more than 4,000 dollars in today's money. But if you wanted colour graphics, two floppy disk drives and a printer, it would set you back triple the amount of the base model.
"It offers many advanced features and, with optional software, may use hundreds of popular application programs," added the statement.
IBM promised an "enhanced version of the popular Microsoft BASIC programming language and easily understood operation manuals".
"They make it possible to begin using the computer within hours and to develop personalized programs quite easily."
Microsoft was then unknown beyond the world of nerds that comprised computing in its infancy.
But that passing reference in the IBM statement was to prove the making of the company co-founded by a Harvard dropout called Bill Gates.
Because IBM did not insist on exclusive rights to Microsoft's DOS operating system, Gates and his colleagues were able to hawk it around other computer makers -- making them obscenely rich men in a short space of time.
IBM itself anticipated only about 2,000 sales of its new computer. In the event, despite the hefty price tag, a million units of the 5150 were sold in four years.
Many other manufacturers soon joined the market. While the IBM was not the first computer designed for home and business use, it was pioneering because it used "open" architecture that could be cloned for a mass market.
The PC weighed 25 pounds (11.4 kilograms) with one floppy disk drive fitted, over a third more than a present-day computer. The keyboard alone weighed six pounds (2.7 kilograms).
At 16 kilobytes, its memory was 50,000 times less powerful than modern PCs.
It offered VisiCalc, a breakthrough spreadsheet program, and EasyWriter, which IBM promised "will store letters, manuscripts and other text for editing or rapid reproduction on the printer".
Source:
www.physorg.com/news74500308.html
=============
I first started in the "modern" era of computers at around 1996...and can't imagine how I got along with out it!... ;D