Post by Paulie pchris00 on Jul 27, 2011 15:01:57 GMT -6
This Chicago Astronomer session at Conway Observatory was more than a week in the making, starting with a public post on another thread, tentative plans made through many emails, texts, and conversations, with the final plan going out via email at T-5 hours. I have to say the early hours of went down smooth as can be, with the Chicago crew arriving at the rendezvous within minutes of each other just before 7 PM yesterday.
I arrived at the observatory with Hillary an hour earlier, however, to open the building up, letting heat and stagnant air out, and bugs and breeze in. The sky could barely have been clearer, and Hillary set up her new 60mm shorty with Baader solar film for observing sunspots while I set up the CAS 6" refractor with white light filter. We locked everything up when it was time to leave to lead the crew to the observatory, so once everybody was assembled on site, we were viewing sunspot activity within a few minutes.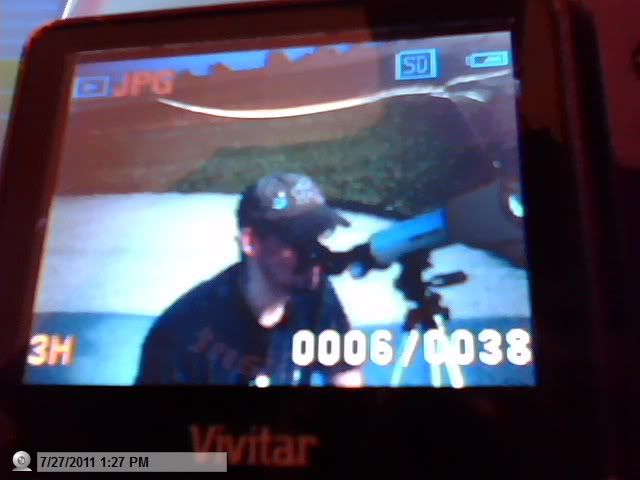 Hillary and I checking out sunspots with her 60mm shorty and Baader film. This is safely filtered. Do not look at the Sun through a telescope without proper filtering.
Bill wanted to join me up on the 16" observing deck for imaging, which was cool with me since I could easily take advantage of his incredible cranial library of deep sky objects. Patrick and Jordan were eventually persuaded to set up on the south end of the concrete circle, rather than in the field, to cut down on dew and mosquitoes. Hillary staked out a spot at the picnic table with her telescope, and I set up my Dobsonian near the east side of the pad for Jeremy to use at his leisure when not exploring with binoculars. Calumet Astronomical Society member Mike arrived while we were setting up scopes, and our friends Rich and Phyllis joined him for a second straight night of observing together.
Patrick and Jordan setting up.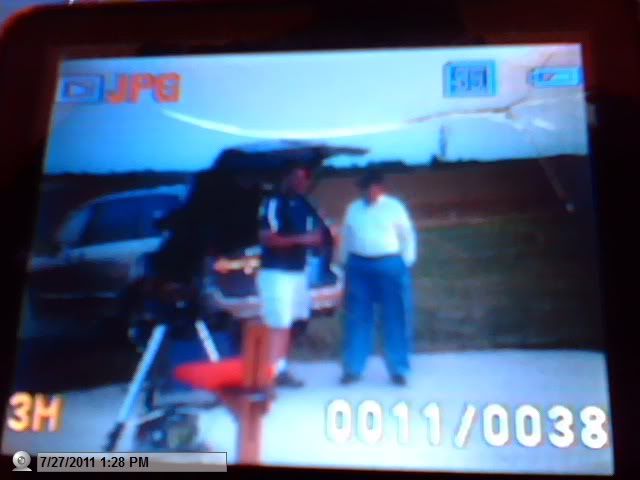 Jeremy talking with CAS member Mike.
Beautiful sunset looking out towards the Purdue Calumet research observatory.
Hillary sets up her telescope.
With twilight fading, and scopes not yet ready, some of the easy going conversions were cut short, at least for me, so I could have the 16" ready as soon as Saturn popped through the clear evening sky. Around that time, clouds threatened to take away our lovely views of the southern Milky Way, but ended up staying near the horizon soup, and didn't become a real issue until after midnight.
The crew gathered after viewing Saturn. L-R: Jeremy, Patrick, Jordan, Bill, Hillary.
Controlling the largest scope on site, I felt a responsibility to my urban friends to show a nice mix of standards that can be seen near Adler and the many city parks we've observed from, and things that night not be so easy to catch. We had a nice list of targets to choose from, but three were "must see." That list was Pluto, Comet Garradd, and asteroid Vesta. We batted .333 on that list, which should get us considered for the Hall of Fame, right? That story later.
I spent a little extra time on Saturn. Having identified Titan, Dione, Tethys, and Rhea, I pushed beyond reasonable limits trying to catch little Mimas. The planetarium program Cartes du Ciel was showing Mimas just outside of the ring plane, but neither Bill nor I caught a glimpse of it.
Great Cluster M13, which I had struggled in vain to find at Adler Monday night was next on my list. Stars upon stars filled the field of a 40mm eyepiece. While patrolling briefly near the zenith, M57 couldn't be passed up. I moved up to 26m EP, and put a bluish-green light pollution filter on it. (I used the LP filter because there is no 2" OIII filter in the eyepiece case, so it's probably the closest broadband filter to the oxygen emission line of the nebula). I think the filter really brings out the Ring, but everybody else said the best view was unfiltered. Hmmph.
Bill was bouncing target to target, getting his exposures and moving on. When it's time to slew, he throws so many great objects off the top of his head that it's tough to choose one. At some point I went down to the observing pad to see how the guys and Hillary were doing. Hillary had a nice view of Saturn, Jeremy was happily scanning with binoculars, and Team Monaghan was working the 9.25" Edge HD and consulting a phone app. Later, Hillary brought her scope up to the observatory deck with me, and was pulling out the open clusters of Scorpius and Sagittarius while I worked their globular clusters.
Around midnight I heard Patrick had found Neptune, and went down to see it. Mike, Rich, and Phyllis were getting ready to leave. I stayed down on the circle with my star atlas, planning to pick off some of the smaller globs of the Teapot with my Dob. I was going to pad my list, not by starhopping, but by globhopping. It's almost that easy. Once I had worked through and around the Teapot, I was going to go back upstairs to find Comet Garradd.
The clouds on the southern horizon were long gone, and practically forgotten. I think we all knew a system was coming in before dawn, but expected it later rather than sooner. While going for my Teapot globs, the entire sky clouded over. No wonder I couldn't find M54! I was ready to wait it out, but after a few minutes of total cloud cover, the others were ready to pack. Alright, I guess. I went upstairs, and turned on the deck lights while I started packing my case. I heard Patrick yell, "You're killing my night vision!" I looked up and saw stars again! Lights out!
Bill was packed, as was Hillary, so Patrick and I were the only ones with telescopes out. I didn't know his plan, but I knew I was going to use this window to get Comet Garradd. Well, and M15. After a quick look at 15, I was searching the finder scope for faint stars, and possibly even Garradd itself. After numerous double checks of Cartes du Ciel, and itty bitty slew steps, I was sure I was there. Check the eyepiece. Yes! I shouted my favorite line of Bill's, "Throw some power on it!" I knew Patrick was working that area, but didn't know that he'd just found it too. Everybody thought I was yelling for him to try power. I was advising myself to change eyepieces, but by the time I had, we were clouded again. Oh no.
I let the 16" track, waiting for a sucker hole to confirm this comet. Everybody else was outside with Patrick when he found it, but I had nobody to confirm I'd found it. I was going to wait for confirmation. After a few minutes we were clear again, Bill came up and agreed that it was a comet, but with a weird nucleus. Almost a double nucleus, reminding me of the close-up encounter with Hartley 2 last year. Patrick said there was a faint star behind the edge of the coma. I'd hadn't check down to that low magnitude yet, but it seemed right.
From that point on we worked sucker holes, catching Jupiter and moons, Subaru, and Luna. The northwest had been muck most of the night, but at 2:35 we caught #7 Iridium satellite, glowing up to magnitude -7. We had given up on Pluto without trying, since the first clouds hit us during the end of our prime window for it. I wanted Vesta now, but wasn't getting enough clearing to work anything but Jupiter in the southeast. By 3 AM, the clouds had pretty much told us to go home.
The time whizzed by, as it always does. We came together under the sky, testing our own skills, and learning new ones. Sometimes we worked individually; sometimes we teamed up to find something. We each expected different things from this session, but I liked having this crew around, to push me, to test me. I think everybody got what they expected, as far as honing skills and learning. There was nothing to be done about the weather but ride it out and hope for the best, but we took advantage while we could, telescopes and binoculars funneling starlight to our eyes. It was a good night, and I hope we do it again.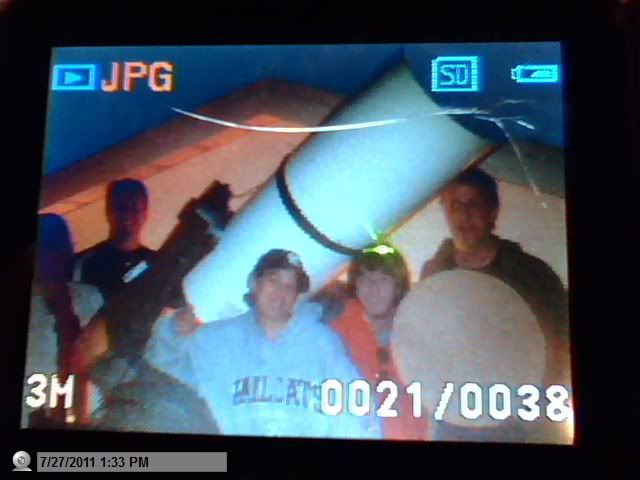 Parting crew shot. L-R: Bill, Jeremy, Hillary, Jordan, Patrick. (Note: Patrick is holding the dust cover for the LX200 to represent Joe, who we all wished had been there with us).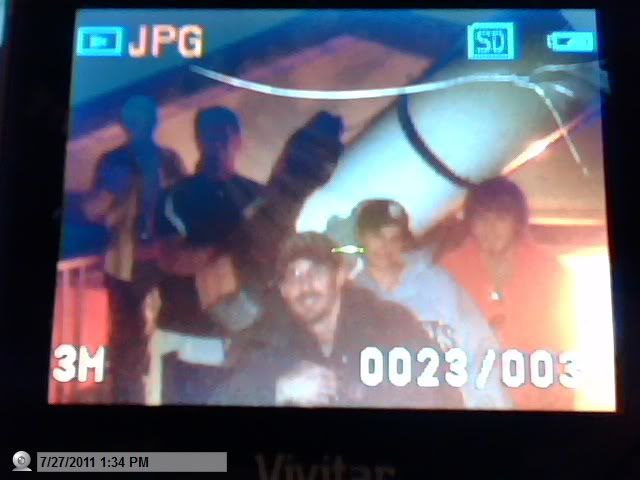 L-R: Bill, Jeremy, me, Hillary, Patrick.
(My camera has been dropped one time too many, I think. I can take pictures, and see the files when the SD card is in the camera, but when plugging it into my laptop's USB port, the computer doesn't recognize any files, and says all folders are empty. I used my webcam to get screenshots scrolling through the camera playback. If I can recover the original files, I'll post them. These aren't good, but better than no pics at all.)