Chicago Astronomer Joe
Administrator







Administrator
member is offline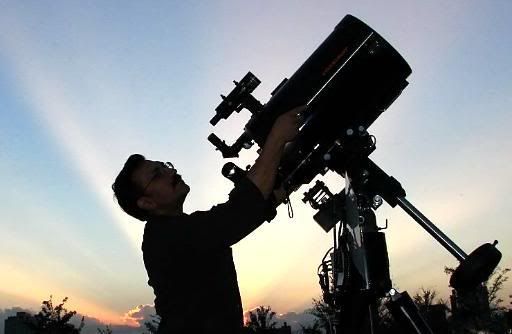 Bringing Urban skies down to the city







Joined: May 2004
Gender: Male


Posts: 7,175
Location: Chicago, Illinois, USA, Earth,

Thomas M. Back (1957–2007)
« Thread Started on Sept 29, 2007, 1:12am »

---

Thomas M. Back Dead at 50






Thomas M. Back (1957–2007) poses with a TMB 8-inch f/9 refractor at the 2000 Astrofest gathering near Chicago.
David Novoselsky



Thomas M. Back, an amateur astronomer and optician associated with some of today's finest refractors and eyepieces, died suddenly on September 13th. He'd turned 50 on June 15th.


Back got an early start in astronomy, following a familiar path for many amateurs of the day. A native of Ohio who lived most of his life in the Cleveland area, he received a 60-mm refractor as a Christmas present when eight years old. Wanting a better telescope with which to view the Moon and planets, Back eventually ground a 6-inch f/8 mirror while a teenager.

That mirror-grinding experience launched a lifelong interest in optics and optical design, which eventually connected him with people very influential in the world of amateur telescopes. In the late 1990s he started a side business, TMB Optical, selling primarily high-end refractors. After a few years the company became moderately successful, and running it became Back's full-time job.

Another lifelong interest was bicycling. However, according to Mike Bieler of Astronomics, the major dealer of TMB telescopes and eyepieces, Back's health had been declining for several years following a severe neck injury sustained in a bicycle accident. Even so, Back's untimely death came as a shock to the astronomical community. Tributes to Back and his contributions have appeared on newsgroups and websites. His name will continue live on, as the TMB line of optics will remain available for the foreseeable future, according to Bieler.

Source: http://www.skyandtelescope.com/news/10106571.html

=============

It's a sad loss for the entire amateur astronomical community in his passing.

---

Chicago Astronomer Joe

Founder, Administrator and Chief Astronomer

Telescope/Observatory Facilitator

Adler Planetarium & Astronomy Museum

Resident Astronomer

Chicago Park District

JPL/NASA Solar System Ambassador

www.twitter.com/astronomerjoe

Facebook: Chicago Astronomer

Astro#:773-299-8171

"We are all in the gutter, but some of us are looking at the stars."